Public trash clean-up events are having a bit of an internet moment. 2019 has been the year of #trashtag, a movement largely pushed by Reddit and Twitter users to identify waste-ridden areas and clean them up. Some of the-before-and after photos are stunning.
A handful of Thai organizations are doing their part also. Most recently, Central Embassy and Central Tham joined forces with the Saensuk Municipality of Chonburi province, the Institute of Marine Science of Burapha University, the Wildlife Fund Thailand under the patronage of H.M. the Queen, Thailand Green Road and Precious Plastic, to do something similar.
The group amassed a 200-strong army of trash-snatching volunteers to clean up beach trash and sort plastic waste at Bangsaen Beach in Chonburi. Afterward, the sorted junk was sent off to Thailand Green Road, an organization that uses waste materials to make recyclable paving blocks for roadways. TGR will use the materials to build paving blocks for Wat Umong in Chiang Mai.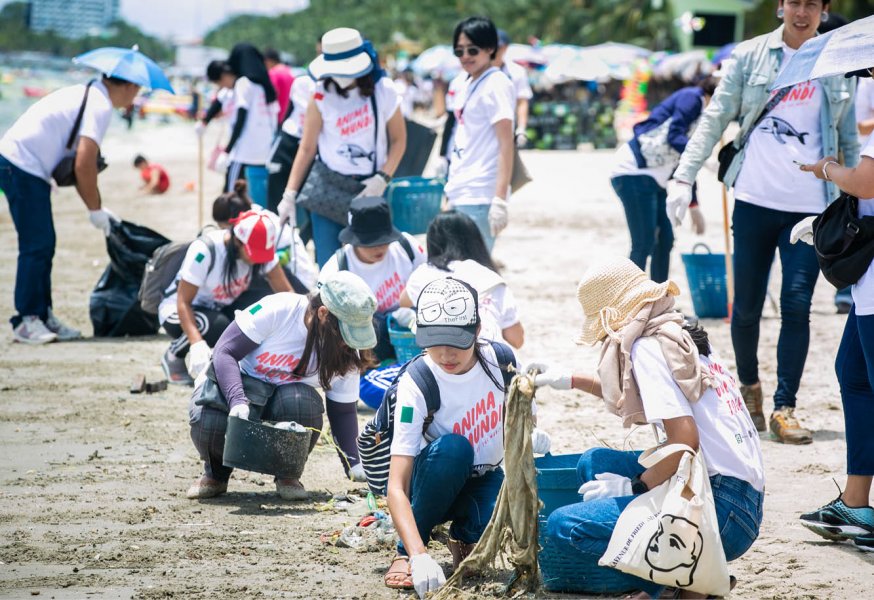 The event also saw volunteers take part in a bunch of eco-activities, such as plastic bottle donations, plastic straw donations and panel talks from environmental partners.
"[the] Central Embassy team is proud to be doing our part in trying to promote sustainable waste management, the importance of recycling and our environmental issues that we are facing to our customers," said Anucha Ocharoen, general manager of marketing at Central Embassy. "We would like to give a big thank you to all the organizations and community for taking part in this, as this event wouldn't have been possible without them."
Among the volunteers was Thai actor Awat Ratanapintha, known for his work in hit series Hormones and Project S. Awat brought some friends along for the ride to help clear out the mess of plastic bags, straws, bottles and ropes.
"Happiness in saving the sea is what I get from joining this activity," said Awat. "By collecting plastic waste, we can help in saving the lives of sea animals. If I have a chance, I would always love to join and help to do this. I also want to invite everyone to join. Even if you are not a sea lover, once you see the waste in the sea you will change your mind. I believe that this will change your thoughts and make you want to do good for our environment."
This event was a part of Central Embassy's world-class art exhibition, "ANIMA MUNDI: Soul of the World", which was showing on Level G, Central Embassy until Sep 1, 2019.
Sponsored by: