---
Construction of the new MRT Orange Line will commence in June. The Mass Rapid Transit Authority of Thailand (MRT) just signed off on a B79.2 billion contract with six contractors to build the eastern half of the extension—though let's hope they don't just leave it at that.
This 22.57km section of the line will run from MRT Thailand Cultural Center to Suwinthawong Road, comprising 17 stations both under and above ground.
The 10 underground stations will be Thailand Cultural Centre Station, MRTA Station, Wat Phra Ram 9 Station, Ramkhamhaeng 12 Station, Ramkhamhaeng University Station, Ratchamangkala Station (that means easy access to football matches and concerts), Hua Mak Station, Lam Salee Station, Sri Burapha Station and Ban Ma Station.
The seven elevated stations will be Sammakorn Station, Nom Klao Station, Rat Phatthana Station, Wat Bang Peng Station, Kheha Ram Station, Min Buri Station and Suwinthawong Station.
Construction will start in June this year and finish in January 2023, with the line expected to be ready for service the same year.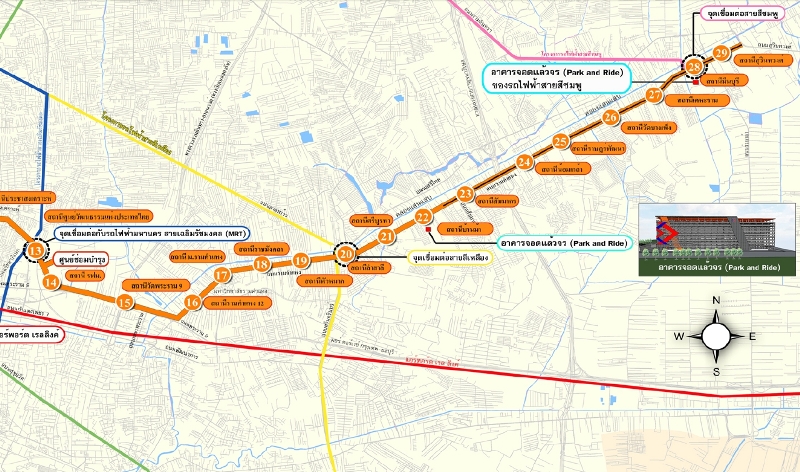 MRT Orange Line (East)
Meanwhile, the western section of the Orange Line is still undergoing studies before a proposal to cabinet sometime this year, along with four other mass rapid lines. We'll have to cross our fingers on this. The section of the line will include 13 more underground stations cutting from Bangkok's downtown through the Old Town and finishing on the Thonburi side. Stations include Thailand Cultural Center Station, Prachasongkroh Station, Din Daeng Station, Ratchaprarop Station (interchange station to Airport Link), Pratunam Station, Ratchathewi Station (interchange station to BTS Ratchathewi), Yomraj Station, Lan Luang Station, Democracy Monument Station (interchange to MRT Purple Line), Sanamluang Station, Siriraj Station, Bangkhunon Station and end at Taling Chan Station.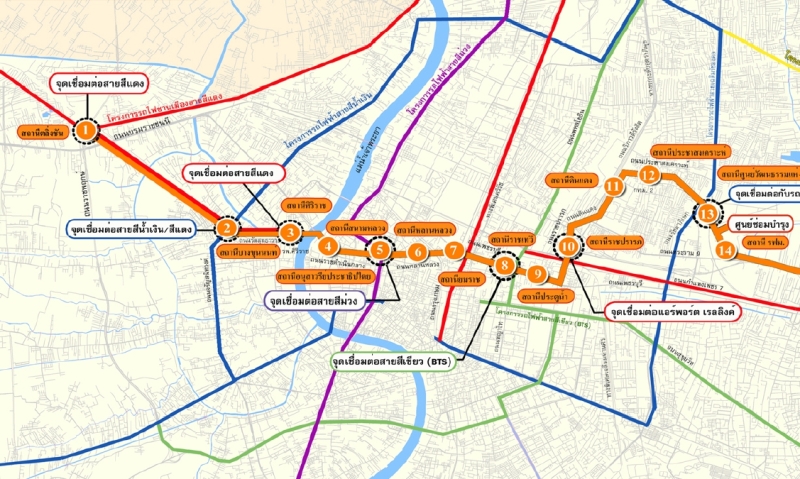 Below are some initial designs for how the Orange Line (East) will look: