The concept of "going green" is gaining traction and momentum, especially with younger generations. With the rise of farm-to-table fine-dining restaurants, green hotels, and eco-friendly fashion labels, people are finding new, creative and efficient ways to go green. Leading the way in On Nut is the mixed-use space T77—a 40-rai mixed-use community that includes housing developments, a dental hospital, a mall, an international school, and considerable green space. Here, going green and achieving sustainability are fully-integrated into almost every aspect of life.
Green and user-friendly technologies are easily accessible at T77. Residents can rent an electric car and e-scooter through a ride-sharing service, recycle plastic bottles to earn reward redemptions or charity donations, and they can stay safe day and night thanks to street lights powered by the sun and wind.
Sansiri has also partnered with leading energy firm BCPG to provide a peer-to-peer energy trading service for the community, made possible by blockchain technology. Here clean and renewable energy (produced by solar panels) is used to power T77, and then its neighborhoods, too—up to as much as 20% of all energy consumed in the area. In a year's time, this is equivalent to planting 400 rai of forests. T77 even boasts the first fully-integrated solar bus stop in Bangkok; installed in front of Habito Mall. It makes solar power even more accessible—anyone can recharge their phone while waiting for shuttle busses. These solar chargers, which support both USB and wireless, can produce up to 7,000 watts of green energy per day, which is equivalent to about 507 rounds of an iPhone XS's charge cycle. Clean energy is only part of the big picture. T77 seeks simple life changes to drive positive behavioral change. Waste management is a prime example. The trash rooms in the area are functionally designed with a clear sorting guide and labels on each bin—to ensure residents sort household waste properly.
T77's residential projects come in multiple shapes and sizes, and the neighborhood is quite diverse. There is a specialized hospital, a Japanese-style mall, and an international school campus— the famous Bangkok Prep. There, students learn to embrace a green lifestyle at every level; reflected in CSR activities and everyday school curriculum.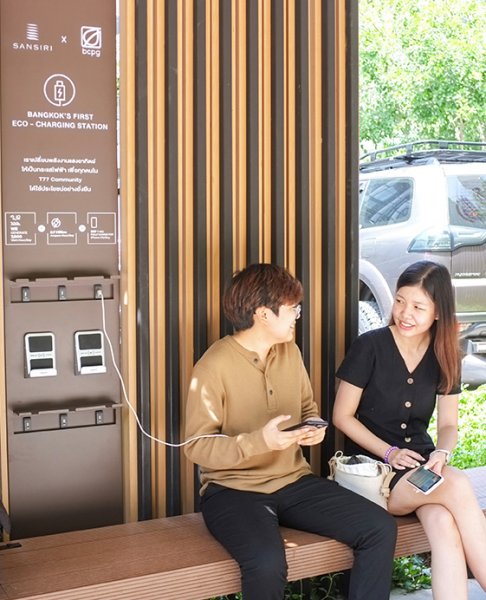 The landscape design at T77 is also incredibly green; offering plenty of fresh communal spaces, multi-generational recreational areas, leafy backyards and underdeveloped lots converted into organic vegetable farms.These collaborative efforts between Sansiri and its neighbors have been accomplished on five levels—greenovation, green energy, green DNA, green neighborhoods and green space—and are reflected in T77's design ethos.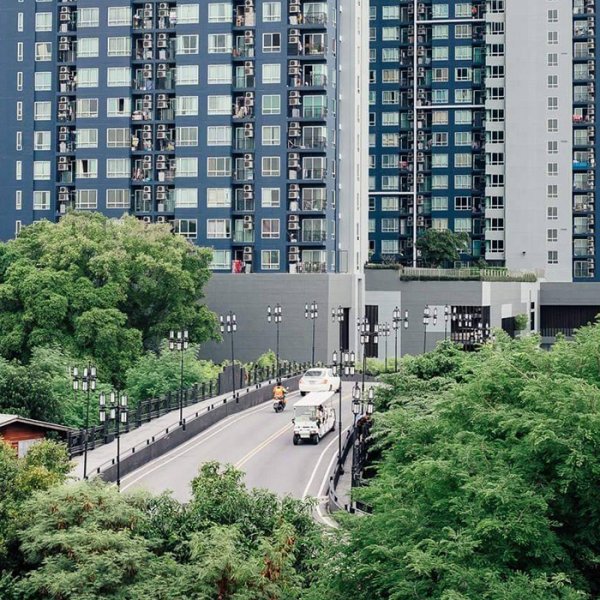 These five green aspects have helped create a walkable, environmentally-friendly, community-driven space that's hard to match. And T77 shows that by coming together, every generation can help create an eco-friendly lifestyle that's seamless and sustainable; whether through resource sharing, efficient waste management, cleaner renewable energy, or educating younger generations on the environment. As part of an initiative to drive sustainability, Sansiri and its partners see T77 as a way to raise awareness among residents, and as a call to action for anyone looking to save the planet for future generations
Sponsored by: