From glorious Art Deco structures and quirky skyscrapers to remnants of old colonial beauty, Bangkok is home to myriad architectural masterpieces from decades gone by. Here are eight landmark buildings that still define the cityscape today.
Sathorn Unique Tower
Neighborhood: Sathorn
Sathorn Unique, the infamous building left unfinished during the Tom Yum Kung economic crisis in 1997, has long been a draw for adventurous travelers and architecture buffs. The so-called "Ghost Tower" was designed by architect and real estate developer Rangsan Torsuwan―who also designed the golden-domed State Tower―to be Bangkok's most luxurious condo, with 600 units as well as jewelry shops on the lower levels. Like the State Tower, Sathorn Unique was built in the neoclassical style and features curved columns and balconies. While the building's core structure was 80-to-90 percent finished, interior and infrastructure work have remained mostly incomplete. Twenty-three years after the crisis, and despite being in a state of disrepair, it still attracts tourists looking to score a rooftop shot. It also doubles as a massive billboard.
Charoenkrung Rd. BTS Saphan Taksin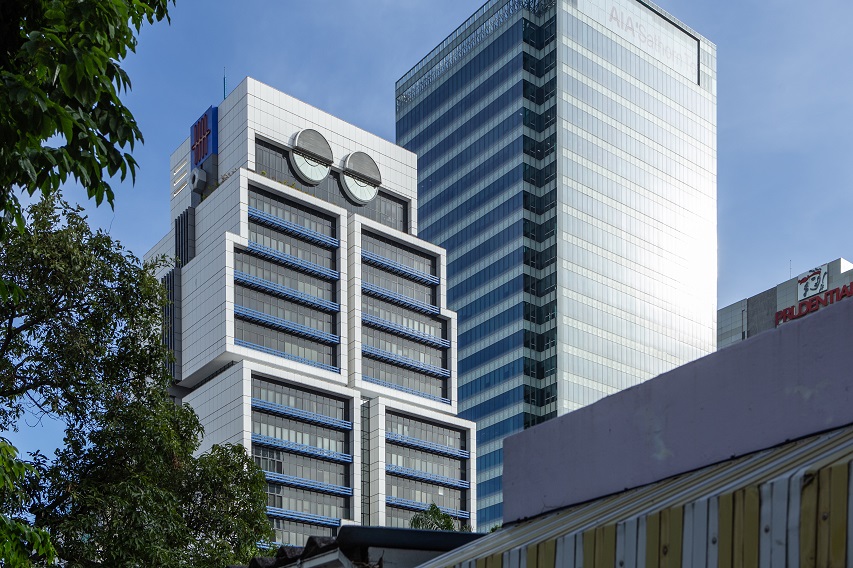 Robot Building
Neighborhood: Sathorn
When the Bank of Asia approached architect Sumet Jumsai to design its new headquarters to reflect the computerized future of banking, he drew inspiration from his son's toy robot. Jumsai wanted the building to be a reaction against neoclassical and high-tech postmodern architecture, which he called "a protest movement which seeks to replace without offering a replacement." To achieve the robot appearance, certain floors within the 20-story building were decreased to create a staggered shape, while decorative features were added to the exterior, like the sleepy-lidded eyeballs made of reflective glass, nuts made of glass-reinforced concrete and two antennas on the roof, which are used for communication masts and lightning rods. Now the headquarters of United Overseas Bank, the building was completed in 1986 and is considered one of the most recognizable structures in the city. It was also later selected as one of the 50 seminal buildings of the century by the Museum of Contemporary Art in Los Angeles.
191 South Sathorn Rd. BTS Chong Nonsi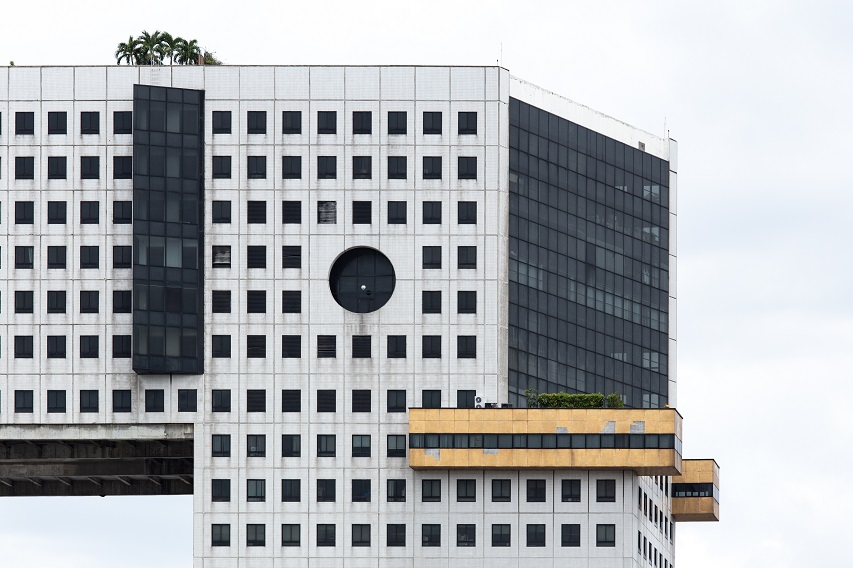 Elephant Building
Neighborhood: Chatuchak
In 2013, CNN listed the Elephant Building among the world's "25 Great Skyscrapers," arguing that the building is a nod towards Thailand's coming-of-age while highlighting the importance of elephants in Thai culture and history. Later, in 2018, Architectural Digest added it to its list of "The 31 Ugliest Skyscrapers in the World," saying that "while playful in design, the structure does little to push the integrity of Thai architecture." Love it or hate it, you can't deny that the Elephant Building is one of the most iconic and wackiest buildings in Bangkok. Completed in 1997, the 32-story tower was a collaboration between real estate mogul Arun Chaisaree and architect Ong-ard Satraphandhu, built as an homage to Thailand's national animal. It consists of three towers, two of which form legs while the third represents its trunk. Note other elephantine features, like eyes, tusks, ears and a tail.
3300 Phahonyothin Rd. BTS Phahonyothin 24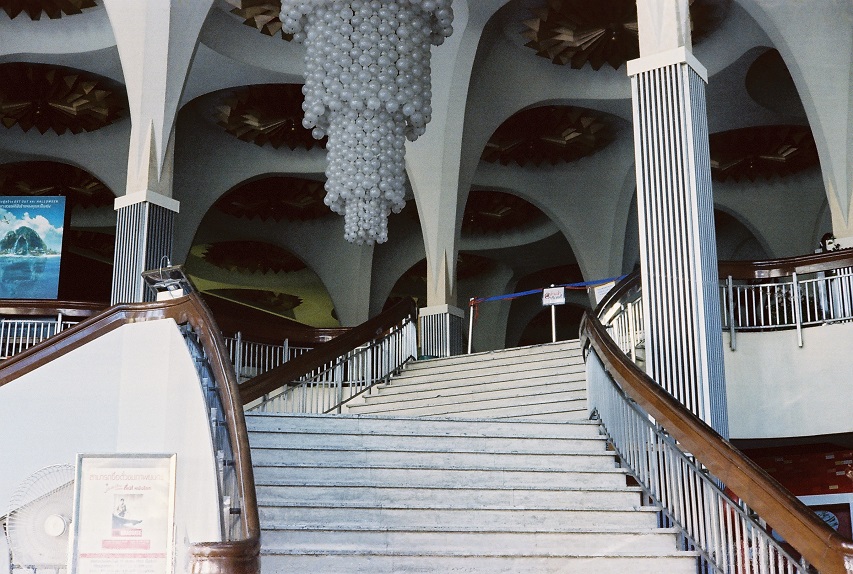 Scala Theatre
Neighborhood: Siam
Built in 1967, the iconic, Art Deco Scala cinema was designed by architect Chira Silpakanok to be the most luxurious theater of its time. It opened its doors on Dec 31, 1969, with "The Undefeated," an American Western and Civil War action-drama starring John Wayne and Rock Hudson. Fast-forward to today, the space might be timeworn, but the grandeur hasn't faded. The name Scala means "stairs" in Italian—hence the dramatic flight of stairs you have to climb to reach the Art Deco atrium, with its vaulted ceiling, glittering chandelier and retro ticket booths. It's the last standalone single-screen cinema in Thailand, but the end might be near for the historic movie theater. It has been confirmed that the cinema will cease operations and let other businesses rent the space for activities or screening special films until the current lease with landlord Chulalongkorn University expires at the end of 2020.
Siam Square Soi 1. BTS Siam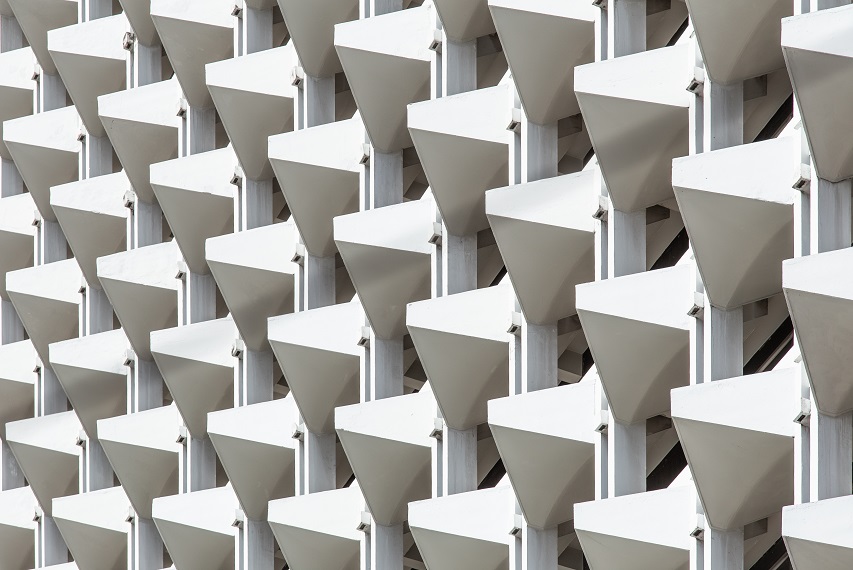 Indra Regent Hotel
Neighborhood: Pratunam
Yet another masterpiece from Chira Silpakanok, the Indra Regent Hotel was one of Bangkok's most important landmarks in the '70s. After many delays in the construction process, the hotel finally opened its doors in late 1971 in bustling shopping district Pratunam. The 500-room hotel is built up to the fourth floor in the form of a parallelogram, while the fifth to the 17th floors shoot up in a cubicle structure showcasing a unique, modernist facade. Meanwhile, the interior and inside-facilities are equally impressive: a majestic lobby, complete with marble floors and pillars from Italy; a chandelier made up of more than 2,800 bulbs hanging from the ceiling of the mezzanine; a first-floor shopping center; a 910-seat performance theater; and a cocktail lounge overlooking the garden. Though Indra's glitz and glamor have disappeared over time, for architecture buffs, it remains an urban gem.
120/126 Ratchaprarop Rd. BTS Phayathai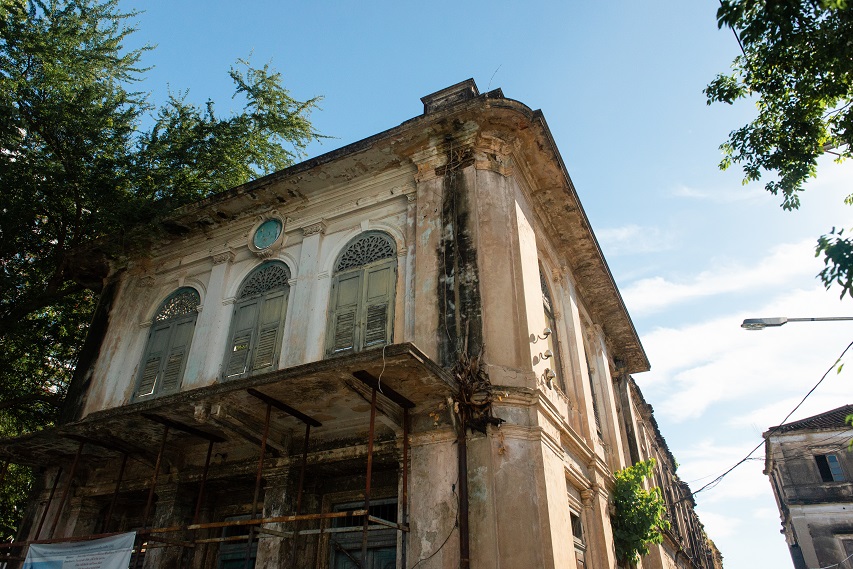 Customs House (Rong Phasi Roi Chak Sam)
Neighborhood: Charoenkrung
This 130-year-old landmark on the banks of the Chao Phraya was built in 1888 as part of King Rama V's modernization of Siam. It was designed by Italian architect Joachim Grassi in the neo-Palladian style and considered one of the most advanced examples of Western architecture in its time. In addition to serving as a customs office that collected taxes on inbound and outbound cargo, the building served as a venue for parties attended by members of the royal family and their distinguished foreign guests. The building was also part of celebrations held when H.M. King Chulalongkorn returned to Bangkok after his first visit to Europe. In 1959, the Customs House was repurposed into the Bang Rak Fire Station. Currently, the building is closed and remains in a state of disrepair. It was announced in late 2019, however, that the Treasury Department had teamed up with U City Public Company Limited to begin restoration of the landmark, aiming to turn it into a luxury riverside hotel to open in 2025.
37 Charoenkrung Rd. Oriental Pier


Grand Postal Building
Neighborhood: Bangrak
Walking around the spacious terrace of the Grand Postal Building will give you major European communist vibes, thanks to its brutalist architecture. Think exposed bricks, a subdued monochrome palette and imposing Garuda sculptures. Opened in 1940 on the former site of the British Embassy, the building was designed by architects Phrasarot Ratnanimman and Jitrasen Aphaiwong in a mixture of Art Deco and International Style architecture, a major movement that emerged in the 1920s and 1930s. Today, the building functions as a post office and is also home to the Thailand Creative and Design Center (TCDC). It's also a popular backdrop for pre-graduation and Instagram photoshoots. While you're there, be sure to head up to the free-access rooftop space on the 5th floor to take some cool snaps of Charoenkrung from above.
1160 Charoenkrung Rd. Si Phraya Pier


Nightingale-Olympic
Neighborhood: Wang Burapha-Phahurat
If Siam Square is a melting pot for Bangkok teenagers today, then in the 1960s it was the Nightingale-Olympic. Founded in 1930 by Nat Niyomvanich, it was Thailand's first department store and, somewhat surprisingly, it's still in business. Its gloomy, time-worn façade hardly draws crowds now, but judging by its striking brutalist exterior, it must have been ahead of its time in contrast to the shophouses in the neighborhood. With its "Hub of Sporting Goods, King of Musical Instruments, Queen of Cosmetics" slogan, Nightingale was the center of shopping. In its heyday, you would find stationery, clothes, cosmetics, lingerie, sports equipment and musical instruments, many of which were imported from America and Europe, as well as a beauty salon dedicated to the Merle Norman brand. Today, the multi-story, non-air conditioned mall is run by Aroon Niyomvanich, Nat's younger sister, and is seemingly stuck in a time warp, displaying retro-kitsch products and time-worn mannequins that are a little creepy, to say the least.
70 Tri Phet Rd. MRT Sam Yot