After announcing plans to redevelop Silom's Dusit Thani hotel over two years ago, Dusit Thani PCL has finally revealed details of the B36.7-billion landmark that will take its place.
The new Dusit Central Park is a joint venture between Dusit Thani PCL and retail giant Central Pattana. In an announcement made on Apr 2 by Suphajee Suthumpun, group chief executive officer of Dusit Thani PCL, and Wallaya Chirathivat, deputy chief executive officer of Central Pattana PCL, it was revealed that the project will feature luxury residences, a state-of-the-art office tower, a high-end shopping complex with a large rooftop park, and a distinctive reimagining of Dusit Thani Bangkok hotel, Dusit's iconic flagship property, which closed its doors earlier this year after almost 50 years of operation.
The 440,000-sq-meter development will take over a 23-rai plot of land at the intersection of Silom Road and Rama IV Road where the iconic Dusit Thani hotel was located, overlooking Lumphini Park. The plot belongs to the Crown Property Bureau, with whom Dusit Thani has signed a lease extension of 30 years with the right to extend for another 30 years.
The project is expected to be fully completed in 2024, though will open in three phases, starting with the reimagined, 39-storey Dusit Thani Bangkok hotel. The 250 rooms will feature a modern-yet-familiar design that incorporates significant elements of the original hotel, which was revered as a historical modernist landmark thanks to its charming blend of vernacular (gilded mosaics, pointed arches) and mid-century modern architecture. Highlights include a grand ballroom overlooking Lumphini Park and a multi-level rooftop bar and lounge.
The second phase will reveal the 43-story, 90,000-sq-meter Central Park Offices, which aims to become a professional hub for innovative start-ups and large companies, and the nine-story, 80,000-sq-meter Central Park Shopping Complex that will feature top international and local brands. One of the main highlights of the mall is a rooftop park—a leafy, outdoor space for shoppers to unwind. The second phase is expected to be completed in 2023.
The final phase of the project will be the 69-story luxurious residential building, divided into two sections—Dusit Residences and Dusit Parkside. Dusit Residences will comprise of 159 spacious units on the 30th-69th floor, offering panoramic views of Lumphini Park, while Dusit Parkside will comprise of 230 units on the 9th-29th floor. Units for both Dusit Parkside and Dusit Residences will be available for long-term rent or leasehold. Bookings will be open soon.
News of the historic Dusit Thani Hotel's demolition to create a mixed-use complex first emerged in early 2017, which was quickly followed by dismay and criticism from netizens. In response, the hotel reiterated that the new development was not the "closure" of Dusit Thani, but rather a reconstruction to introduce a new, exciting version of the hotel with hopes to bring more value to Bangkok and Thai people.
In early 2018, soaring, shard-like designs for the hotel surfaced online that were attributed to American-Polish architectural superstar Daniel Libeskind—most famous for designing New York's One World Trade Center. However, a representative of Dusit Thani has confirmed that A49, one of Thailand's leading architectural firms, has been selected for the job, with the world-renowned Dutch architectural firm, OMA, to help with the creation.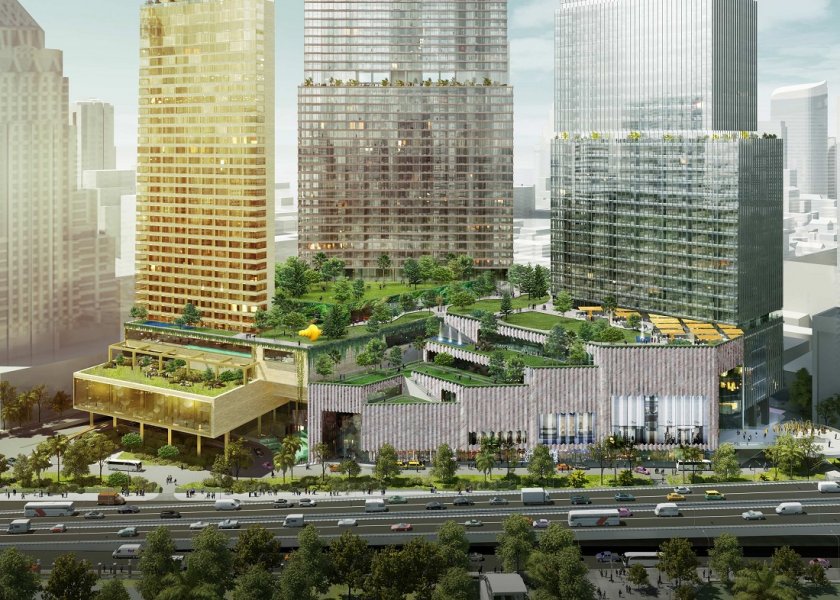 Central Park Shopping Complex

Central Park Offices
Dusit Residences & Dusit Parkside