When it comes to listing Bangkok's most luxurious neighborhoods, Phloen Chit's history as the home of Thai nobles puts it on top. Though the sakdina (feudal) days are over, the district's elite vibe lives on through the descendents of nobles who have inherited the land. So, if you're dreaming of luxury living, here's where to get started in Bangkok's most desirable zip code.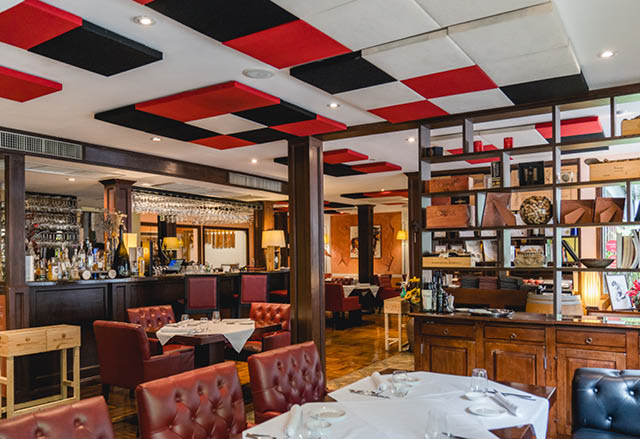 Decadent Food
Italian food is the forefront of the dolce vita, so head to the upscale Lenzi Tuscan Kitchen for creative pasta dishes and wood-fired meats, or Pizza Massilia for pizza topped with decadently rich sea urchin. You'll also find high-end Japanese omakase at Sushi Niwa, elegant rooftop dining at Penthouse Bar+Grill, steak place like Neil's Tavern, and authentic, refined Thai cuisine at Saneh Jaan.
Vivid Nightlife
Phloen Chit's nightlife scene falls firmly in the upmarket bracket, from sipping on cocktails on the daybeds at Siwilai City Club's beachy rooftop lounge to sampling whiskey at The Macallan Bar or puffing cigars at Whisgars. More playful nights can be had at the cosmopolitan Hyde & Seek or craft beer bar Hair of the Dog, while sports fans can cheer on their favorite teams at Witch's Sports Tavern.

Designer Shopping
Sandwiched between shopping meccas Phrom Phong and Siam, Phloen Chit has its own fair share of luxurious shopping malls. Choose between Central Embassy, home to high-end fashion labels and cosmetics, and Gaysorn Plaza, with its sleek marble and chrome interior housing expensive goods and luxury spas like Panpuri.


Luxury Living at its Finest
Everyone wants to live in a serene setting with easy access to luxurious facilities. Located in a prime spot in the central business district within five minutes of BTS Phloen Chit station, Nye Estate's luxury condo Prem Ruamrudee offers a new definition of high-end living with geometric architectural innovations that make the building stand out among its surroundings. Prem Ruamrudee is right nearby a bunch of premium hotels like The Okura Prestige and Conrad Bangkok, RBSC Polo Club, premium office buildings like Park Ventures and All Seasons Place, and luxurious shopping malls such as Central Embassy and Central Chidlom. With Phloen Chit's real estate prices steadily rising year on year, there's no better time to upgrade your lifestyle by choosing a room from these 176 units.
Experience the ultimate in exclusivity with a single-loaded corridor and soothe your mind with a private courtyard, courageous room layout along with luxurious materials and accessories, including Gorenje by Ora Ïto kitchen appliances, a Toto Automatic Washlet, special thermal control shower mixing valve to suit your personal preferences, and enhanced sophistication in every unit. Elevate your living through a top-class automated parking system powered by Japanese technology (awarded Best Safety in Class), ensuring that residents always have an easy and convenient parking experience.
Be the first to discover and own the hidden treasure in Ruamrudee.

Prem Ruamrudee is ready for Exclusive Pre-Sales on June 29-30 at Prem Sales Gallery. Exclusive! Register now to get special promotions only for Exclusive Pre-Sales at rename.ly/nye-ruamrudee-bk-magazine
Price starts from B6.8 million
---
This native ad was created by Asia City Studio. We use storytelling to help brands of all sizes influence and connect with people who matter. Visit us online: studio.asia-city.com

Sponsored by: