While other major cities in the region are putting more investment into their own creative projects, from Songshan Cultural and Creative Park in Taipei to PMQ in Hong Kong and M50 in Shanghai, Bangkok is about to up its own game with these soon-to-open new developments that cater to the ever-growing creative crowd. Here's what we can expect.
Warehouse 30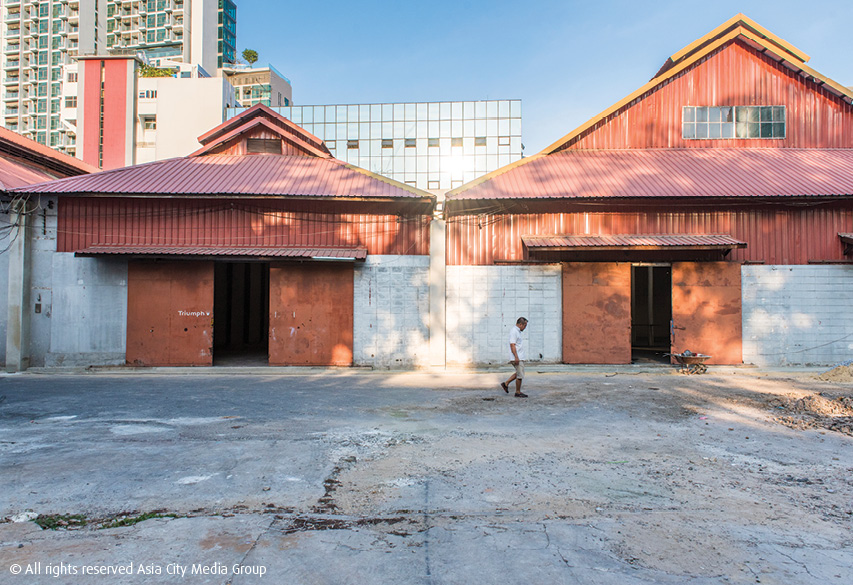 Expected launch date: Late May, 2017
Taking the same approach as he did with the Jam Factory, Duangrit Bunnag (one of the original founders of TCDC and the country's most famous architect) has transformed a 4,000-sq-meter space of abandoned World War 2-era warehouses in Charoenkrung Soi 30 into Warehouse 30. Two of the warehouses will become a co-working space called OneBig.House, operated by FabCafe. Duangrit's minimalist fashion brand, Lonely Two Legged Creatures, will get its own flagship store, where you can also take a sneak peek at the designers working on their creative patterns. F&B is taken care of in the next warehouse, with tenants like Summer cocktail and wine bar, managed by the team behind The Never Ending Summer, as well as Moon Taste (remember the yummy soups and paninis at The Knack Market?) and a roaster cafe developed by Li-Bra-Ry, highlighted by its own vintage roaster right in the middle of the space.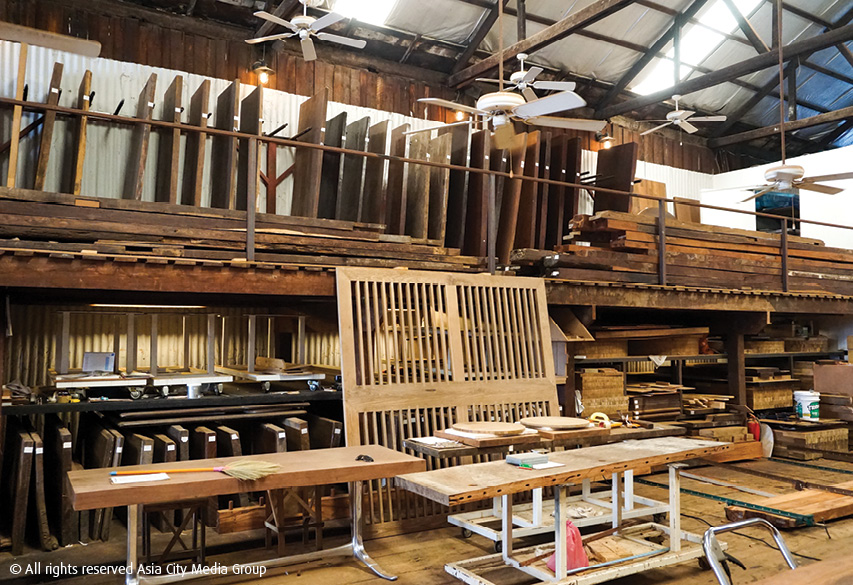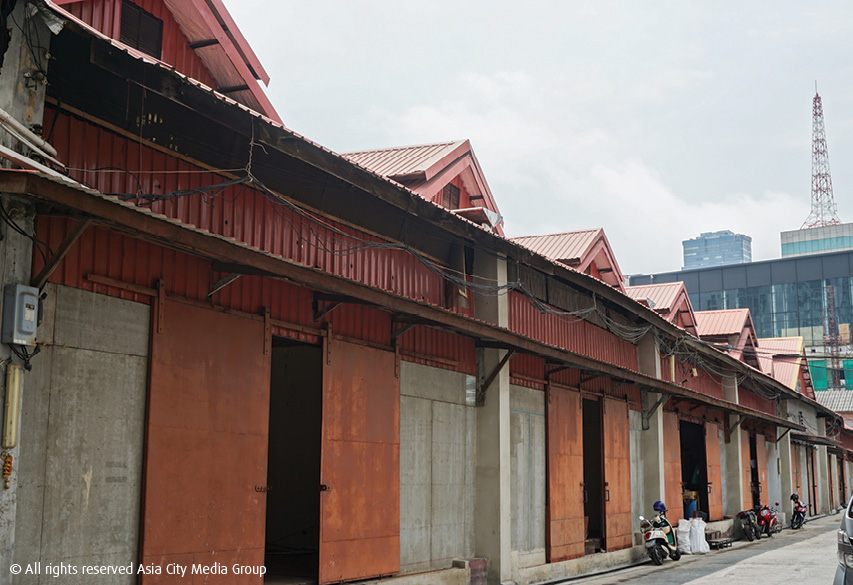 Next door is an open market that features Casa Lapin Lux's beautiful flower shop Wallflower, a home decor and design item zone curated by Warehouse 30's own project manager, Rungsima Kasikranung, and a motorbike enthusiasts' accessories store called 8080Rubber. The last two warehouses make up the Open market zone, which will feature an 80-seat screening room operated by the Documentary Club, a design and architecture-centric independent bookstore by Candide, a retail shop by Copperwired, a vinyl music corner, a raw juice bar called Raw & Real and an eco-friendly organic corner selling locally sourced fruits and vegetables, superfoods and biodegradable products. Another 20 sq meters of the space have been left as a multi-purpose area which the owners will hire out for activities, workshops and art exhibitions. We also discovered there will be a small cyclist hostel for travelers at the back, and a French bakery/cafe serving the pastry goodness of Maison Chatenet.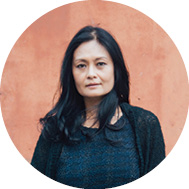 Rungsima Kasikranung, Project Manager, Warehouse 30
What is the objective behind this new space?
It's a part of a non-profit collaboration between us, The Jam Factory, TCDC, Bangkok River Partners and Serindia [gallery], among others, to create a creative district. There are many creative businesses and activities between Bangrak and Klongsan, and it would be great if we could drive this further to create a real creative district and community. We want to be the first thing that comes to mind when people think of where to go. I don't want people to just think of Thonglor.
This is an old part of town. Was it difficult integrating with the community around here?
Being able to create awareness of what we're doing and what we're trying to achieve will ensure that everyone in the area benefits. Many shop owners in the surrounding area had their concerns too—one approached me and actually asked if she'd be pushed out of business. There's a lot of community spirit around here and we want all stakeholders to feel like they own the space. They can benefit and flourish from our project as well.
It sounds a lot like the Jam Factory.
In a way, you could say that it's a sister of The Jam Factory. But I was given a lot of curatorial freedom to build Warehouse 30 in a way that has its own character. For instance, even if you can find furniture and home decor here, it won't be anything like Anyroom on the other side of the river. The co-working space will be different. With Documentary Club, we have a lot of activities planned that go beyond just film screenings. The space is totally open for new ideas—for theater, dance shows—all sorts of events.
Who is the main target audience?
Interestingly, our market segment has changed quite a bit over the years. It could be anyone of any age, as long as they're interested in the sort of content that we bring: the design, the lifestyle elements that we bring, the socially-conscious and environmentally-friendly concepts that we stand for.
---
Thailand Creative and Design Centre
Expected launch date: May 5, 2017
The brand-new TCDC takes over a space adjacent to the 80-year-old building that was once the Bangkok General Post Office. In a similar vein as the previous TCDC, we can expect regular talks, meetings and workshops. Ensuring that creative design ideas get turned into reality, prototypes can now be made right there at a brand-new co-working space-slash-design-lab, fully equipped with tools like 3D printing, in collaboration with FabCafe.
The hub of Charoenkrung's drive to become a creative district, the space will cater to everyone involved in the creative economy, from filmmakers to animators, SMEs to start-ups. TCDC members who have been utilizing other co-working spaces around the city will also gladly welcome the return of the resource center. While a lot of us may think of TCDC as a co-working space, the new TCDC will actually put a heavy emphasis on incubation programs and business consultation by experts to assist entrepreneurs with their business ideas, fostering a creative ecosystem.
Kittirat Pitipanich, Vice Director, TCDC
How will the new TCDC build on the original TCDC at The Emporium?
Our vision has always been ambitious, but the space at Emporium was in many ways limited. TCDC held design exhibitions to inspire; it had a library—what we called the "resource center"—and we also held workshops and seminars so that new ideas can get generated. But it lacked space to turn these ideas into reality—making the product or a prototype, implementing the ideas and executing them. Now we have doubled the amount of space, the ecosystem will hopefully be more complete. There's a proper co-working space now, which is also a "maker space" where people can brainstorm and work together to build something new.
What's the main objective of TCDC now?
People used to see us as a co-working space because they liked the resource center, it was cheap and conveniently located by the BTS, but actually our core mission has always been to help creative businesses and support the country's creative economy. We want to help assist in researching and identifying new opportunities for people that come to us. We're also doing more policy development to push design and technology curriculums from primary school level up to universities, in collaboration with the Ministry of Education.
How hard is it then to pilot a "creative district"?
We don't want to be a standalone destination, but part of a district that celebrates creativity­—that's the idea of Co-Create Charoenkrung—to curate an experience that's interesting, fun and full of eye-opening creative businesses, be it art galleries or performance venues. If you think about it, creative people will tend to live near each other because you need to be in a space that inspires you and helps you learn. For example, the area around Wat Umong in Chiang Mai has become a hub for creatives—there's not much pollution and a lot of coffee shops, galleries and bookstores. So we want to help creative businesses around here turn into a district, and hopefully a city.
What's the future for TCDC?
The space is very beautiful with a lot of history, but how to get the public here is the main difficulty. Accessibility will be a challenge for sure as we now have to focus on how to become a destination, not just a place where people pass by. We thought about having a TCDC shuttle boat from BTS Taksin, but the CAT pier isn't open for public use for security reasons. So we'll have to work on that. As for our other projects, there's also something called AISDC that's coming up. In fact it's taken over the old space at The Emporium to become a design center operated by us. We're going to open a TCDC in Khon Kaen, and the Ministry of Commerce has also given us an allotted plot of land in Hat Yai, so hopefully we'll be able to see it through within 2018.
---
Chang Chui: Thailand Tomorrow
Expected launch date: Late May, 2017
Somchai Songwattana, CEO and art director of Thailand's pioneering fashion brand FlyNow has turned an 11-rai plot land in Thonburi district into a new creative space that hopes to celebrate the work of young artists and designers. A mesh of 18 separate buildings, "Chang Chui" lives up to its name (it means "sloppy artisan" in Thai) with each structure being made from reused materials.
It will include a theater to host performances by renowned artists such as Pichet Klunchun and a cinema powered by the Documentary Club; and a creative space-slash-library run by the team from Ma.D Hub called Ma Chui. Some of the stores lined up include Happening Shop, Pizza Pazza, Reco Room, The' Tea House, The Farm Shop and Sheepshank, all curated by Somchai himself.
Another highlight is the disused, Lockheed TriStar airplane, which will double as an art space exhibiting artefacts and antiques that Somchai has collected over 30 years under a Noah's Ark theme called Na-Oh. We also learned from the team that there's going to be a restaurant called Insects in the Backyard, as well as a music center called Chang Chuem that will connect music students and veteran artists from around the city, doubling as a performance space.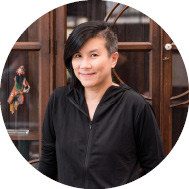 Chanokporn Thinphangnga, Project Manager, Chang Chui
What's the idea of a "living gallery"?
People have this perception that an art gallery has to be a plain space, but this is not going to be conventional. For example, our restaurant is also a gallery of its own. So the architecture is also important—Insects in the Backyard will be like a secret world. It's always there in the backyard but you never really notice until you seek it out. It'll be innovative and fun—like being in a fantasy jungle with lots of funky components. Take Ma Chui, for instance. It's an art gallery as well as a co-working space. There'll be installation art, antique furniture, artwork by local artists. You can sleep, work, sit, read, find inspiration or just enjoy being in the space.
How do you curate the stores and outlets involved at Chang Chui?
It's all about cross functionality—be it our restaurants, barbershop, co-working space or even a stall selling clothes. But every component has to have some sort of creativity involved. We're not limiting the sort of work or creative industry to utilize the space here at all. We also want to support young artists so that they have a platform to present their creations to the world, be it music, art or design. We have 120 rental units that range from 6-100 sq meters, so the younger crowd that may not have much funding can afford their own store.
Who do you expect to come here?
We think anyone can spend an entire day here—shop, laze around, eat, drink, chill, watch a film, enjoy live music. People should be able to connect to the content, and anyone can take part in activities without having to spend a lot of money.
---
Thailand Cultural Centre

Bangkok's brand new B3.7 billion Thailand Cultural Centre on Ratchadaphisek Road has just finished construction. Designed by A49 Architects, the project features what is intended to be the country's first major publicly owned museum dedicated to contemporary art. Called the Asean Cultural Gateway, the project is of colossal importance to the Thai art world. The ministry owns over 700 contemporary artworks, and, in the last year, the Office of Contemporary Art Department, along with Cultural Ministry's office, put a lot of money into expanding that collection. Though the project has now finished building (one year later than scheduled), it remains uncertain when the museum will open to the public (as well as exactly which works will feature inside).