A new social enterprise has an awesome dream to stop Bangkok's floods.
Porous City Network is a team of landscape architects and urban designers led by CEO Kotchakorn Voraakom (of the Bangkok firm Landprocess) that's looking to transform underused hardscaped surfaces into a wide system of permeable public green spaces.
That means less concrete wastelands and more urban farms, green roofs, rain gardens and canals allowing for better water absorption.
Bangkok's rapid urban development puts it at especially high risk regarding climate change. Where once agricultural land absorbed seasonal floods like a sponge, today our city leaves water with nowhere to go, which leads to serious environmental problems.
And it's only likely to get worse. Sea level rise combined with land subsidence may mean up to 25mm of net sea level rise per year in some areas, with communities most at risk likely to be those that are also economically vulnerable.
The answer to managing water stress, Porous City Network argues, is a network of public green space projects.
The social enterprise's founder, Kotchakorn, has a proven track record regarding using big plots of land to contribute back to the city. Her design for the recently opened CU Centenary Park aims for zero water discharge thanks to a system that ensures wastewater is collected, cleaned and reused not just in the park, but also around the neighborhood.
If the prospect of more green spaces and a flood-free city sounds good to you, there's a way you can help push this dream one step closer to reality. Porous City Network has been entered in the BEST Climate Practices Contest 2017, which you can vote on until Jul 26.
Determined by a combination of online voting results and an international expert panel, the winner will receive 3,000 euros and be invited to present their project to an audience of experts, policy-makers and investors through a conference organized by the International Center for Climate Governance.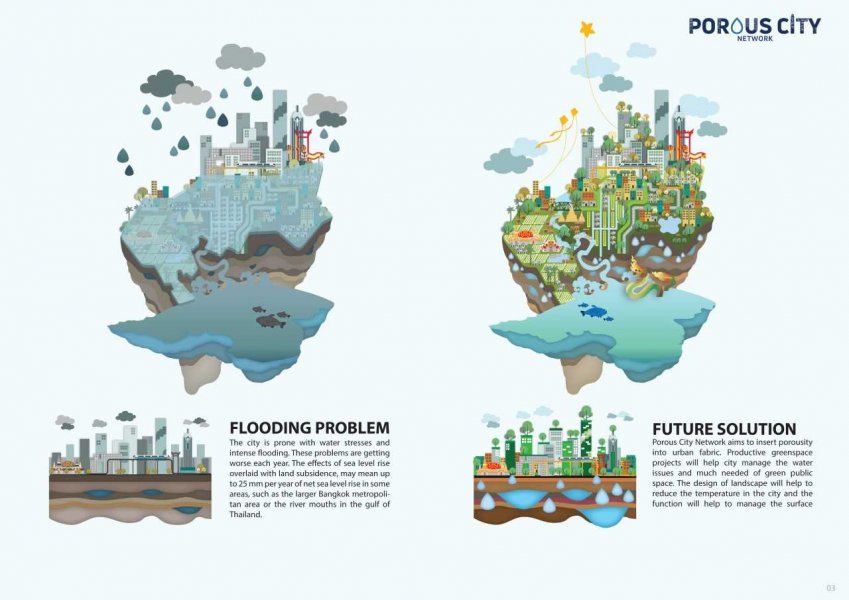 Credit: Porous City Network