Sure, you can while away the hours adding things to your cart on Lazada and Shopee—but where's the fun in that? Check out a few places around Bangkok where you can try, mix-and-match, and have fun getting all gussied up.
Photo: Enjoy Suite promotional photo / Facebook
If you're looking on the "other" side of the river, Enjoy Suite has an extensive collection, including your standard superheroes, cultural costumes, princess, and more modern attire like Harley Quinn and Money Heist.
452 Itsaraphap Rd., Wat Arun, Bangkok Yai
Photo: Fancy Spandex at Watergate Pavillion / WatergatePavillion.com
If you're going sexy with your outfit this year, Fancy Spandex at the Watergate Pavillion has a lot of form fitting options, from your hot Wonder Woman to fitting spandex to form the base of a more creative costume to zentai suits. It's a fine line between fashion and fetish.
Watergate Pavilion, 546/360 Ratchaprarop Rd.
A shophouse with a big selection, Fancy Story has your usual costume selection—your superheroes and princesses—in a compact location where you can mix and match. Maybe a nurse pirate is for you this year? Buy or rent—and don't forget the Insta.
176 Tessaban Sai 2 Rd, Wat Kanlaya
You won't find ghosts, ghouls, or fake blood here, but you will see a lot of Gatsby-style sequin costumes, OTT Little Bo Peep retro dresses, and 80s and 90s mix-and-match costumes. While not a traditional costume shop, this is a great place to shop for a costume, particularly for plus-sized outfits.
813/8 Phetchaburi Rd, Khwaeng Thanon Phaya Thai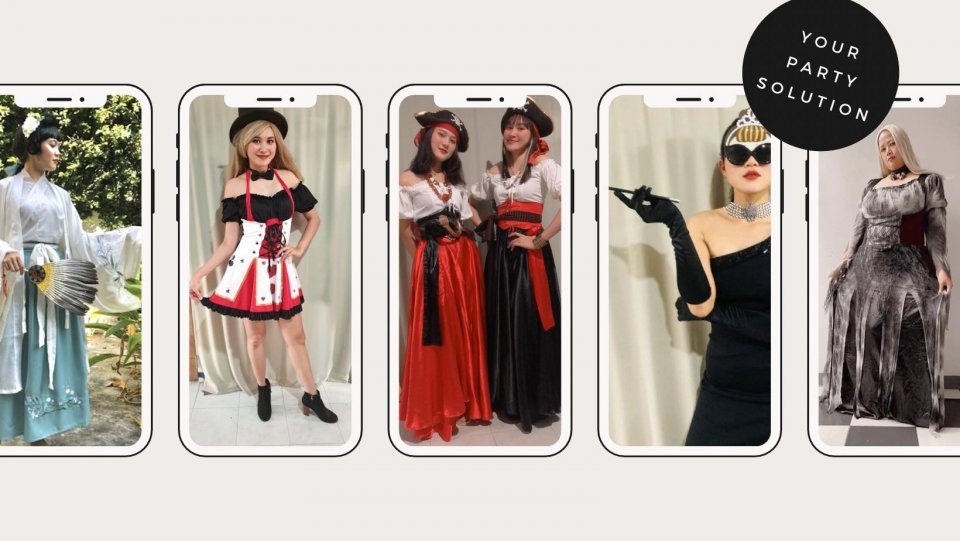 Photo: Dreambox Plaza costumes, promotional image / Facebook
Found in Phra Khanong, Dreambox Costume's theater folks have your bloody brides, pirates, Spiders Men, and your standard All Hallow's Eve doodads. In addition to the usual Monroes and Presleys, you can find a pile of period and cultural costumes. Mix and match or get inspired by the selection.
8 Phatthanawet, Soi 3 Pridi Banomyong, 26 Sukhumvit Soi 71
PR Fancy Costume Party Shop
Inside the Watergate Shopping Center, this shop is hard to miss—surrounded by garish carnival costumes and gowns. Pop in for big gowns and even bigger wigs, and it's an easy shop because you can rent as well as buy. They also have a selection of traditional costumes and period pieces.
Watergate Pavilion, 546/360 Ratchaprarop Rd.