Fifteen minutes of fame? For these Thai artists, whose talents have caught the attention of more than just us here, 15 minutes might not be enough. From illustrators to painters and photographers, here are four fast-rising Thai artists to keep on your radar—plus five others who are starting to make a name for themselves in a big way.
In the late 1960s and early 1970s, The Beatles became icons of the hippie movement, composing several chart-topping records (mostly about drugs and war) with catchy psychedelic rhythms. Those records and their kaleidoscopic visual art helped The Beatles acquire die-hard fans—like, for example, the parents of Chanaradee "Phaan" Chatrakul Na Ayudhya, a.k.a. Juli Baker and Summer.
Growing up listening to songs of the colorful counterculture movement, like "I am the Walrus" and "Strawberry Fields Forever," left an indelible impression on Phaan. Her portraits and paintings are undeniably vivid, packed with colors and thick, bold lines. "I started painting as early as I can remember. It has always been the one thing I enjoy doing most," says Phaan.
When she turned 20, painting stopped being just a hobby, she says. After being viewing an original piece by British pop artist David Hockney, she was moved, and she began to paint more seriously on canvas. In no time, she was noticed.
Phaan's interest in naive art and pop art molds her boundary-less style. Phaan says she paints everything from movie characters to her cat, explaining, "My inspiration mostly comes from my own life experiences—books I've read, movies I've watched, people I've met. I always have a little sketch book with me to write down my feelings and thoughts when I travel."
For the painting (seen above), Phaan explains, "I enjoy playing piano in my free time; at the time I painted this, I was learning to play the song 'Sonatine Bureaucratique' (from the soundtrack to the movie 'Call Me by Your Name')."
After working as a typeface designer and graphic designer, visual communication arts graduate Thanawat Sakdawisarak embarked on a brand-new path: illustration. His works have gained recognition both in Thailand and abroad, even though there are tons of illustrators across the world. The secret sauce behind his accomplishment? Shifting his career path progressively, and coming up with a subversive pseudonym, like "Bloody Hell Big Head."
His illustrations are built around his enthusiasm for two-dimensional geometric shapes. Squares, triangles, circles—he tweaks the silhouettes of those shapes to create characters and objects for his stories. This technique gives his artwork a clean and symmetrical look, which is exactly what helped Thanawat catch the eye of Belgian design brand Muller Van Severen, London-based magazine It's Nice That and GQ Thailand, to name a few.
"Dream" (seen above) is a personal piece he created in 2017. "It's about general relationships between human beings. Sometimes we feel distant from others even if we're in the same place. It's probably because you're spacing out and your mind just runs wild, away from the moment you are in. It's like you never belong to anyone, any place or anything," he says.
Patsachon "Group" Toyingpaiboon has been posting her works on Instagram since 2012, when she graduated from Chulalongkorn University. Her social media savvy helped her get noticed by Rangsan Narathasajan, interior designer and owner of the furniture brand Niiq. Rangsan encouraged her to be a part of his Accidentally Professional exhibition in early March 2019, which featured two other "artists-by-coincidence": Rapi Rikulsurakan, who works for the Judiciary of Thailand by day and practices calligraphy at night, and cult-favorite motorcycle taxi driver-turn-photographer Pichai Keawvichit.
While Group's early work saw her largely producing sketches, by 2013, she had begun to fill them in with primary colors, giving them greater complexity and depth. Now, she says, "I've started to focus on experimental techniques and materials to extend my thoughts to [new] aesthetics. I don't want to limit myself as an illustrator, but rather be more open to change."
She says her surrounding objects serve as her creative stimuli—a scene from a movie she watched, a Granny Smith apple, a random taxi or even a jar of Vegemite. For her work "Banana Poetry," (seen above), Group explains, "I normally base my works on my personal interests. I love eating bananas and find the color so fascinating. I also like to see how we can turn normal things from our daily lives into art, so I created some stories for it."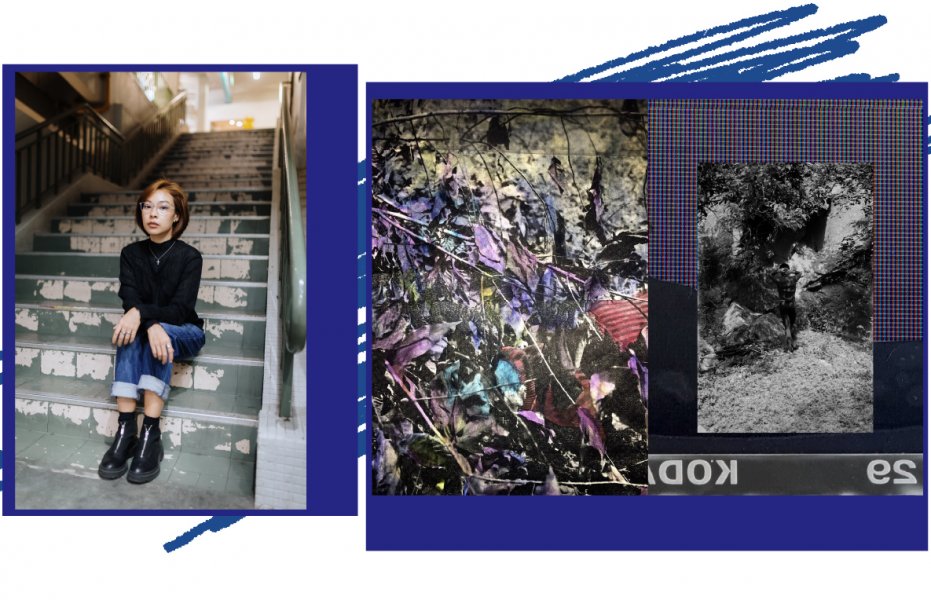 Having grown up in a conservative family in Ratchaburi, photographer Kamonlak "Poonpan" Sukchai says her background has obviously influenced her perspective toward sexuality as a young adult. After moving to Bangkok for her undergraduate degree and getting exposed to sexual and sociocultural issues more often, like teen pregnancy, her personal ideology started to shift. Now, she says, she believes people should be able to do anything with their own bodies, and she has started exploring that through a series of photographs.
Shooting largely in film, Poonpan stitches together wildly evocative images using collage, with occasionally spins on pastiche. Her work has gained so much notoriety that photography magazine Foam dubbed her a photographer to watch in 2020. "I can't track down the inspiration in each photo," she admits. "It's the combination of a particular situation, my perception in that moment, my upbringing and my intention. I like to experiment with different methods. For example, for 'Red Lotus,' I used candles, incense and snippets from a pornographic magazine as material to send a message about religion and sexuality."
That project is undeniably her best-known so far (currently exhibited at Kathmandu Photo Gallery until Apr 25). Poonpan drew influence from Thai folk tales told to her when she was young to examine traditional beliefs toward women and virginity, as well as the idea of men as supernaturally powerful. But there is one of Poonpan's older projects that grapples with deeper-rooted problems some of us might be facing. "'Secluded Place (I've lost half my bones. Do not die, just dry.)'—it's my personal project, there are a few phases to this ongoing project, but I really hope they won't ever see daylight," she says with a laugh. "That's because it's a set of work that reflects my unidentifiable mental health disorder. The doctors tried their best, but they haven't diagnosed anything from my symptoms—we're just trying not to make it worse.
"I release new installments of this project when my symptoms start to relapse, when science can't help me and my family turns to superstition [for answers]. I usually feel desperate and isolated, so I choose the locations and subjects that portray my emotions," she explains.
In an era when artwork can be created out of thin air, using just a Wacom pad and a stylus, lots of us are guilty of overlooking the charm of paintbrushes and canvases. Painter Dhanut "Balm" Tungsuwan wants to change that. "I think there's something satisfying about using a very old language (painting) to discuss modern issues," he says. "I am continuing a tradition, and also trying to understand the significance of paintings in this day and age."
Thanks to his outstanding technique and edgy perspective, Balm has been featured in several biennales in London. In 2018 and 2019, he exhilarated Thais with his solo exhibitions "Formulated Frontiers," "Transitions" and followed by "Corruption." Of his inspiration, he says, "I fell in love with the anthropological aspect of art, and I got really into watching older science-fiction films. They're reflections of the reality of when they were made. I've always found that interesting—even the design cues and general dialogue. Those also play a big part in my interest in the creation of worlds. I'm also very much excited by space, the great unknown looming above our heads. I enjoy fantasizing about the technological developments of humankind and what I will and won't be able to witness in my lifetime."
"108, 1900" is his latest painting (see above). He explains: "It's alluding to a Thai saying (muan lan hed phon), meaning a 'multitude of reasons.' I've always been interested in the abundance of information readily available online and I think this way of juxtaposing and overlapping various images is an ode to that phenomenon. Especially with what is going on in 2020—a lot of the time, it's very difficult to know which bits of information are true and which aren't."
---
6 other artists you need to know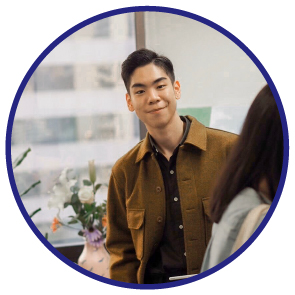 Viput Asawavetvutt
"I'm an optimist. I like to feel positive about everything I do."
Medium: Illustration.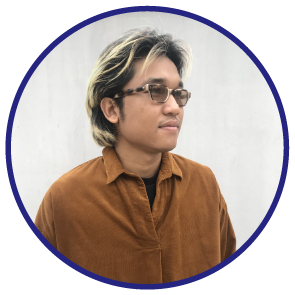 Pansan Klongdee
"Always trust in yourself."
Medium: Photography.
Natnaree Kosum
"Enjoy/have fun/be humble."
Medium: Mixed media/illustration.
Saranya Laowtrakul
"In simple things, I see the extraodinary."
Medium: Illustration.
Nuttapong Daovichitr
"I like to tell stories using simple yet detailed drawing lines, which are unique and recognizable."
Medium: Illustration.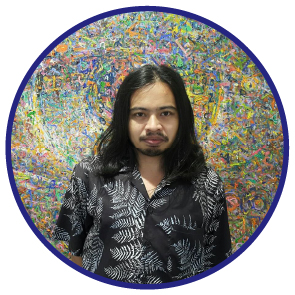 Tontragoon
"If you want to know what kind of person I am, just look at my work."
Medium: Painting.