Ever wanted to see a side of Singapore through the eyes of an early immigrant? A new bicycle tour is doing just that. 'Trails of Tan Ah Huat, Singapore 1920s' is the latest launch from local tour experiences company Let's Go Tour Singapore. The half-day tour promises to be an immersive storytelling experience that isn't just about walking past landmarks. Instead, participants get to hop on and off the provided bicycles at designated stops, charted on a route that fits into the fictional story of Tan Ah Huat.
The tour, which takes you through the winding alleys of Chinatown, is centered on Chinese immigrant Tan Ah Huat, an entrepreneur who arrives in Singapore in the '20s chasing a better future, and ends up falling in love and meeting iconic characters in Singapore's history along the way. His journey spans heritage areas and sites like Kampong Glam, Raffles Hotel, Singapore River and the larger Chinatown area.
Every tour takes about four hours in full, and includes stops at a local Chinatown coffeeshop and egg tart institution Tong Heng. Beyond just basic knowledge of the history of Singapore though, all the guides are further trained on storytelling skills, having each gone on the trails more than 10 times to practice—a sort of "rehearsal" to round out the theatrical aspect. The guides narrate the story from Tan Ah Huat's point of view, as opposed to simply rattling off facts about Singapore, according to Let's Go Tour Singapore. And it's a pretty high-tech bike tour too. Every rider has their own headset to listen to the guide, as well as iPads to compare old photos of Singapore with the present-day sites. The iPads also contain pre-filmed videos of Ah Huat to be played along the routes.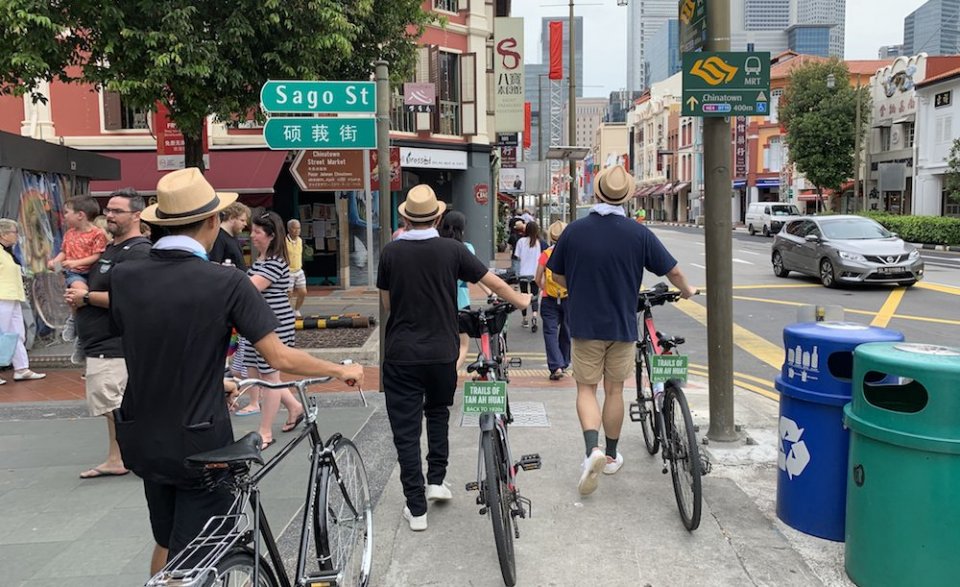 While the tour is backed by the Singapore Tourism Board, Let's Go Tour Singapore's two founders Daniel Tan and Robin Loh retain a close personal hand in its operation. Loh himself acts as Tan Ah Huat in the tour's multimedia and marketing collaterals.
The pair first met years ago as client and financial advisor—having been in the insurance industry for 20 years, Tan approached Loh, then his client, with a business idea. He had gone to Bangkok for a holiday and when bored, booked a bike tour on TripAdvisor.
"All my friends thought I was crazy; they said: 'Have you seen Bangkok traffic? You're going to kill yourself,'" recalled Tan.
"But the bike tour was an amazing experience—so safe and so marvelous, because it went through the narrow alleys and between buildings, and I saw places that very few tourists ever get to see; the real Bangkok." Hence, he decided to recreate it in Singapore, and with Loh's help started Let's Go Tour in 2016.
Aside from 'Trails of Tan Ah Huat', the company has an extensive portfolio of tours targeted mainly at tourists and the expatriate community here. Foodies can hop on for a Bike & Bites Food Tour or Peranakan Food & Culture Experience; take a walking tour through Tiong Bahru; or discover Singapore with the History Singapore Bike Tour—a trail designed for action seekers, and the company's bestseller.
If you're game for a nostalgic ride through '20s Singapore, the tour is open to "anyone who can ride a bicycle", according to Tan. Group sizes average five to six people, but can go up to 20; most of the cycling will be purely on footpaths. Tickets are $99 per person here.