With the arrival of the Bangkok Arts Biennale we're getting exposed to more contemporary art than ever before. Now, a recent collaboration between three artists and AP Thailand is putting the concept of duality into the contemporary arts spotlight with their exhibition "The Duality". First is Lucas Price, a contemporary artist who began his career as a founding member of one of the UK's most prolific graffiti crews, Burning Candy. Price's exhibition roll includes the likes of Tate Modern's 2008 Street Art exhibition. On the other side is Terawat and Tarida, a creative design duo with deep roots in fashion with both Bangkok and New York City. The three have come together to create "The Duality", an exhibition that interprets Bangkok's contrasting beauty, from the raw to the polished, to create a world where harmony and a conflicted reality co-exist. We recently sat down with both artists to discuss the new exhibition, the concept of duality in their minds, and how it relates to Bangkok.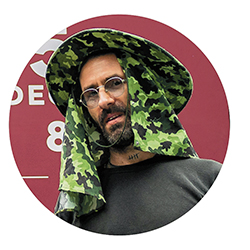 Lucas Price
How did your passion for graffiti start?
Hip hop became a powerful musical force when I was a kid, and in New York graffiti was part of that culture. My school friends started doing it, so I followed them. I was fascinated by this raw, immediate form of graffiti, and it's still around in the way. I still draw, and I like what graffiti means: it's to beat you up.

What is the main idea and concept for this recent collaboration?
It is a combination of pieces which have poetry at their centre. Most of the work uses language as a starting point. There are very raw paintings, and the very tight meticulous paintings. Slick neon signs with ambitious messages and loose images of flowers taken using a low quality polaroids. It's Duality.

Do you find what you're doing for AP Thai is more challenging?
Making anything is always challenging. They are both rewarding in their own ways. It's something you have to put your effort into. Graffiti-wise, you have to sneak out at 3am, avoiding the police and cameras (I've got caught a couple of times: no big deal.) This sounds scary, but you don't need a gallery, press releases, website or wealthy clients to buy your piece. You might get caught, but once you're done painting, it's a success. It's also a great opportunity to work in the context of living space. It's not a traditional gallery set-up, and we can use several mediums to express the poetry of words and visuals.

What's your take on the concept of Duality?
I've been very interested in the concept of duality. I think what interests me is what Zen Buddhists say about non-duality. You need duality to think of non-duality. It's like a mirror. It highlights the need for non-duality. Without darkness, you would never be able to see the light.

What's with the giant canvas at the enterance?
I took that from Roxy Music. I like the song and the lyrics and I guess this can be an opportunity to make a big text piece using a loose approach to mark-making as a reference to raw, spread-painted text graffiti. Bangkok has plenty rules and unfinished potential.

Tell us about your painting The Ghost Shower
It's a painting of a fire extinguisher, and for graffiti artists, we use this as a tool to create arts outdoor—quick, powerful, and immediate. I used to prepare this object, pressurized the color and make a quick painting. The Ghost Shower is from a song. I carefully selected the words, phrases and marks to be placed on the objects then painted them together to make a bold connection. When you use fire extinguisher to make painting, it rains paint everywhere and that is also my representation of ghost showers.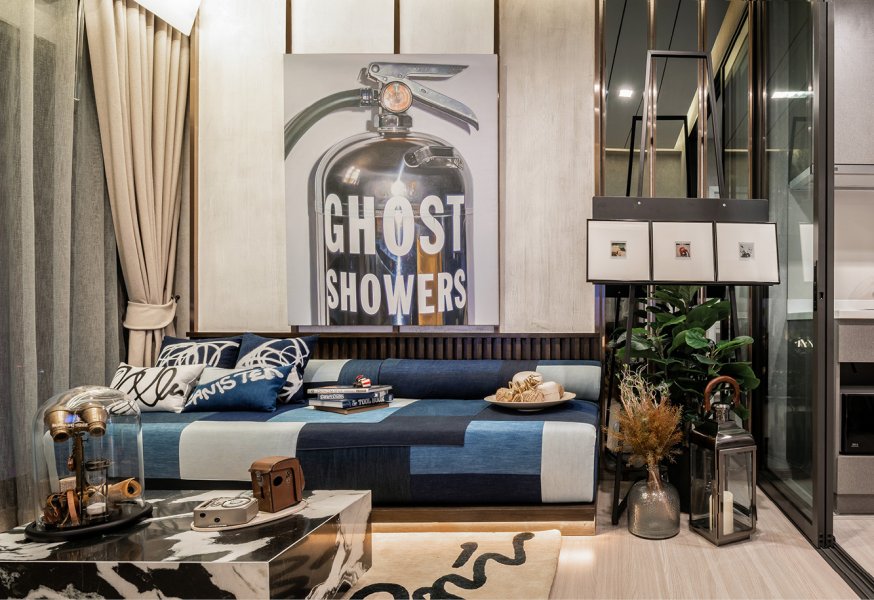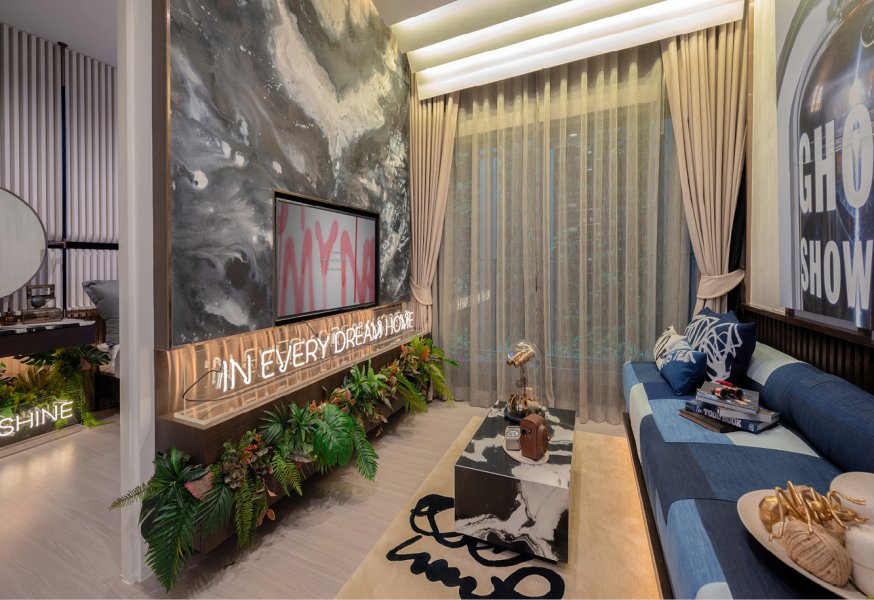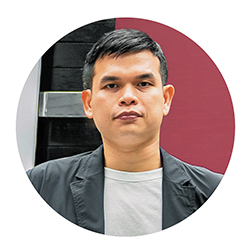 Teerawat and Tarida
Do your styles co-allign with each other?
I think our lifestyles are the same, but it's our approaches that are different. I'm quite delicate when it comes to aesthetic details, but when it comes to practical usage and seeing things in a bigger picture, Meow can fill up what I lack. During this project, I ended up putting a lot of delicate details, but then meow took a second look and suggested that it would be overwhelming in a place to live, so we scaled it back. That's how our different style work together.

What's your take on the Duality of Bangkok?
Our take for the theme turns out to be a woman in Bangkok. We used a silhouette of flower petals to symbolize Bangkok's diversity. Each petal can represent several things: some can reflect our long-lasting culture like the traditional female dancer while others that look sharper and stiff can depict the bustling nature of the city.

Tell us about this Petal Rooms
We've designed this room for a woman that isn't bound by colors. It can represent a feminine luxury from its golden tableware to other sparkling features in the room. But, it also shows the stark contrast between two things that, in turn, harmonize with each other, like how I chose to blend navy blue with this warm orange and how those soft and organic shapes crash with the sharp ones.

Which detail do you think best represenats the image of women you're trying to conjure?
I like the carpet. At a glance, it appears like a flower, but if you're looking closer, you can see the abstract forms that fuse these two color schemes between the hot and cold. I love the concept because sometimes what you see from afar is not entirely the same when you stand close to it.

Do you find this task more challenging compared to what you usually do?
I guess everything has different challenges. When I do fashion design, I need to be more concerned about creating something that matches the wearer. For this, I think it is more challenging to create a lively atmosphere that people want to stay in. But in any case, I love how our work can interact with people in different ways.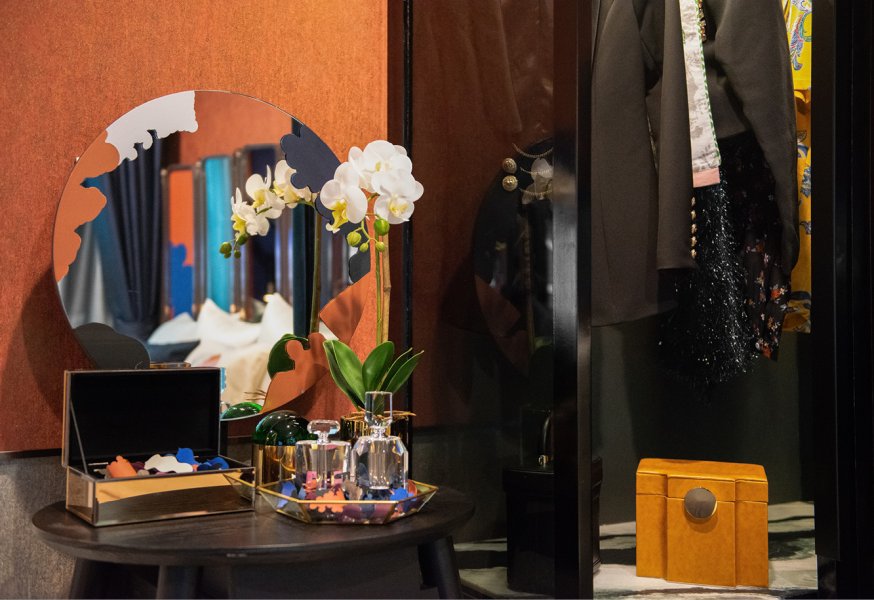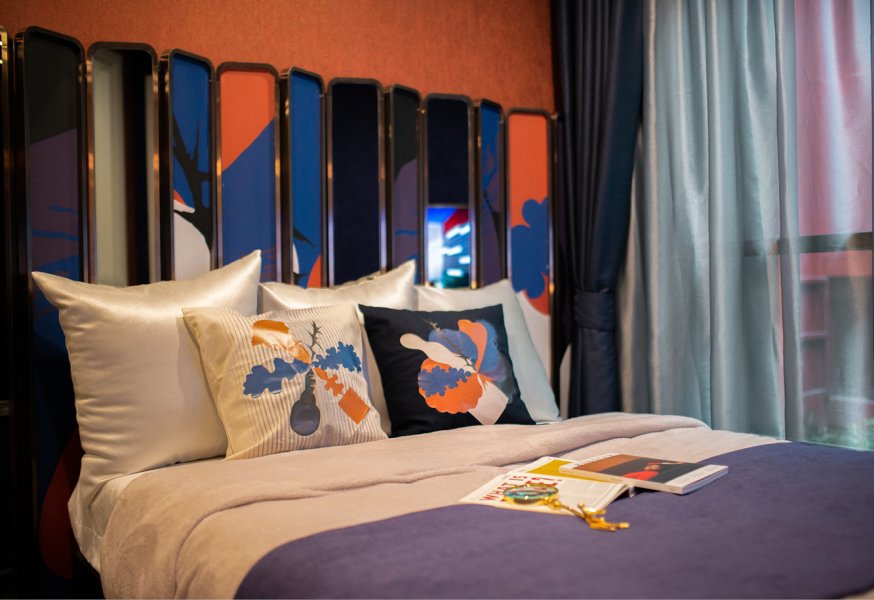 ---
Life Asoke Hype – The Supremacy of Both Worlds
The latest addition to AP Thailand's luxury condominiums Life Asoke Hype reflects supreme luxury in eclectic design, and introduce seamless blend of art and living space as one. The Duality Exhibition will last to December 15 as a part of Friends of BAB.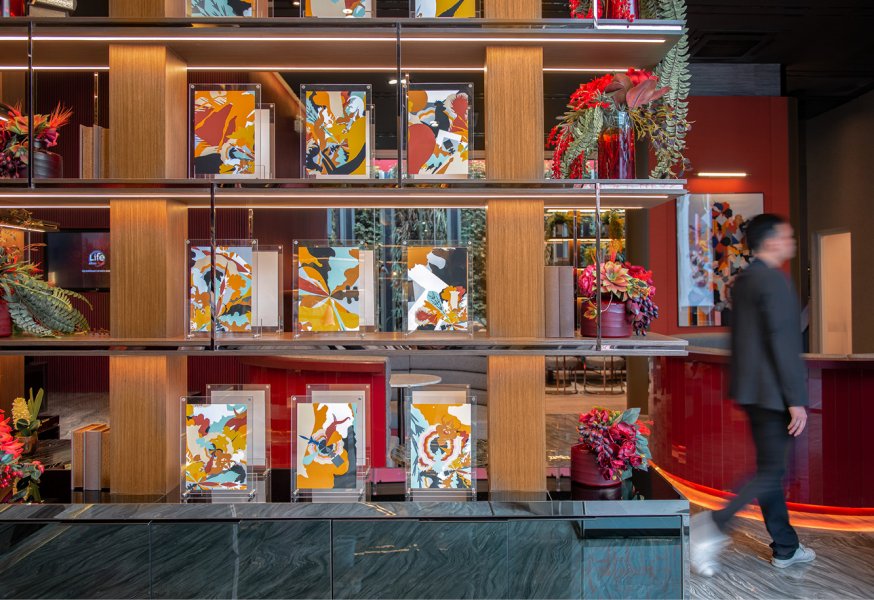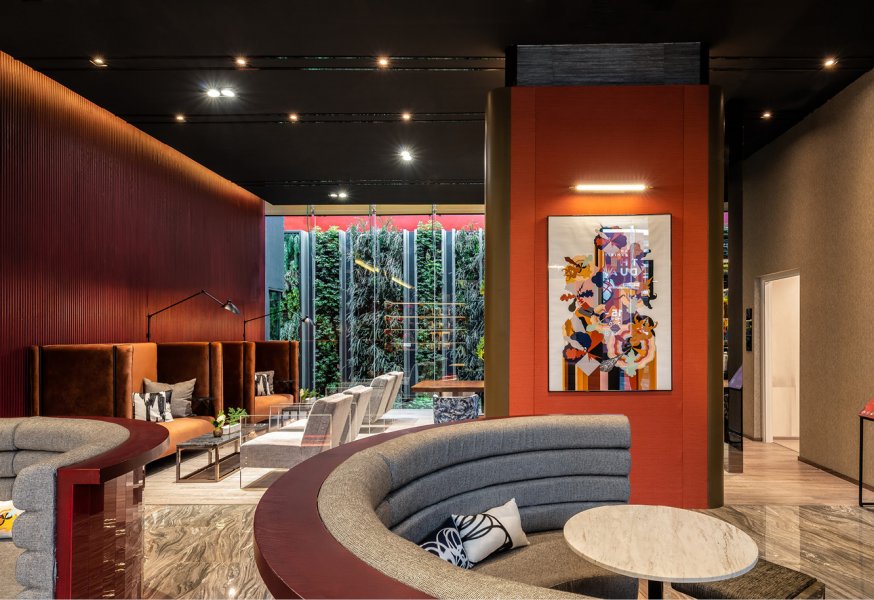 ---
This native ad was created by Asia City Studio. We use storytelling to help brands of all sizes influence and connect with people who matter. Visit us online: studio.asia-city.com

Sponsored by: