Last year, MQDC sent Bangkok IG feeds wild when they collaborated with the Hungarian artist collective Limelight to flare up the 60-story Magnolias Ratchadamri Boulevard skyscraper with a barrage of 3D projection mapping and multi-color lasers in a show dubbed "Beautiful Bangkok" (we made a video about it that you can catch here). This year, they've brought the show back but are instead turning to Thailand's local arts scene for inspiration. Seven Bangkok-based artists have come together to curate artwork for this year's version of the show, which is already underway and will continue until New Year's Eve. Each night, the building comes alight with Thai-touch motifs, animal characters and colorful graphic elements that tell the story of Bangkok's everyday life and culture. Meet the artists below:
Photo credit: @_P7_
P7

Janewit Limthamrong

Janewit is an artist and designer who debuted using realism back in 2002. Today, his work has shifted towards a graffiti style where he employs bold colors and his fondness of conceptual art to create unique animal characters. He has worked with several major brands, including Converse, G-Shock, and Preduce Skateboard.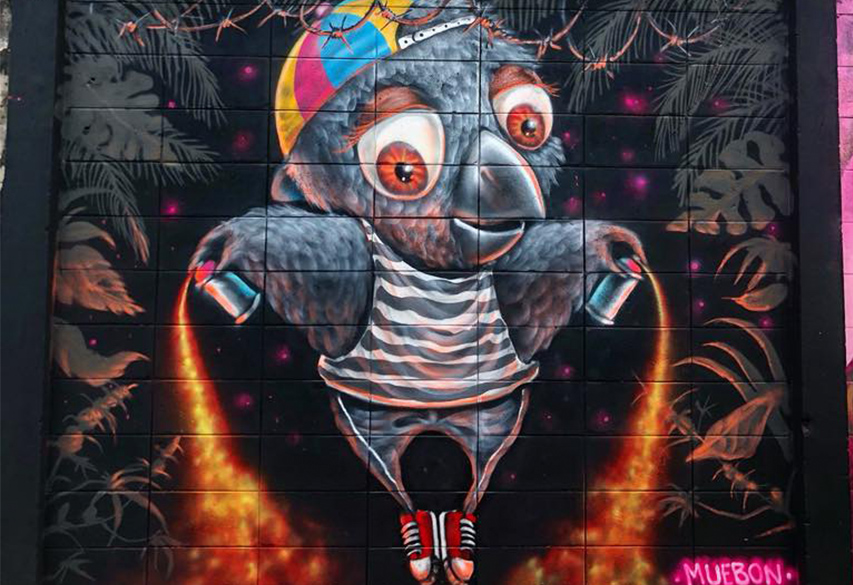 Mue Bon

Danaiphai Lersputtitrakan

Growing up in a disadvantaged neighborhood, Mue Bon's life as a street artist got its humble start two decades ago. Since then, his work has gradually become more recognized, and just this year he got invited by the German Embassy to paint a segment of a piece of the Berlin Wall that was transferred here. Even people who don't keep their fingers on the pulse of Bangkok's street art scene might be familiar with his iconic black flightless bird that acts as a commentary on immobility and inequality. He also spreads political and environmental messages through his work, like a large graffiti piece that resembles a deceased black tiger.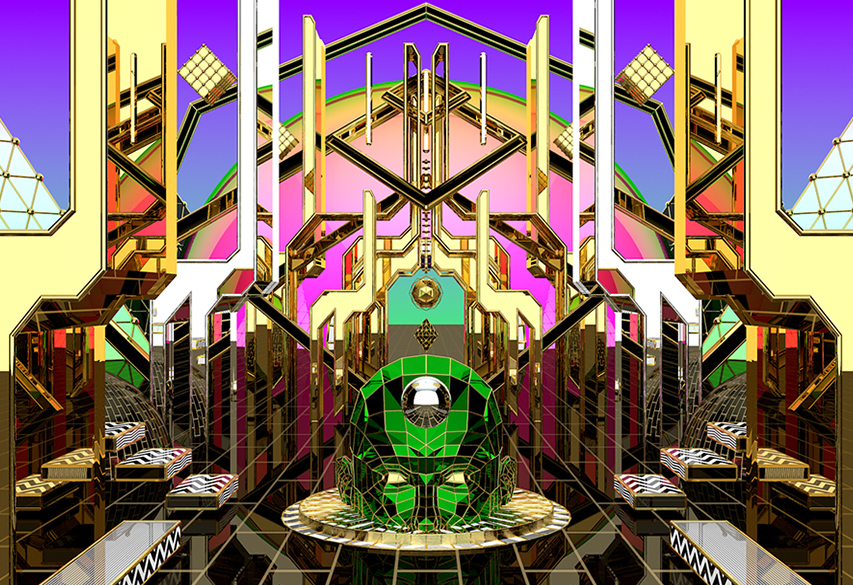 Pai Lactobacillus
Thana Saengsorn

Thana takes his inspiration from electronic music and his experience working with music festivals to create a psychedelic and funky art style. He has worked with several major brands such as Sol Republic and Mercedes Benz and was also behind the visual creative work of Maya Music Festival.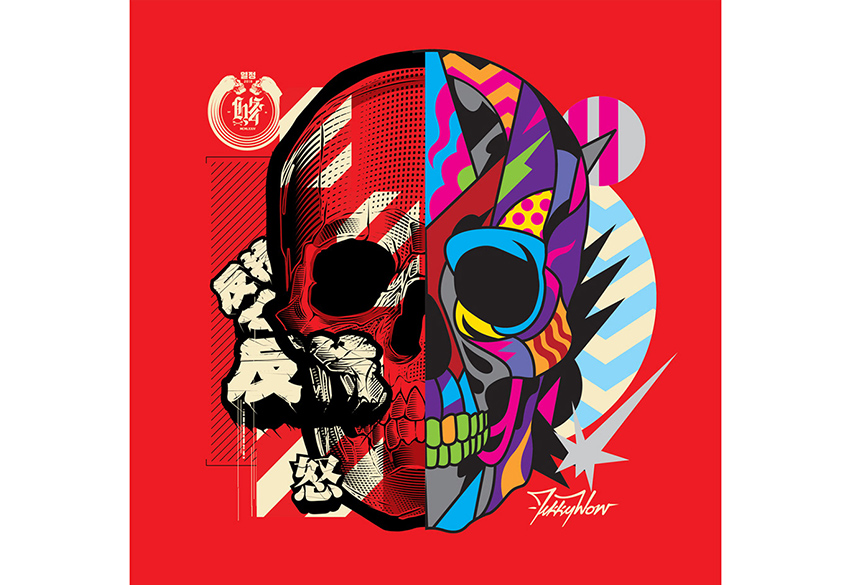 Tikkywow

Pichet Rujivararat

Known for his chromatic version of Thai folklore villain, Yak, graphic artist Pichet's work has made it all the way to multi-disciplinary Kult Studio in Singapore. The artist has done design work for international brands like Casio, Tiger Beer and several property developers. His art usually depicts vicious-looking hybrid characters that prompt people to look for deeper meaning than just the beastly faces.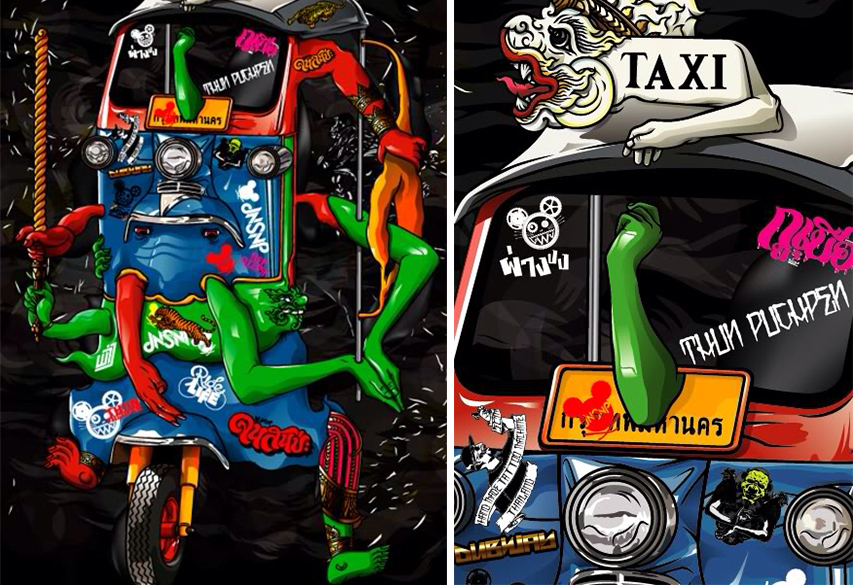 TRK

Teerayut Puchpen

Teerayut's work incorporates traditional Thai motifs into monochromatic drawings of monsters. His paintings emphasize the use of sharp lines to depict strange-looking, otherworldly creatures. He has been working closely with the skateboarding community here in Bangkok and is also one part of the duo behind the sci-fi horror series Stranger Things mural at BACC back in 2017.
Bonus TMC

Akkaraphon Monthathong

As one of Thailand's most prominent street artists, Akkaraphon showcased his distinct work at Bangkok's Bukruk Urban Arts Festival, an event that helped take the creative district to another level. His work often portrays gigantic animals engaged in strange acts, like an elephant driving a tuk tuk or a bear wearing goggles. His pieces can be easily be found painted across old buildings and battered bridges around town.
KEEP YOUR EYES ON

This 3D projection mapping team is taking over the 60 story building with future realistic art and lighting, along with techno tunes to express the characteristics of Bangkok and to tell the stories of Thailand under the concept "Neo Bangkok."
The light show Beautiful Bangkok @Magnolias Ratchadamri Boulevard will run at night from 18 December until the New Year's Eve, seven rounds per evening. There's also a countdown event and additional shows on New Year's Eve. For more information visit fb.com/mqdcforallwellbeing

You can also participate in the photo contest. Just snap a picture of Magnolias Ratchadamri Boulevard and post it on your social media with the hashtag #BeautifulBangkok. The best shot will win the B100,000 prize. Head to CentralWorld Square, Ratchaprasong Walk, Gaysorn Urban Resort, Red Sky at Centara Grand, The Terrace at CentralWorld, or BTS Siam skywalk to get a nicer shot.

---
This native ad was created by Asia City Studio. We use storytelling to help brands of all sizes influence and connect with people who matter. Visit us online: studio.asia-city.com

Sponsored by: