Thailand's Karen communities have been thrust into the spotlight recently for unfortunate reasons.
The Ban Bang Kloi community in Kaeng Krachan is facing eviction from its ancestral lands, while Karen groups in the North have been maligned for rotational farming practices that many have lumped together with slash-and-burn, a technique that has exacerbated air quality problems during northern Thailand's smoky season.
But a group of artists and members of the Pgak'yau (Karen) community in Chiang Mai's Ban Nong Tao hope to change perceptions of the indigenous group through a collaborative exhibition, appearing now at art and technology festival
Ars Electronica
, taking place in 86 sites across the world as well as virtually from
Sep 8-12
.
Called
Walk Like a Bee
, the exhibition was put together by Ban Nong Tao leader Siwakorn Odochao, artist Jennifer Katanyoutanant, and UK based interactive art studio Invisible Flock. Together, they aim to cultivate a deeper understanding of Karen traditions, especially rotational farming and how it helps them adapt to climate change.
Walk Like a Bee largely details the groups' previous research and provides a teaser to an upcoming animated documentary based on Karen folklore, made with illustrations produced by members of Ban Nong Tao. It also destigmatizes Karen practices, especially when it comes to farming.
Image courtesy of Michaella Phoenix
In a Zoom interview, Siwakorn explained to us recently how farming is a holistic practice in his community and why modern powers like the central government continue to misunderstand indigenous practices. Karen farming, he said, balances the clearing and burning of land with long fallows that can last for years. It's a slow process, rooted in folklore and based on the belief that nature must be given time to restore itself.
It's imbued with Karen cultural and spiritual values and can also be a sustainable way to keep our forests safe by preventing wildfires, benefiting biodiversity and soil erosion.
Yet their community has been blamed for deforestation and mislabeled as slash-and-burn villains.
"City dwellers assume that the forest and farming are two separate things, but [for us] they're interrelated. Farming is part of the forest and vice versa. When the central government sees burning, or after the forest has returned to its natural state, suddenly they think the ecosystem is being destroyed, and the central government assumes the responsibility of preserving it," Siwakorn said. "We lose our self-reliance in the process."
Siwakorn stressed the importance of education. He said that people are "not open-minded and rush to judgment." But he noted that the pandemic has given us greater reason to embrace traditional farming methods again.
"Modern agriculture depends on so many factors, like the market, techniques, fertilization and chemicals, even tractors," he added. "Utilizing traditional farming makes the most sense, because it's self-sufficient and everything depends on your labor."
People from the community who have been honing farming skills their entire life are now having to look for other work because their future is left hanging, he said.
Image courtesy of Michaella Phoenix
This involved Siwakorn leading a storytelling workshop that involved young people in Ban Nong Tao drawing pictures of the Karen rotational farming origin story.
"The animation we used in the exhibition is [made up of] drawings, or really a pictorial language, created by young people in Ban Nong Tao," Jennifer said.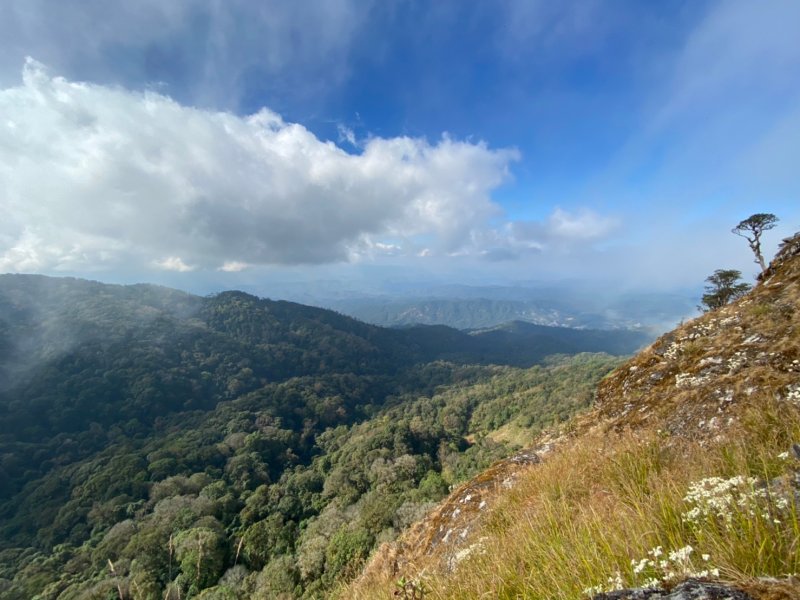 Image courtesy of Michaella Phoenix
She explained that it was vital to ensure the art was led by the community itself.
"As outsiders, we never will understand the issue as the community would," she added, alluding to the way the Thai government and even UNESCO have dictated conservation practices in Thailand without attempting to understand Karen groups live on the land—without treating them like partners in the conservation process. "But for centuries, indigenous communites around the world have been showing people how we can show care for our environment. It's time we listen."
Walk Like a Bee can be viewed virtually as part of the Ars Electronica festival, this year called "A New Digital Deal," from Sep 8-12. Walk Like a Bee is free to view online, but you can visit the website here to purchase tickets to explore all the exhibitions.
The festival is taking place in Linz, Austria, and 86 other destinations around the globe, as well as online, with exhibitions, concerts, talks, conferences, workshops, guided tours, and other activities.
A full animation, also titled "Walk Like a Bee," is set to launch around November this year.