Born and bred in Bangkok, contemporary Thai artist Teerayut Puechpen, also known as TRK, has been turning Bangkok's street art scene upside down with his modern appeal and fantastical style.
"As a child, I always knew that I wanted to become an artist, but as I grew up there was a shift in culture where graphic design and technology changed my perspective, and I became passionate about contemporary art," TRK tells BK Magazine. "My passion for writing and love for art were interconnected and I was able to express it via technology and graphic design."
TRK is also the art director of the popular skateboard brand Preduce and has been an integral part of their projects over the years.
Previously, TRK was commissioned by Netflix to promote the second season of Stranger Things by painting a massive mural in Soi Ekkamai 8, and last year the Converse City Forests campaign saw the artist painting the alleys of Ari.
The Converse project, from the world-famous brand, used Graphenstone's Ecosphere paint, a graphene-laced and lime-based product said to improve air quality.
"I've also had exhibitions at galleries globally, including in Bangkok, Chiang Mai, and live painting in Tokyo and South America," he says."I grew up in an environment surrounded by artists and underground music whether it was hip hop, sculpture, skateboarding, or sports. So, initially, I started getting involved in producing art for DJs and musicians such as posters and sculptures. That connection just went deeper and deeper," says TRK.
But it's not all back-alley art; TRK can get corporate too. TRK has been working on murals and skateboard decks for local and international brands like Nike, Converse, G-Shock, Red Bull, and many more.
When asked about how he coped during the pandemic, it turns out Covid equaled big skate deck orders.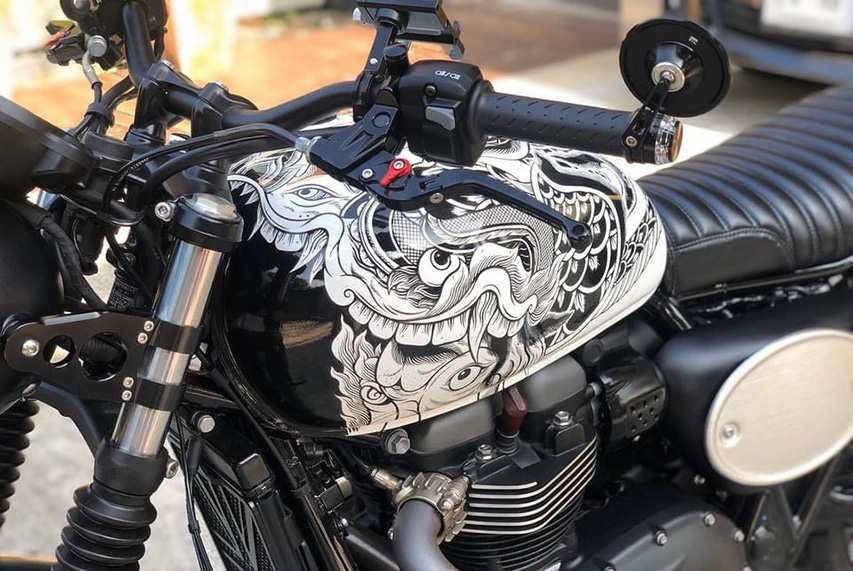 "During the pandemic, it was a peak for skateboard culture and that's why I've been very busy designing and painting skateboards. The demand for skateboards was extremely high. In fact, my supplies were running low. So, it was an unusual case [luckily] for me," he says. "What keeps me going is that I do different activities, which you can see through my Instagram. One day I am painting skateboards, the next day I am doing a live painting show at a party," he says.
This is the first year for TRK to be contracted with a contemporary gallery.
"Usually, my work is more underground, and I take up small gigs from brands, but this year I've been completely and wholly dedicated to fine arts," he added. "My dream is to have my exhibition at Art Basel in the next five years, hopefully."