A year and a half into the pandemic, millions of schoolchildren in Thailand are about to lose another year of in-school learning, and a consensus has emerged that schools should reopen as soon as possible. Several questions remain, however. How should schools adapt their lessons to accommodate the increasingly urgent needs of students? How can we keep disadvantaged students in the education system? How will we help students and teachers recover from this crisis? We talked to experts to explore these questions.
Offline to Online
When Ton Thanapat, now 17, reached his second year in high school, he knew that he would be busier and more anxious than he had ever been.
He usually began his day at 7:30am. His parents would drop him off at school at 8am, just in time for the national salute performed every morning. He would have classes in six different subjects each day before attending after-school basketball practice and seeing to his school committee duties. Ton would then hurriedly pack his things and leave for a tutoring center off campus, where he would spend another three hours preparing for university admission exams. It was a demanding daily routine.
After the pandemic shut everything down, Ton didn't have to wake up early and race to school for the national salute. He didn't have to attend basketball practice. He didn't have to rush from school to the tutoring center, either. Despite regaining so many hours, Ton found himself feeling more restless and anxious than ever.
Since the start of this school year, Ton has not met his teachers in person. He still sits through six classes per day. Now, they're online, but those classes haven't changed much beyond the medium used to host them. In his physical education class, he says he has to participate in virtual aerobic exercises, along with his peers, all with their video turned on.
While many might think studying at home affords students a certain level of comfort and convenience, Ton says he can't go on like this much longer.
"It's not about struggling to get good grades anymore," he says. "It has become a daily struggle to remain focused and not fall out [of school entirely]."
Ton's story reflects the situation of many Thai students these days: with greater workloads and assignments, many are struggling to meet ever more demanding expectations in an uncertain world. Yet his story doesn't represent the gravity of the whole situation.
It is the unfortunate, if foreboding, reality that not all Thai students can afford the same access to education as people like him.
Thailand's Equitable Education Fund (EEF)
reports that 1.9 million students come from poor or extremely poor conditions, in which their parents' total earnings are less than B3,000 per year. Of these students, 271,888 lack access to electronic devices and the internet. As classes have gone online, 43,060 have already fallen out of the Thai education system, according to the organization.
With schools closed and vaccine distribution policies still unclear, many Thai educators fear that school closures and less-effective instruction will exacerbate these inequalities and pain points, and that they might ripple years down the line.
In Search of Lost Time
Kunthida Rungruengkiat
"How long do we have to wait in our four-walled prisons, our eyes sore from the computer screen?" wrote
Bad Student
, an influential group of student right activists, on their Facebook page recently. "But they [the government] are more than willing to turn a blind eye on us [students]."
The group has fought against everything from uniform and haircut policies to physical abuse in Thai schools. Lately, they have turned their attention to the government's lack of involvement and attentiveness to their problems with prolonged periods of online learning.
In early September, the group called for a weeklong strike to encourage their fellow students to
ditch their online classes
. More than 8,000 students participated in the campaign, which demanded more inclusive vaccine policies and more lenient school lessons.
Online lessons have also impacted younger children not wholly represented by groups like Bad Student. Without formal schools and real-life playmates, some of the country's youngest children are missing out on key learning milestones.
"There are many aspects of learning that online classes can't replicate," says Kunthida Rungruengkiat, a former member of parliament from the Move Forward Party and ex-chairperson for Chiang Mai's early childhood-focused Tonkla School. "When there is regression, we need to trace back [through what students have missed] and revisit those milestones."
An educator herself, Kunthida has noticed different levels of problems occurring as a result of online learning. Some students may require additional help that they don't receive; some might have needs that require the aid of more than just school personnel.
"We need collaboration from people outside of education," she says. "Children may have learning disabilities, like ADHD and dyslexia, or develop mental health or learning problems during this time. The Ministry of Education should form a team of specialists to coach and prepare teachers to help their students recover from stresses caused by the pandemic."
The Tonkla School has tried to pick up the slack. Realizing the unique challenges of at-home learning, the school has allowed parents and students to schedule personal visits to the school grounds. At the end of each month, the school launches what it calls Recharge Week, during which students and parents can interact online in learning-based activities together and help each other cope with their pandemic stress.
"Many children may not be able to put their stress into words. By helping them revisit and control those pent-up emotions, we are letting them control their feelings, and letting them know that they are not alone," says Kunthida.
Embracing Tech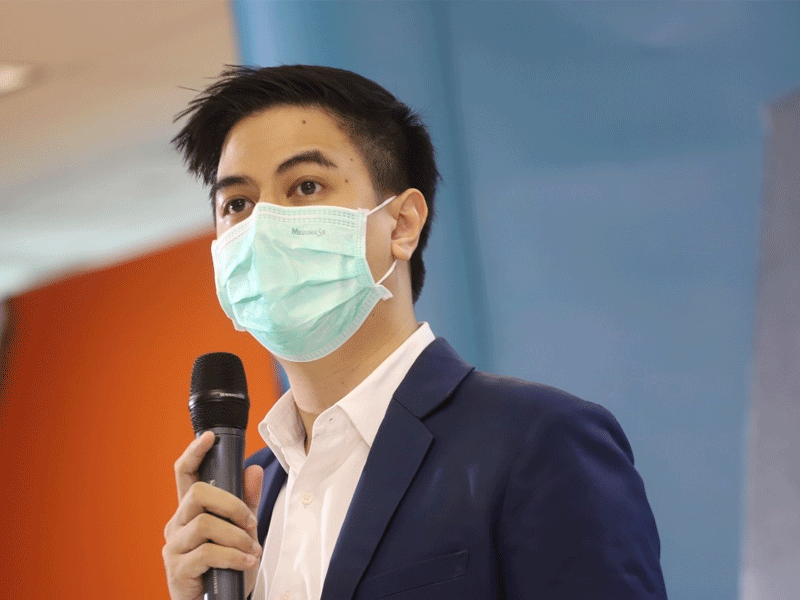 Parit
"Itim"
Wacharasindhu
"We need to admit that online learning—no matter how proficient the educators are—will never replace normal classrooms," said Parit "Itim" Wacharasindhu, a founder of ed tech startup
StartDee
, which launched its on-demand learning platform in May 2020.
Like many educators, Parit agrees that schools should reduce workloads and homework assignments to alleviate new stressors on students. He proposes that schools should adopt asynchronous learning, where lessons and educational content are ready-made, allowing students to choose the time to participate themselves. He adds that school hours should be limited to the bare minimum. This would not only reduce screen time for students, but also ease the burden on teachers, who must prepare lessons in advance and optimize them for the online learning environment.
Parit believes tools like StartDee can play a part in this.
StartDee's mobile application develops learning content and categorizes it by grade level, streamlining learning tools for educators and students alike. He believes that the government should play a more active role in helping students and teachers, too.
"Most teachers are required to create their own teaching materials," he says. "The government should integrate all of them into one single platform, which can encourage schools and teachers to share so that we can avoid overlap and the potential duplication of resources."
The other overriding concern, Parit notes, is the digital divide—the lack of digital access and hardware for vulnerable groups.
"If we don't push for better and more fair online access, we are going to witness the worst form of inequalities in every aspect of people's lives," he says.
"Students who have better access to the internet are able to better cope with the situation than those who don't. The same goes for healthcare: people with better access to the internet can more easily register for vaccines."
StartDee has launched two initiatives to mitigate some of these problems. Collaborating with the EEF on a "Free School" plan, they have sent used mobile phones, SIM cards from private companies like True and DTAC, and one-year access to its content to 8,500 vulnerable students nationwide. With Parit finding DLTV, the government-run remote teaching programs, to be limited in its scope and impact, StartDee also temporarily offered free access to all of its on-demand learning content when it launched.
Despite joint efforts from the private sector, it's still up to the government to untangle the whole situation, Parit says. That includes addressing urgent needs that predated the pandemic.
"Private companies can only facilitate learning and help students stay motivated in trying times. As long as school isn't free and parents still struggle to provide for their children, the chances of seeing every student return to school at all may be very dim."
Lessons Learned
"Teachers must learn to cater for the different needs of their students in times like these," says Chalipa "Namo" Dulyakorn, founder of
Inskru
, an online sharing platform for Thai educators. "They need to embrace change and listen to feedback to find the right learning environment for every student."
She adds that for many schools, "summative assessments like midterm and final exams are still mandatory [during virtual learning], and teachers have no choice but to comply."
Since the start of the pandemic, Chalipa has noticed that things might be changing, though.
Teachers have visited Inskru's page more often to discuss problems and ways to adapt teaching methods to virtual learning. And despite some of the draconian requirements mandated by the Ministry of Education, like seated online exams no matter the circumstances, some young educators are using the pandemic as an opportunity to adapt and improve.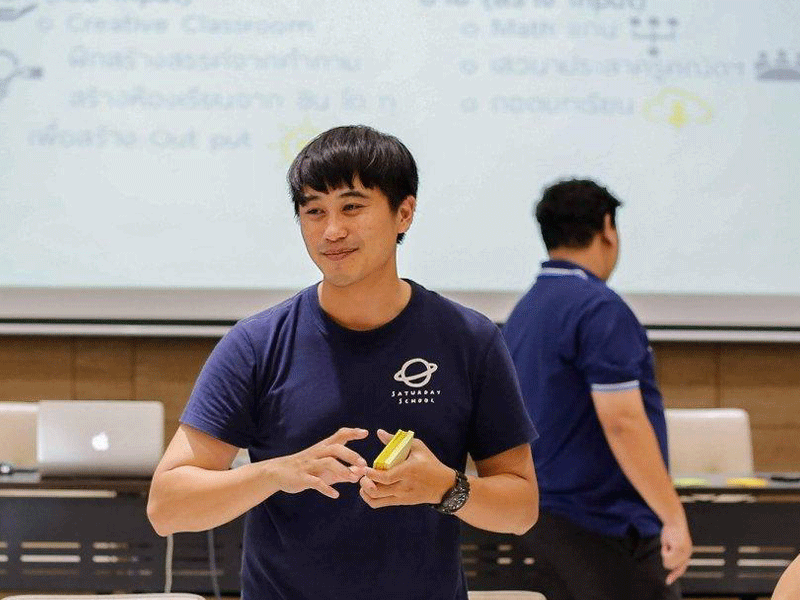 Romklao "Kugs" Changnoi
Romklao "Kugs" Changnoi, a high school mathematics teacher from Matthayom Wat Dusitaram School in Bangkok, has attempted to break away from dated practices. In his class, students don't have to fully participate in real-time learning. They may choose to attend class or catch up later using videos Romklao makes ahead of class.
Though his students still take tests as required by the Ministry of Education, his methods are more lenient and liberating. Where other students may have to take tests with their cameras on, students in Romklao's class do not. They can use all the resources available to them to their advantage, too. He has arranged tests into three different sessions and allowed students to choose their best scores from the rounds.
"There is more than one way to assess students' learning capabilities," Romklao explains. "Testing them on their knowledge is easy, but we are asking them to do the unthinkable: not to cheat in [high-stakes] virtual exams."
His methods have led some to question the integrity of the test results he receives, but Romklao believes that students need to know that teachers trust them. "We're telling them it's okay to make mistakes; you don't have to obsess over being perfect," he says.
Romklao hopes the pandemic will have given us all a chance to rethink education in Thailand when schools reopen. Maybe, he adds, some of the changes we've embraced will stick.
"Some students may enjoy online classes more than schoolhouse classrooms. Maybe it's time to admit that we don't need to force students to come to class at schools," he says.
"There might be more than one way for students to learn effectively. There's no reason to narrow the learning options for students."