BANGKOK RESTAURANT
Phed Mark
This review took place in July 2023 and is based on a visit to the restaurant without the restaurant's knowledge. For more on BK's review policy, click
here
.

(2.5 stars)
Phed Mark should be familiar to everyone who keeps an eye on Bangkok's food scene. The nearly four-year-old pad kaprao specialist in Ekkamai is the brainchild of homegrown celebrity YouTuber Mark Wiens. His immensely popular channel is the world's third largest travel page on the platform by subscriber count—just shy of 10 million. So it should come as no surprise that on a recent weekday afternoon visit, the venue was overflowing with suitcase-lugging, camera-wielding tourists. At peak hours you can expect up to a 30-minute wait outside to secure a table in the air-conditioned interior, which fits no more than 17-20 people sitting shoulder to shoulder. Thankfully, the staff navigate these crowds and tight quarters with politeness, organization, and efficiency.
The venue's branding also leverages Wiens' YouTube history. He is a notorious spicy heat masochist, seemingly able to eat large spoonfuls of bird's eye chilies like breakfast cereal. The name Phed Mark is a play on phet maak (very spicy) and Wiens' first name. His most popular catchphrase is mai phet mai gin (not spicy, not eating), and the restaurant's logo is a ball of fire with a chili pepper for a smile.
The menu, which includes eight variations of kaprao (from B119-269), stays on brand in that regard. The signature "medium spicy" pork kaprao we tried on our last visit (B129, with an extra duck egg for B25) was hot enough to challenge most diners, even those who enjoy spicy food. Despite the high price tag and burnt lips, it's a pretty decent take on the dish—the minced pork nicely charred but still juicy, the egg whites crunchy, the yolks gooey—with a slightly more complex flavor than what you might expect. We'd attribute this to the mixture of white and red Thai basil and up to six different kinds of chilies they are reported to use here. Is it worth the total B154 price tag? Debatable, but we've seen higher prices for much worse kaprao at ​​kitschy high-end venues around town. That said, the beef kaprao (B159), which BK listed in 2019 as one of "
50 things to eat [in Bangkok] before you die
," was a disappointment—overcooked and dry, with an unwelcome sting from too much raw garlic.
So, should you, Bangkokian, eat here? It depends. If you are in the neighborhood or have a friend who watches Wiens in town, we'd say yes. Outside of that, maybe not. They make a good kaprao here, but not so good that it's worth schlepping across town for a special visit on your own. It won't replace your favorite wok-wielding auntie down the street.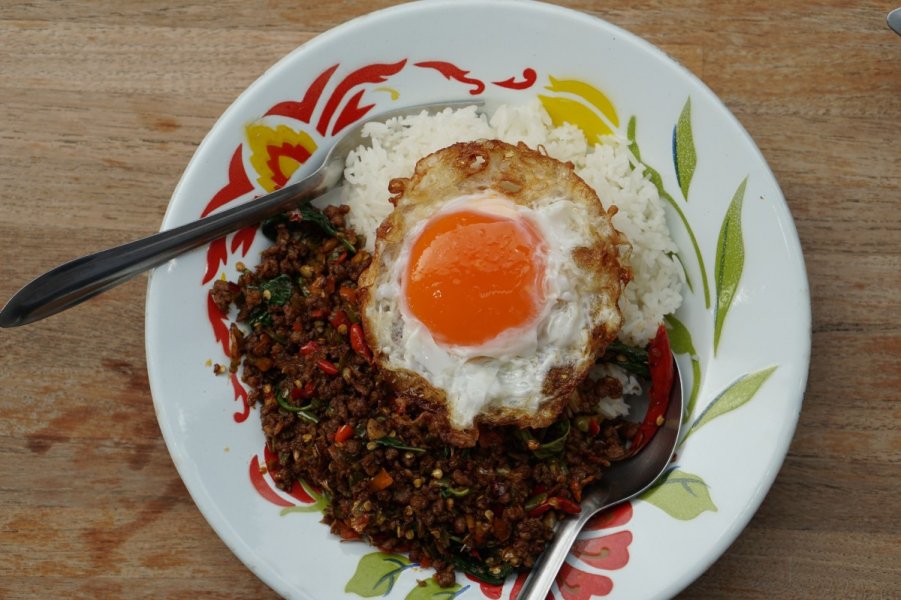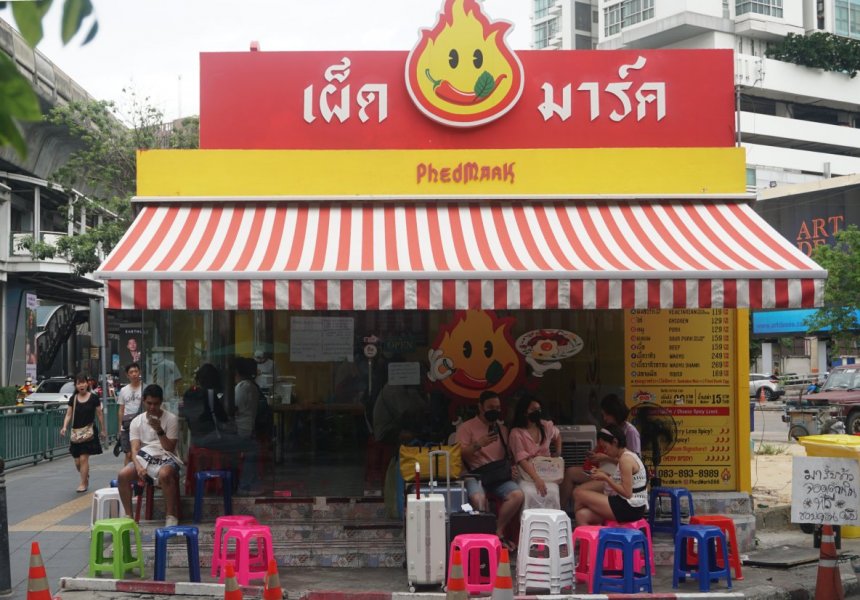 Venue Details
Address:
Phed Mark, 928 Sukhumvit Rd., Bangkok, Thailand
Phone:
083-893-8989
Website:
https://phedmark.com/
Area:
Ekkamai
Cuisine:
Thai
Open since:
November, 2019
Opening hours:

Mon-Sat

10am-7:30pm

Nearest train
BTS Ekkamai
Report a correction