BAR
Lost & Found
This glamorous bar along the riverside celebrates Bangkok's sweeping diversity.
Brought to life by Ashley Sutton—the guy behind whimsical hotspots like the Iron Fairies, Sing Sing Theater, and Iron Balls Parlour, as well as the equally dreamlike Dragonfly and Dear Lilly in Hong Kong—Lost and Found is designed to be equal parts stunning and inclusive.
Located at Riverside Plaza, the long-awaited bar bills itself as "a decadent destination for eccentric extravagance" and "a celebration of self-expression."
Within the dark, elongated, bunker-like space—capped with a curved, gilded ceiling, which makes the whole space look as if it were straight out of "The Matrix"—you'll find the stage, where some of the city's top performers ply their trade each weekend.
Expect a rotating roster of theatrical performances, from drag shows to live music, from puppetry to burlesque, all of which immerse the audience in the spectacle.
The food and drinks lend themselves to the theme. The upscale bar bites—categorized as "appetising" mouth-watering," "showstopping," "flaming," and "tempting"—are approachable options dressed to the nines, like the patatas bravas with chorizo and beef jus (B220) or the crispy squid with smoked onion mayo (B280).
The drinks, meanwhile, speak to the kinds of performances you'll see on stage: Queen of Lost Souls (B350), Vaudeville (B350), Rainbow Flag (B350).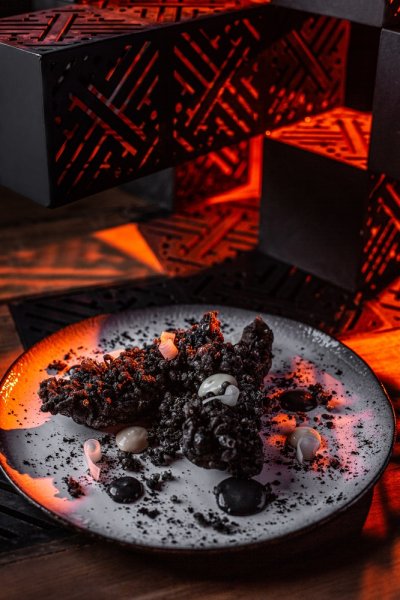 Images: Lost & Found