BANGKOK BAR
Sing Sing Theater
Aussie designer Ashley Sutton's Hollywood vision of 1930s Shanghai turned into a Bangkok nightclub.
The buzz: If Maggie Choo's was a Victorian colonial club hiding in a Hong Kong basement, Sing Sing is its brash L.A. sister. Prolific Bangkok-based Aussie designer Ashley Sutton's (Iron Fairies, Mr. Jones Orphanage, Fat Gutz to name a few) Chinoiserie fetish is here expressed in a Hollywood vision of 1930s Shanghai that's all lanterns, red lighting and elaborate metal screens. In a move that harks back to the Silom club's launch, Sutton is reunited with Sanya Souvanna Phouma, and musical director Kevin Lazykay, a mix that promises well-curated house DJs and dolled up women in qipao.
The decor: The petite dance floor acts as a hub for a network of mezzanines, sunken bars and Sutton's trademark warren of secret passages leading to single-table balconies and speakeasy-style backrooms. The gaze is always drawn to the compact stage, and Sutton himself describes the club as a theater ensconced in split levels and alcoves meant to evoke a dense cityscape. There's no faulting the wood and metalwork throughout, a debauchery of Chinese dragons, geometric motifs and coffer ceilings framing oil-paper umbrellas, birdcages and tufted leather.
The drinks: "There's no menu yet," we were told. We're expecting good things, though. Sing Sing is operated by the partners from Quince (hence Sanya's involvement) and Oskar, some of which are wine importers and actual winemakers. Sutton himself is now making his own gin, Iron Balls, so that's bound to feature prominently too.
The crowd: On opening night? A lot of white men who get their style cues from Apple keynote presentations (hope you like untucked dress shirts in dark colors), a few of their vastly better dressed Asian buddies and young ladies hired to strike hieratic poses in outrageous costumes. Gregoire Glachant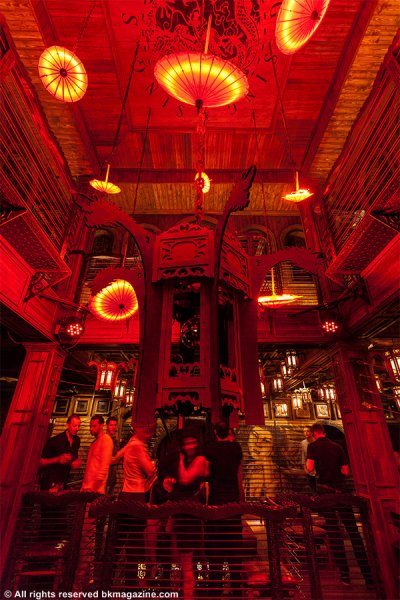 Venue Details
Address:
Sing Sing Theater, Sukhumvit Soi 45 (next to Quince), Bangkok,
Phone:
063-225-1331
Website:
www.facebook.com/SingSingTheater
Area:
Phrom Phong
Open since:
September, 2015
Opening hours:

Tue-Sun

8pm-2am

Nearest train
BTS Phrom Phong
Report a correction