TAK DESTINATION_ARTICLE
A Travel Guide to Mae Sot
Embrace a melting pot of Thai-Burmese culture at this border town.
Mae Sot is situated deep in the mountains of Tak Province close to the border with Myanmar. Now the site of increased Thai-Burmese trade, it still has plenty of charms for you to explore.
Mae Sot Hot Spots
There are only a few genuine attractions in Mae Sot, most of which are located outside of the city center. Start at Mae Gasa Hot Spring, which boasts a constant temperature of some 75 degrees Celsius all year-round and is famous for being hot enough to cook an egg in 20 minutes. There's also the chance to experience a local-style onsen, which starts from as cheap as B30. Right next to it is U-Sa Cave, home to beautiful stalactites. The most stunning scene can be found deep inside the cave where an opening in the roof lets in streams of golden light. Back down on the way to the hot spring is Thai Samakkhee Temple, which houses a Buddha image that borrows its name from the famous Burmese Buddha image Laung Por Thun Jai that's believed to quickly make your wish come true. In the compound, there's also a museum displaying woodwork and antiques, some of which are from Myanmar. Then you can take a little trek up to Phra Tat Hin Kiew, where a large rock stands balanced on another rock at the edge of a cliff. The gravity-defying stone is painted gold and resembles the Kyaiktiyo Pagoda (Golden Rock) in Myanmar's Mon State, only smaller. Said to be a natural formation, a small pagoda sits atop the rock. On the way back to town, you will pass Thai Wattanaram Temple, a Thai-Burmese temple that was built in 1857. Today it's a sanctuary for Burmese monks and home to a giant, 46.5-meter long reclining Buddha in the Burmese style, which means it features more prominent eyeliner and sharp, red lips.
Sawasdee Myawaddee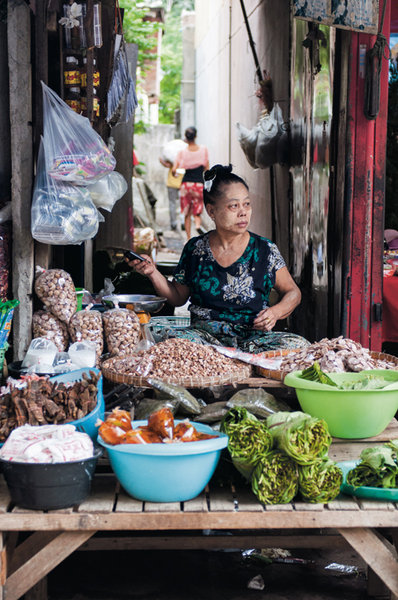 Across the Moei River from Mae Sot is Myawaddee, one of Myanmar's most important trading cities. The Thai-Myanmar Friendship Bridge over the river opens daily and travelers can get a quick glimpse of the neighboring country as you can take a one-day trip across the border without having to shell out for a visa. This allows you to visit a few temples, including the Golden Pagoda (or Jedi Thong in Thai), which is not unlike the famed Shwedagon Pagoda in Yangon and home to a golden Buddha image that's a replica of the Mahamuni Buddha image in Mandalay. Also worth a visit is the Crocodile Temple, where you'll encounter a gigantic crocodile statue with a small pavilion on its back. Before returning to Thailand, don't miss the chance to stroll around Bogyoke Street (near the Thai-Myanmar Friendship Bridge) with its beautiful antique stores or the bustling Myawaddee Market for a vivid taste of Burmese life. The great number of teashops around the market is another more literal way of drinking in the local atmosphere. You can do your own day trip to Myawaddee by applying for a temporary border crossing pass at Mae Sot Customs office (close to the airport), which only takes 30 minutes. You can also hire a local vehicle for the day. But to save all the hassle, local Thai tour operators offer day trips from B1,200-B1,300, including all expenses (gas and application fee) plus a driver who can speak Burmese.
Border Shopping
Mae Sot has long been renowned as a hub for precious stones brought over from Burma. If you want to grab some jewelry without crossing the border, drop by Prasartwithee Road where there's a large jewelry market. Another must-visit place is Godang Gao (Warehouse No.9) on the bank of the Moei River. This venue is a true haven for bike lovers as it sells countless bicycles, which they claim come from Japan. Prices are about half what you pay here in Bangkok and you can find cool fixies and folding bikes among the clutter. There's also a giant market selling secondhand cars from Japan, too, from Toyota to Jaguar. They're pretty strict about stopping you take any pictures in the compound, though.
Delicious Mae Sot
Muslim Morning
As Mae Sot is home to a large Muslim community, you should take the chance to taste some of their famous dishes. Start your morning by strolling to Siripanich Road in search of the yummy Roti Ong (151 Siripanich Road, 5am-9am). The roti here is stretched out and baked on the inside wall of a big ceramic jar oven. This gets you a soft and delicate roti without the grease. For the more familiar fried version, head to Store Ocha (5/1 Isambamrung Road, 055-531-786, 4am-5pm) where they serve it for as cheap as B3 per piece. Both spots are good places to absorb the daily life of locals who gather for some early-morning chit-chat. Meanwhile, Mae Sot Market on Prasatwithee Road serves up both Thai and Burmese treats all day.
Fuller Treats
For lunch, head to Rim Moei Border Market but skip the boring stalls in favor of Kra Poh Pla Rim Moei (next to the Thai-Myanmar Friendship Bridge, 147 Asia Road, 055-563-030, 7am-7pm). Their fish maw soup isn't that tempting, but their freshwater fish is, as it's all sourced from the Moei River. Try the pla neung see ew (B150-200) which features a big chunk of steamed fish in dark soy sauce. Another good spot for lunch is Kanomjeen Kayum Khun Noi (59/9 Asia Road, open 9am-5pm, 055-533-880), which serves cheap kanomjeen (rice vermicelli) at B30 per set with an all-you-can-eat choice of four nam ya (dressing). Come dinnertime, if you crave authentic Northern food, drop by the street stall Paa Nee Paa Thong (Soi Watluang, Prasartwithee Road, open 5:30-9:30pm) where two auties offer cheap treats like gun jin (rice steamed with pork blood) and kanomjeen nam yuak whose dressing is made from the core of a banana tree. For something more elevated, there's Khaomao Khaofang (382 Mae Sot-Mae Ramad Road, open 11pm-10pm, 055-532483, 055-533607), where you can indulge in Northern dishes in a beautiful natural setting, or Pla Sod Mueang Chod (Asia Road, 089-939-1747, 11am-10pm), which you shouldn't leave without trying their Pla KFC (B200) which is fried fish in a KFC style. n
Essentials
Getting there
Nok Air (www.nokair.com) flies direct from Bangkok to Mae Sot three times a day, leaving Don Mueang Airport at 8am, 10:30am and 3.05pm. Tickets are from B1,293/trip.
Where to stay
Baan Maitree (80 Asia Road, 055-533-334, 084-382-8839, www.baanmaitee.com). This newly built two-story house sat on Asia Road offers cheap, cute rooms with free Wi-Fi at B450 a night with breakfast.
Irawadee Resort (758/1-2 Intarakhiri Road, 055-535 430, 080-771-0938, www.irawadee.com). A peaceful option decked out in a Northern-style décor. Rooms are B950-B1200.