SANGKLABURI DESTINATION_ARTICLE
Two Days in Sangklaburi
A small town where global NGOs came to help stateless people is now a new destination for those seeking peace and quiet.
Sangklaburi (or Sangkhlaburi) is little known to Thais, let alone international tourists, but this mini commune on the banks of the Songaria River, close to the Thai-Burmese border, has been a long-time destination for western volunteers who work here at several NGO-run projects. This is because Sangklaburi is now home to a mix of Thai and Mon people, who were resettled here when their village was submerged after the construction of the Khao Laem Dam was built in 1982.
These days Sangklaburi is roughly divided into two parts, the Thai side and Mon side, situated on either side of the river. Despite being from different cultures, both groups mix freely courtesy of the 400-meter-long wooden bridge that spans the river. It's just one factor that makes Sangklaburi a truly charming and fascinating destination, a place that offers unspoilt and picturesque landscapes and an insight into the traditional ways of life of two very distinct cultures. The other plus: Sangklaburi can be reached in around four hours by minibus or van from Bangkok and is small enough that you can see it all in two days with our recommended itinerary.
6am: Set Sail (Day 1)
Your day should start pretty early if you want to arrive in time for lunch. You can get a bus at Mochit Bus Terminal at 5 or 6am but that takes six hours. You might be better off hiring a car (see Essentials) or finding someone to drive you as most tour operators will hire out mini vans. That means you can leave Bangkok later as it should only take around four hours.
11:00am: Adventurous Rafting
If taking a bus, it will leave you at Sangklaburi Bus Terminal, located in the middle of the market. Check in at your resort, leave your bags and prepare yourself for a bit of adventure, with a ride-and-raft trip. It's available through most resorts, though the one from P Guesthouse (B850-950/person) is the best known and includes one night's accommodation and one lunch. The trip involves catching a small boat from the town and heading up the Ranti River. After gliding past thick walls of vegetation with only the bird calls and put-put of the engine to break the silence you'll eventually be dropped off in the jungle. You'll then clamber onto the backs of elephants for an hour-long ride through the jungle before donning a life vest and jumping onto a rather flimsy looking bamboo raft (it really is just bamboo poles lashed together) for the float back downstream. The entire trip takes around five hours.
5pm: Hidden City
If a spot of adventure in the boiling midday sun is just not your style, you can hide from the heat at nearby cafes (see 9am: Coffee Aroma, below) or in your room until the sun and the temperature start to drop. Then it's time to take a short boat trip to what the locals call "the underwater city." Listed as one of the TAT's Amazing Thailand wonders, it is actually the old Wang Wiwekaram Temple which was submerged as part of the Khao Laem Dam construction process. When the water level is low enough, in the dry season (Mar-Apr), entire buildings appear above the water and you can actually walk inside. For the rest of the year the water covers most of the temple so it really looks like an underwater city under the setting sunlight. The boat trip takes around half an hour, and costs B200 (at Mon bridge) to B300 (at your hotel) per boat of 5-6 people.
6pm: Burmese Meal
With the strong Burmese culture in the area, it's the perfect excuse to try some Burmese specialties for your dinner. One of the best places is the restaurant at the Burmese Inn (034-595-146, www.burmeseinn.com) where you'll get to enjoy dishes like Burmese-style chilli paste and noodles. After dinner you may as well head back to your hotel. This town goes to bed early and you'll want to be up at the crack of dawn the next morning.
6am: Cultural Trek (Day 2)
It's worth falling out of bed to make sure you participate in Sangkaburi's most famous activity: offering morning alms to the monks. Sangklaburi is hugged by mountains so the morning mist hangs heavily around the town. Every morning, monks walk from Wat Wangwiwekaram on the Mon side, crossing the Mon bridge (Saphan Mon) to accept alms amid the chilly fog. The revered Luangpor Uttama, the former master monk of Wat Wangwiwekaram Temple, ordered the construction of the 400-meter-long wooden footbridge, the longest of its kind in Thailand, in order to connect the Thai and Mon people together.
Once the alms giving is complete, repeat the journey of the monks across the bridge over to the Mon village. Two of the highlights on the Burmese side are the newly-built Wat Wang Wiwekaram and Chedi Buddhakaya, seen as two of the most sacred Buddhist attractions among Thais and Mons. Both were built to replace the previous temple which is now underwater. The story goes that the now deceased Luangpo Uttama moved all the whole Mon village, most of whom are stateless people, uphill to settle at the current location allocating plots of land for every family to live around the temple.
Things move at a slower pace here so spend your morning relaxing and watching the villagers go about their daily chores. As Burma is the place where khanom jin originated, don't forget to try the local rice noodle recipe, kanom jin yuak kluay (rice noodle with banana's trunk soup). You can buy it at the foot of the bridge on the Mon side while watching the world go by.
9am: Coffee Aroma
If not traveling in winter, the mid day in Sangklaburi can get deadly hot, driving everyone inside. Still it's the perfect excuse to chill out at one of the three hip cafés in Town. Blend Cafe (next to bus station, 034-595-204) is the only one of the three that sits in an air-conditioned shophouse—ideal for a really hot day. It features ivory-colored walls, vintage-print tiles, along with relaxed seating and Arabica coffee. Coffee Berry (Soi Sam Prasob, 084-802-9811) has a Mediterranean-inspired decor with a blue and white theme, and a variety of wood and metal chairs and mobile ornaments, some of which are made by the owner and her daughter. If you're a fan of uber hip magazine Monocle, then you'll like the design driven Graph Cafe (Srisuwan Khiri Rd., 081-751-2365) a lot. Sat in the middle of a lawn, it's where NGO volunteers normally work (during the day) and then meet up (in the evening). You can also shop for a bunch of locally-made merchandise, from postcards to bags, to support the charities. If you really fall in love with these places then there are also guestrooms hidden in the backyards of Coffee Berry and Graph Cafe; see details in Essentials. Once the caffeine kicks in, head back to Bangkok.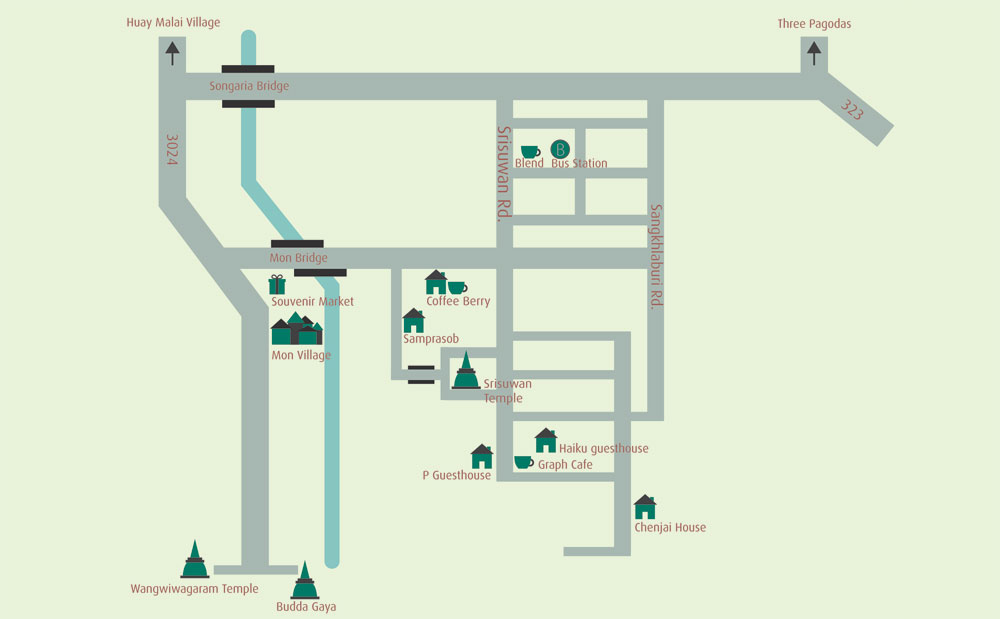 Essentials

Getting there
At Mo Chit Bus Station (MRT Kamphaengphet), get on the Bangkok-Dan Chedi Sam Ong bus, and get off at Sangklaburi. The trip takes around 6 hours. A ticket is B302 one way.
Car Rental
Thai Rent a Car, 02-737-8888, www.thairentacar.com
Budget, 1800-283-438, www.budget.co.th
Getting Around
There are motorcycle taxis that can head all over town with prices starting from B10 or you can rent a motorbike at P Guesthouse (B250 per day, see Where to Stay). If you don't want to break the tranquility then you can hire a bicycle, too (B70/day) but be warned this area is very hilly.
Where to stay
Long-time favorite riverside options include the American country style lodgings of P Guesthouse (B250-950. Srisuwan Khir Rd., 034-595-061, 081-450-2783) and Samprasob Resort (B900-3,000. Samprasob Rd., 034-595-050), which is more luxurious and has a great view over the Mon bridge, especially from its new wing. If you don't need a river view, Coffee Berry (B800. Soi Sam Prasob, 084-802-9811) offers five rooms decked out in five different color themes. Behind Graph Cafe, the four guestrooms of Haiku Guesthouse (Srisuwan Khiri Rd., 081-751-2365) are housed in a traditional Japanese house inspired by Haiku poets and Zen style.
Voluntourism
For those interested in volunteering to help stateless children, Baan Un Rak (034-595-428, emails@baanunrak.org, www.baanunrak.org) has a number of programs. Contact them for details.