MEDAN DESTINATION_ARTICLE
Mystical Medan
The capital of Northern Sumatra is the perfect base to explore volcanic lakes, lush rainforests and colonial architecture.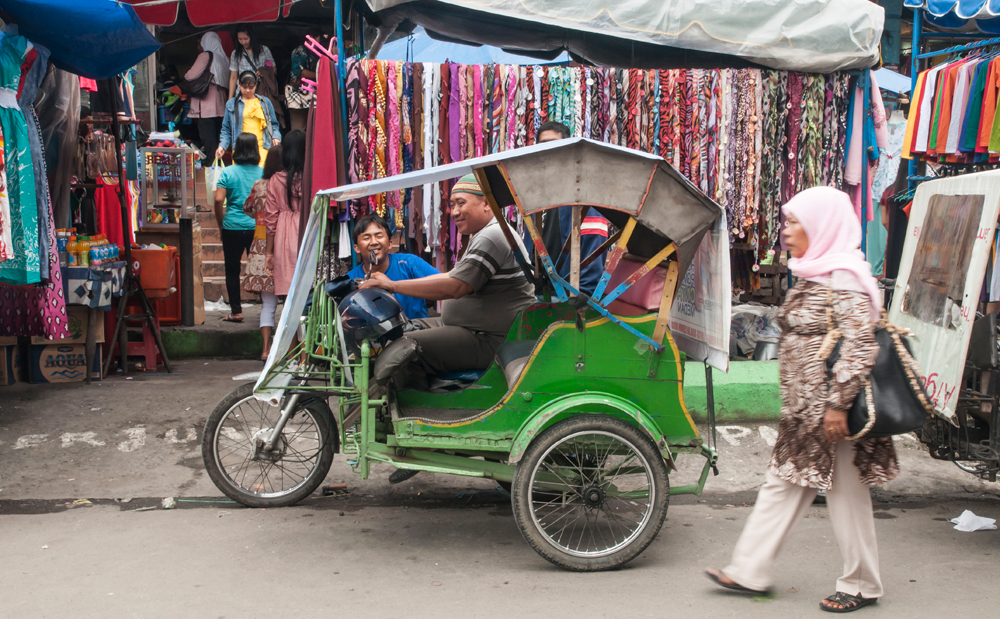 Medan
Beyond Bali, most of Indonesia's top tourist attractions are situated on the island of Java, like the Borobodur temple or Mount Bromo. But Medan, capital of North Sumatra province, is fast becoming a must-visit destination. A center of the Netherlands' tobacco trade in the early 18th century, Medan is the country's fourth largest city and the center for tourism on the island of Sumatra. Take a stroll around the city's cultural hub before visiting some of the nearby attractions: come face to face with one of humans' closest relatives, cruise around the world's largest volcanic lake or take in the highest waterfall in Indonesia, Sipisopiso.
Istana Maimoon
Cultural Medan
In the Malay language, Medan means a large place to gather. Today it's home to 2 million inhabitants who live in everything from luxury mansions and low-rise shophouses to sprawling ghettos that dot the ever-expanding city. With over 200 years as a key trading post, plus period's of Dutch and Portuguese rule, Medan is rich with culture. It possesses many examples of colonial architecture, particular in the areas around Kesawan Square and Ahmad Yani Street. One notable attraction is the two-story Tjong A Fie Mansion, with its art deco courtyard, which mixes Chinese and European styles. It was built in the 19th century by Tjong A Fie, a Chinese merchant who amassed a fortune in Medan from a large plantation business (tobacco, palm oil and sugar), banking and railroad construction. An even grander attraction is Istana Maimoon (Maimoon Palace) on Bridjend Katamso Street, a two-story palace built by Sultan Makmun Al Rasyid Perkasa Alamsyah in 1888 which is famous for its unique architectural style that traverses Malay, Islamic, Indian and European cultures. About 100 meters away stands the Al Mansun Grand Mosque, the largest mosque in the province built back in 1906 by a Dutch architect. It's usually quiet, except during the month of Ramadon. Ladies need to wear a veil to enter. For a rare glimpse at a Buddhist temple in this strongly Islamic country, find your way to Maha Vihara Maitreya in Cemara Asri district. Here you can worship a statue of Chinese goddess Guanyin in a beautiful garden, or simply stare in wonder at the sheer size of the temple. Medan is also renowned for its street food with stalls and restaurants at every corner. Though it's a big city, the roads are narrow and filled with vehicles at all hours – the noise might remind you of Bangkok. Take your time at each destination, the lovely rickshaw drivers can take you across town from as little as IDR30,000 (B100), while taxi meters start from IDR5,000 and then charge IDR300 per kilometer.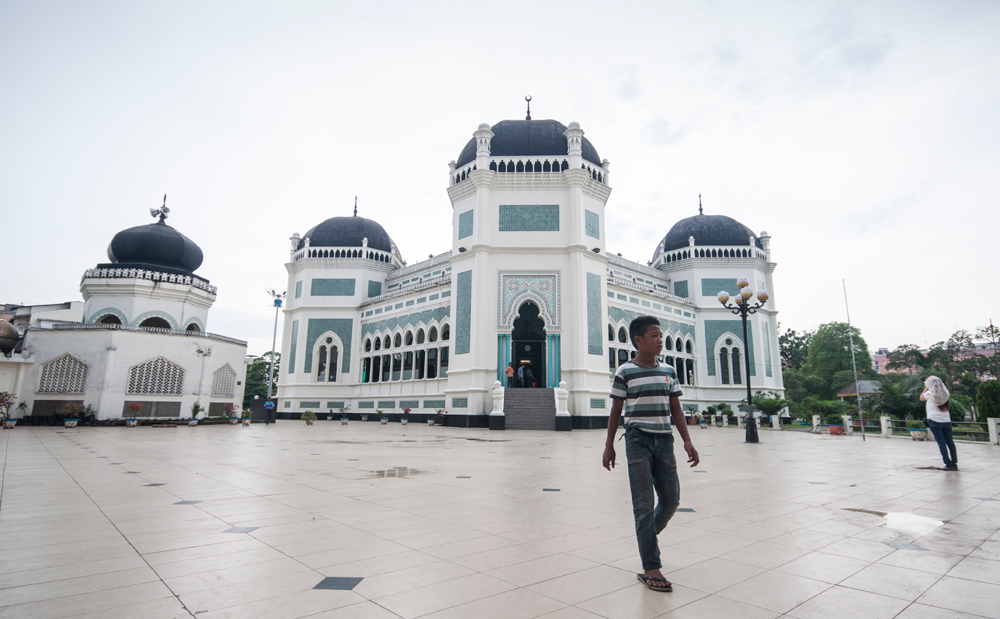 Al Mansun Grand Mosque
Parapat - Lake Toba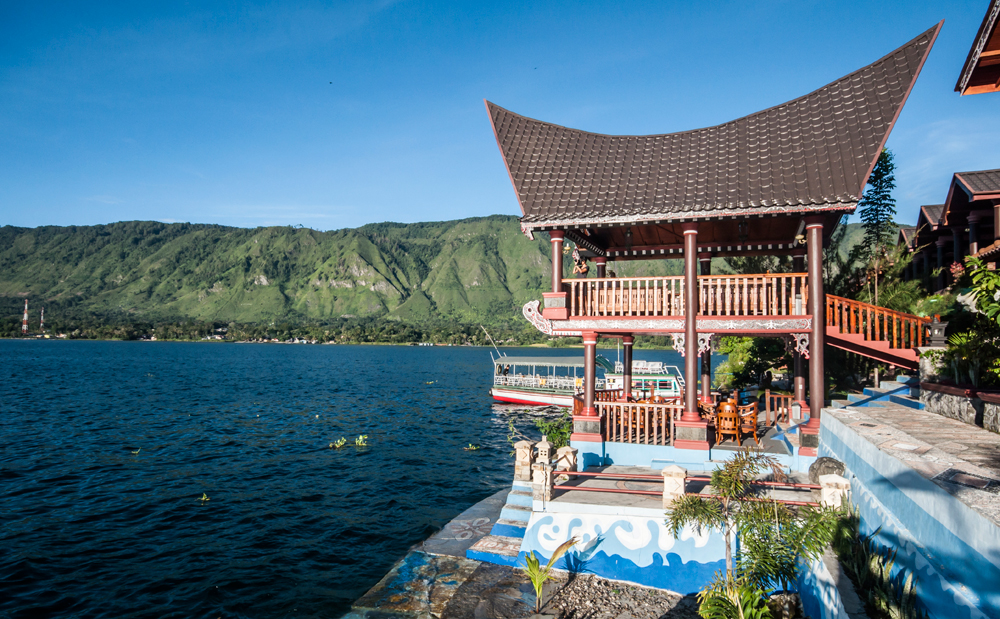 Samosir Villas Resort. Samosir Island
Some 176 kilometers and between four to six hours from Medan, the small, hilly town of Parapat is the best jump-off point for visiting Lake Toba, the largest volcanic lake in the world, measuring 100 kilometers long and 30 kilometers wide. The lake is the result of a supervolcanic eruption that occurred around 70,000 years ago, the biggest of the last 25 million years—a massive, climate-changing event believed to have killed most humans alive then. Nowadays the lake and Samosir Island, in particular, have become popular spots for peaceful vacations. There are still signs of ancient civilization as the area was the original homeland of the Batak people, the main ethnic group in North Sumatra province. Rent a boat from Parapat or a motorcycle on Samosir Island to get a better look at the unique cultural setting, including the Batak's distinctive traditional peak-roofed houses, and the stunning natural views. Start your day at Ambarita Village with a visit to the stone court of King Siallagan before heading to Simanindo Village to enjoy some traditional music and dance and peruse the museum. End your day trip at Tomok Village where you can pay your respects at the tomb of another ancient king, Sidabutar. A stay of at least 1-2 nights is highly recommended if you're to really explore the area, and there is a wide selection of hotels and guesthouses at both Parapat and Samosir Island. As the former is the primary transit point for visitors to the island, there are ferry departures every 30 minutes with fares from IDR12,000-15,000.
Sipisopiso Waterfall
Berastagi - Volcanos
When you feel it's time to leave the water behind, head to Berastagi, a popular mountain resort town some 70 kilometers from Medan. Just imagine the cool weather you get in sleepy Mae Hong Son, but with the added bonus of two active volcanos as tourist attractions. On the way from Parapat to Berastagi, you must make a stop at Sipisopiso Waterfall, the highest in Indonesia. The trail to the bottom might freak you out at first, but it's worthwhile conquering any fears. Just take it slow if you're not a regular at the gym. How much you enjoy your time in Berastagi is largely at the mercy of the weather, as on a bad day, clouds can restrict views of Mount Sinabung (2,417 meters) and Mount Sibayak (2,172 meters). You may be better off heading to Taman Lumbini district to pay homage at Shwedagon Pagoda, a replica of Shwedagon Pagoda in Myanmar, or take a trip to the vibrant Pasar Buah (Flower Market) where you get a glimpse into the daily lives of locals.
Bohorok - Orangutans
The town of Bohorok, some three hours from Medan, is well known for its choice of adventurous forest activities, like trekking in the rainforest or visiting Bukit Lawang village where the Orangutan Rehabilitation Center is situated. You'll have to get permission from the National Park Office or PHPA in Bukit Lawang before entering the center, but once there you'll have the opportunity to view the ex-captive orangutans in the semi-wild on an excursion to the feeding platform. Be aware that it's very easy to get lost in the dense jungle, here, so local guides are a must. You can organize a day trip with any tour operator in Medan or find a guide in Bohorok when you arrive, and help fuel the local economy.
Essentials

Best time to go

July – December
How to get there

Air Asia (www.airasia.com) fly direct between Bangkok and Medan. A roundtrip ticket is approximately B8,000.
Currency
B1 = IDR300
Visa
No visa needed for a Thai national staying less than a month. Other nationalities should check first.
Where to stay
Medan
Santika Premiere Dyandra. Jl. Kapten Maulana Lubis No.7. (62) 61-451-1999. www.santika.com
Parapat
Niagara Parapat Hotel. Jl. Pembangunan No. 1. (62) 625-41028 www.niagaralaketoba.com
Samosir Villas Resort. Samosir Island (62) 625-451399 www.samosirvillasresort.com
Berastagi
Mikie Holiday Hotel. Jl. Raya Medan, Berastagi. (62) 628-91650. www.mikieholiday.com