KOH SAMUI DESTINATION_ARTICLE
Koh Samui: The Latest Detox Destination
Koh Samui is becoming Thailand's go-to island for holistic retreats that leave you feeling pure, refreshed and rejuvenated.

Kamalaya Koh Samui
Kamalaya Koh Samui might not be the most luxurious resort on the island, but it is the certainly best of its kind when it comes to integrated wellness retreats. Its three-day full-board "Introduction to Detox and Cleanse" program is perfect for newcomers to the detox process. The program aims to cleanse toxins from your body and starts with a body bio-impedance analysis to know where you stand. After a consultation with a resident doctor to create a tailor-made schedule over three days, you can probably expect a 60-min detox scrub and wrap to eliminate dead skin, a 90-min oil massage to relax muscle tension, two 30-min infrared saunas to release toxins, a 90-min lymphatic drainage massage, a 60-min foot massage and unlimited use of the fitness center and steam cavern, which comes equipped with plunge pools at various temperatures. These detox treatments are carried out alongside a nutritional plan and holistic classes. For example, the detox menu is devoid of meat and sugary fruits and vegetables. Think you'll stray? The attentive staff know what program you're on and keep you on course. If you're traveling alone, they will also encourage you to sit at a long, communal dining table during meals—a fun way to make new friends. You might also want to try out the daily recreation classes that occasionally feature visiting instructors. More advanced programs, including the colonic detox, are available for longer stays.

Introduction to detox & cleansing starts from B53,700 for single occupancy and from B89,700 for double occupancy—includes full board for three days. 102/9 Moo 3, Laem Set, Na Muang, Koh Samui, 077-429-800. www.kamalaya.com
Absolute Sanctuary
For those who just want to dip a toe into detox before taking the full plunge, the one-day sampler program at Absolute Sanctuary is the most intensive short-term option available. The Morroccan-style buildings of the resort are perched on a foothill overlooking Cherngmon Beach, offering a peaceful backdrop to your detox day. The sampler starts at 9am when you arrive at the sanctuary and down your first detox drink, followed by a consultation with a wellness professional who will tailor the program according to your eating habits. Your colonic detox then takes place at 10am and lasts for around 40-50mins. The therapist introduces 37-degree-celsius water into your colon, followed by organic coffee to arouse the intestinal muscles. Next, healthy bacteria to aid digestion are introduced to replace what has been flushed out. The program continues with a 60min massage, herbal steam, swimming in the pool and a yoga class. Expect a light vegetarian lunch and dinner. The program ends around 8pm.

One-day Detox Sampler B7,900. 88 Moo 5, Bo Phut, Koh Samui, 077-601-190. www.absolutesanctuary.com
Banyan Tree Koh Samui
The Rainforest at Banyan Tree Spa is the one and only hydrotherapy treatment on Koh Samui. It aims to relax muscle tension through water applied at different temperatures, pressures and containing different mineral content. The setting evokes a peaceful forest temple in China, with its bamboo bushes and rocky floor. A one-hour session starts with a walk through showers of warm and cold water that automatically spring up as you walk past—a relaxing and refreshing experience. Then its time to sit in a herbal steam room, that looks like a tree trunk with water streaming past, for a few minutes before heading to the "Swiss Shower" with multiple water jets aimed to relax muscle tension. Next up, enjoy a bracing Japanese-style ice water plunge. The last session takes place in the Vitality Pool, where you simply float through several hydrothermal stations, while water is applied to specific parts of the body. Finally, you get to lay back and relax on a hot stone heated daybed.


Rainforest at Banyan Tree Spa is B1,500/1 hour (B1,000 for hotel guests). 99/9 Moo 4, Maret, Koh Samui, 077-915-333. www.banyantree.com/en/samui
W Retreat Koh Samui
Koh Samui's most happening resort isn't just about their cutting-edge pool villas and stunning view. W Retreat Koh Samui is also home to Asia's first Thaimazcal treatment facility. Hidden within the resort's Away Spa, Thaimazcal's is derived from Mexican Temiascalli, bathing huts or places for ritual baths where ancient warriors relaxed after a battle. Follow the therapist holding a goblet emitting "copal" incense as she leads you into the Thaimazcal stone cave where your inner spirits will be aroused by the repeated ringing of a gong inches from your body. Then there's a quick how-to on breathing within a 50-degree-celsius sauna cave, where you'll sit for 30 minutes, while scrubbing yourself with your choice of scrub salts. (You're always accompanied, in case you're worried about passing out.) After your hot session, soak your body in three different temperatures of water: hot, warm and cold, followed by a refreshing drink at the Tonic Bar.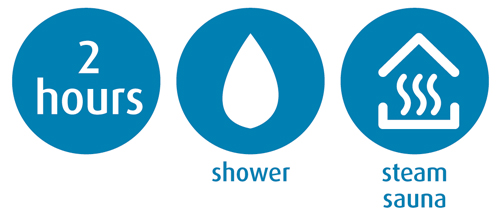 Thaimazcal at Away Spa costs from B4,200/2 hours. Maenam Beach, Koh Samui, 077-915-999. www.whotels.com/kohsamui
Getting There
Jet set: Just hop on a Bangkok Airways (www.bangkokair.com) flight. A web promotion starts from B6,520 roundtrip, inclusive of taxes and surcharges. A roundtrip ticket from THAI Airways (www.thaiairways.com) starts from B10,370.
Low-cost: Nok Air (www.nokair.com) together with Lomprayah Ferry is offering an air ticket-plus-ferry package. You will fly from Bangkok to Nakhon Sri Thammarat (from B1,295 one-way) or Surat Thani (from B1,200), then get shuttled to the pier by bus to get on the ferry to Koh Samui. Rates are for a one-way trip, exclusive of taxes and service charge. Journey takes 6 hours.
Old school: Sombat Tour (www.sombattour.com) takes you from Southern Bus Terminal to Don Sak Pier in Surat Thani (B542-632 one-way) where you then take a ferry to Koh Samui (Raja Ferry, B150, www.rajaferryport.com). Buses leave at 7:30am, 7pm, 7:30pm and 8pm, and it takes around 13 hours in total. Another option is Lomprayah (www.lomprayah.com), which leaves Bangkok at 6am, heading to Chumphon where you get on its catamaran boat to Koh Samui (via Koh Tao and Koh Pha Ngan). The whole trip takes around 11 hours and is B1,400 one-way.