COLOMBO DESTINATION_ARTICLE
Sojourn in Sri Lanka
With the civil war slowly fading from memory, Sri Lanka is forging a name as a top short-term tourist destination. Take a few days to explore the island's long colonial history, religious diversity and charming culture.


Colombo
Cultural Colombo
The nation's largest city gives off a busy vibe not unlike Bangkok's and is your best bet for some shopping and fancy dining. Despite its modern high-rises, Colombo still bears the marks of centuries of Portuguese, Dutch and British rule, with its large harbor and plentiful neo-baroque colonial architecture. One of the city's most popular destinations is the central business district, Fort, so named because that's what it once was. Roam among the beautiful buildings that span many eras of the city's past, including the old General Post Office, the Town Hall and the Old Parliament Building. The area is also Colombo's modern day financial heart and is home to the head offices of many banks and businesses. Another major landmark is www.casacolombo.com located on the main road in the Pettah neighborhood. Built in 1909, it stands out due to its onion-shaped domes and striped red and white facade. For something more modern, we highly recommend a visit to "www.casacolombo.com (Geoffrey Bawa Trust, No 11, 33rd Lane, Off Bagatelle Road, +94 11 4337335. www.geoffreybawa.com). It's the home of the founder of tropical modernism, Geoffrey Bawa, who inspired a whole generation of architects in Southeast Asia. You can even sleep there (it's a bed & breakfast, rates start from LKR5,200). From there, you can collect information on Bawa's other buildings in and around Colombo.
Getting there: Air Asia (www.airasia.com) fly direct between Bangkok and Colombo. A roundtrip ticket is approximately B7,600.
Stay here: Recently recognized as one of the trendiest hotels in Asia by Trip Advisor, the Casa
Colombo (321 Galled Rd., +94-114-520-130, www.casacolombo.com) features 12 suites housed in a charming two-century-old mansion. All suites boast a combination of classic Moorish style décor and savvy local details (plaid bedsheet, neon lights, geometric arts) and have different color hues and layouts. Rooms start from LKR24,300.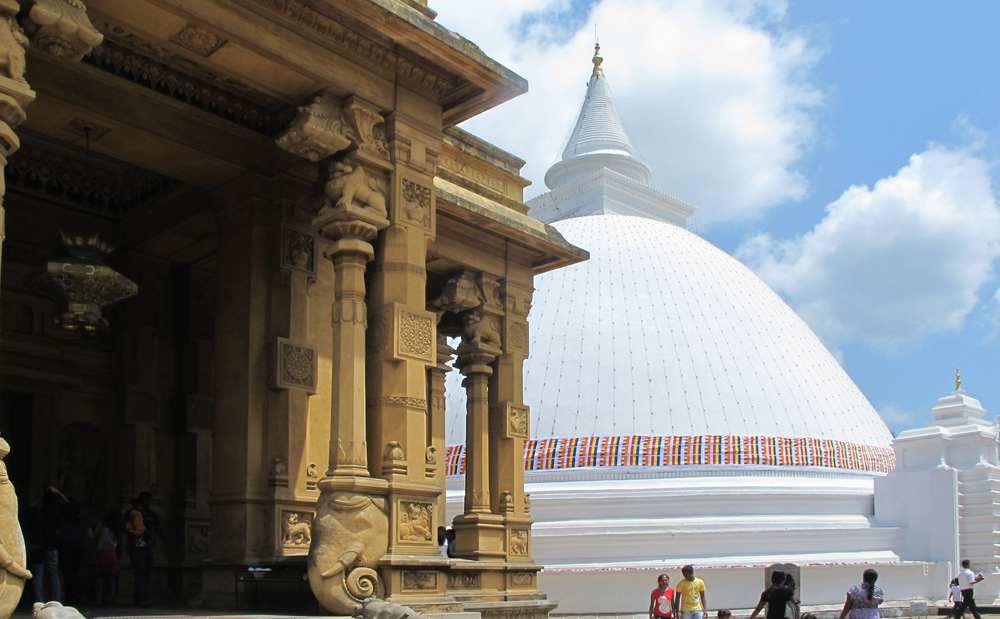 Wat Kelaniya
Buddhist Blessing – Kandy
Roughly 11 kilometers from Colombo, the beautiful Wat Kelaniya, with its elaborate wall paintings and school, is a good place to get acquainted with the history of Buddhism in Sri Lanka. Make sure you're wearing an appropriate white shirt and note that some temples, like this one, require that you take your shoes off at the gate—so a pair of socks may help to traverse the hot ground. One of the most striking paintings depicts Indian Princess Hemamali hiding the Buddha's tooth in her hair on her way to Sri Lanka. The tooth is now believed to reside at The Temple of the Tooth Relic, located in the hilly town of Kandy (3-4 hours from Colombo) which is considered the national center for Buddhism with its many significant temples. One of the country's eight UNESCO World Heritage Sites, this holiest of spots is often thronging with worshippers (especially on Sundays). Here you can witness the tooth which is kept in a bulletproof silver-and-gold room. Visitors are not really allowed to enter but get yourself a tour guide as they can pull strings to get you in, but be warned that photos are forbidden. Within short walking distance is the National Museum of Kandy which showcases ancient artifacts like wardrobes, weapons and the Tripitaka (Buddhist scriptures). Just north of the temple there's The Royal Palace, in all its monumental splendor, built by the last ruler of the Kingdom of Kandy, King Sri Vikrama Rajasinha, in 1784. The town proper is set around Kandy Lake, built in 1807. Stay nearby the lake and you can take a pleasant early morning jog along the decorative Walakulu wall, or if it's too chilly, hop in a three-wheeler taxi that looks like a tuktuk, just fancier with a cost of LKR40-50 a km.
Getting there: From Colombo to Wat Kelaniya, take the regular Sri Lanka Railways train from Colombo Fort Station (check the timetable and make a reservation at tiny.cc/c8okfw with rates starting from LKR75) to Kandy Station. Their trains will remind you our trains, a bit old, slow but of course, the view along the way is fantastic. Otherwise, you can always rent a car at the airport.
Stay here: Overlooking the Hanthana Mountain Range, Amaya Hills (www.amayahills.com) provides a splendid view of Kandy. Wake up early for a glimpse of the morning fog that covers the mountainside. Rates start from LKR13,500.
Nuwara Eliya
Tea Tales – Nuwara Eliya
Next up, visit Nuwara Eliya. Located about 1.8 km above sea level, it's Sri Lanka's top town for tea production. Don't be put off by the dizzying heights, instead take in the picturesque views of hillside tea plantations which supply the famed tea auction in Colombo. For a better understanding of the tea processing industry, take a guided tour of a plantation like the Glenloch Tea Factory (www.glentea.com). A little touristy perhaps, but the smelling of the tea leaves is amazing, and you'll also learn some interesting facts about Ceylon tea. Nuwara Eliya is often referred to as Little England, and it's plain to see why. It was built in the 19th century by British colonialists as a hill country retreat and most of the houses are designed in a Victorian style with some well-landscaped gardens growing both colorful flowers and vegetables. The year-round temperate climate (16 degrees Celsius) makes it ideal for taking a bicycle around the lake or renting a row boat.
Getting there: This might take you 3-4 hours from Kandy with a professional driver (hire one through your hotel as there's no public transport).
Stay here: The Grand Hotel (www.grandhotelnuwaraeliya.com) was formerly a mansion belonging to Governor Sir Edward Barnes from 1830-1850. Just like the other old buildings in town, it exudes a refined Victorian elegance and has a wonderful flower garden. The service is lovely and so is the food. There's no air-con here, but it's not needed. Rates start from LKR16,400.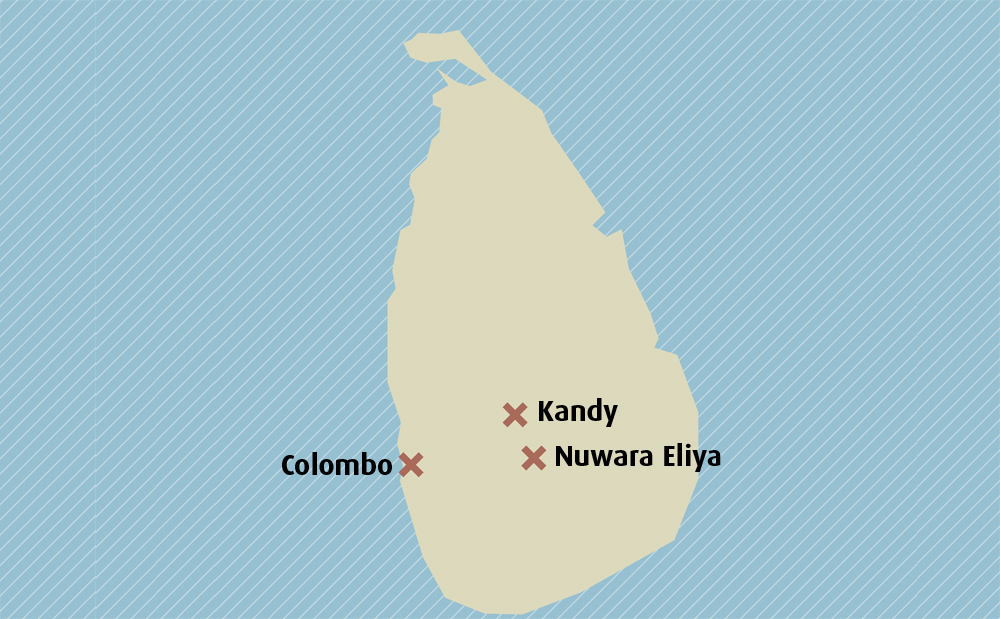 Essentials

Currency
B1 = LKR4.12
Best time to go
Dec-Mar for the west coast. Jul-Aug for the hill country.
Visa requirements
Apply for a visa through tiny.cc/42lkfw for a fee of US$20.