BUENG KAN DESTINATION_ARTICLE
24-Hour Guide to Thailand's 77th Province Bueng Kan
While Bueng Kan finally split from Nong Khai last year, its new found provincial status didn't change the fact that it remains a quiet backwater—a good thing in our book. We're big fans of Isaan in the rainy season, when it's at its greenest, and Bueng Kan makes for a great side-trip when visiting Udon Thani or even if you've followed the Mekong from Loei to Nong Khai and want to keep going. Do you need more than a day to explore? Probably not, if you follow our handy itinerary.
6am: The Sun Rises in Heaven
Considered the must-visit attraction of Bueng Kan, 1.) Wat Phu Tok (Baan Kum Kaeng Pattana, Moo 6, Na Saeng subdistrict, Si Wilai district. Open daily 6:30am-5pm, closed Apr 10-16 of every year) is perched on a sandstone hill surrounded by dense forest. The temple was founded in 1969 by a revered Buddhist monk, Ajarn Juan, and the most memorable landmark is its very unusual minimalist chedi (or stupa). Once there, make sure you make the pilgrimage to the peak of Phu Tok Noi, a sandstone hill inside the temple grounds. A rickety wooden walkway with seven stops takes you on a heavenly path without the need for hours of meditation. Each stop features a different theme aiming to teach Buddhists all about nirvana. The creepiest exhibit has to be the skeleton of a man who died from cancer standing in a glass case, acting as a gentle reminder that nothing lasts forever. The sixth stop is a whole lot more rewarding, though, offering a panoramic view facing east and over the trees, making it the best spot to capture that Instagram-perfect sunrise.
9am: Wow Wua
Located in Bung Khla district, 2.) Phu Wua Wildlife Sanctuary (Baan Dok Jik, Bung Khla district, 081-260-1845, 042-429-362) is a 186.5-sq-km park on the Isaan plateau. The forest here is home to rare animals such as the Phu Wua chameleon. In order to see the reptile, you have to send sanctuary staff a letter detailing your trip 15 days in advance. It's possible to spend the night here in dorm-style accomodation (set your own price), while tent hires are also available for B100 per night (or count just B30 per night if you bring your own camping gear).
2pm: River Snakes
Deep-rooted beliefs in nagas (giant mythical serpents) have left many traces in the region, from folk legends to architectural details. But no place quite captures the magic as much as 3.) Wat Aa Hong Silawas (Khai Si subdistrict, Mueang Bueng Kan, 042-901-112). Built in 1974 on the bank of the Mekong River, the temple is covered with naga symbolism. This part of the Mekong is called Kaeng Aa Hong, and is where the river runs the deepest. It's also where the famous Bang Fai Phaya Nak (naga fireball phenomenon) occurs annually on Oct 30.
5pm: Twilight Marsh
The 4.) Kud Ting Swamp (Khok Kong subdistrict, Mueang Bueng Kan) is a type of wildlife sanctuary where only locals are allowed to fish for their own needs. There are more than 2,000 families living around the swamp and they also offer boat trips to the middle of the marshes, an incredibly peaceful spot to catch the sunset's golden reflection in the water.
7pm: Riverside Dining
Stock up on serious Isaan bites by strolling along Chansin Rd., in Bueng Kan proper by the Mekong River. If the street treats don't put too much of a dent in your appetite, plop yourself down at 5.) New Por Jai Restaurant (Chansin Rd., Wisit subdistrict, Mueang Bueng Kan. Open daily 11am-12am, 042-491-600), famous for its Thai-Isaan dishes. The outdoor terrace looks out over the river—the perfect way to end the day…
9pm: Sit and Sip
…Unless you don't quite want to end it just yet. Despite its small town vibe, Bueng Kan doesn't go to bed at 8pm. Try 6.) Café de Buengkan (opposite Bueng Kan immigration office, Taisamak Rd., Wisit subdistrict, Mueang Bueng Kan, open daily 3pm-1:30am, 042-491-452) it's a small, cozy bar to knock back some beers and homemade cocktails—even such cosmopolitan fare as Long Islands and Bloody Mary.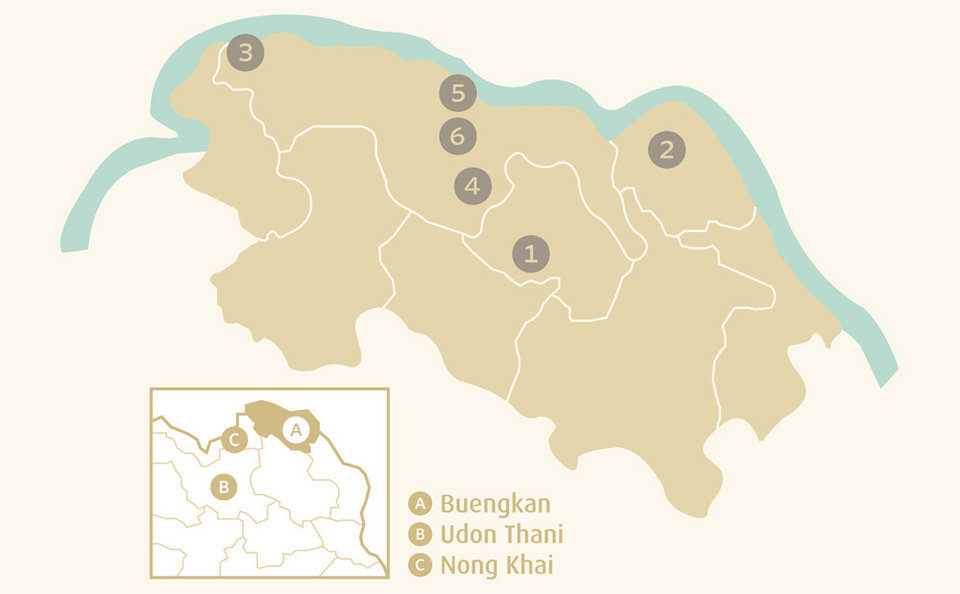 Bueng Kan Map


Getting There

By bus. Air Udon (02-936-2735) operates a daily bus from Bangkok to Bueng Kan via Kumphavapee. Catch it at Mo Chit (B428-643 depending on class). Approximately 11 hours.
By plane. The fastest way to get to Bueng Kan is getting a plane from Bangkok to Udon Thani. Thai Airways (www.thaiairways.com) B4,170 roundtrip, Nok Air (www.nokair.com) B4,012 roundtrip, and Air Asia (www.airasia.com) B2,896 roundtrip. From the airport, you can hire a van from Udonkaew Tour (Udon Thani International Airport, www.udonkaewtour.com) 081-544-3622. Rates are B2,700 roundtrip
Stay Here

The One Hotel (459 Moo 1 Buengkan-nakornpanom Rd., Muang Buengkan, 042-492-234. www.theonehotel-bk.com) is probably the best in town in term of comfort. Rooms are brand new and rates start from B1,200.
Sai Ngoen Resort (149 Buengkan-Phangkhon Rd., Muang Buengkan, 042-491-833-4) is another option if you seek for cheap staycation. Rates start from B250.
Venue Details
Address:
24-Hour Guide to Thailand's 77th Province Bueng Kan, Bueng Kan, Thailand
Report a correction