BANGKOK RESTAURANT
Wana Yook
100 Mahaseth's Chalee Kader spins khao gaeng culture into a provocative tasting menu.
At the end of a candlelit cobblestone pathway at Victory Monument's 515 Victory hotel, you'll find a pastel yellow house fitted with white shutters that dates back to the Rama VI era.
Inside this lavish structure, two-floor Wana Yook exudes a sense of elegance, with antique furnishings, stained glass panels, chairs draped in Jim Thompson fabric, and an impressive art collection belonging to one of the owners.
The all-day venture transforms from a tea-doting cafe to an alluring, moody-yet-idyllic setting by night, where you can start with a drink at the bar before moving upstairs to your table. Here, 100 Mahseth's chef Chalee Kader takes on the nostalgic flavors of Thailand's rice and curry stalls.
Lunch crowds rush these stalls across the country, piling their plates of rice with assorted curries, stir-fries, dried fish, and veggies, creating uniquely personal flavor combinations. Kader plays on the nostalgia for that experience through a 10-course tasting menu (B2,200) meant to relive memories of the perfect last bite, while also shining a spotlight on local rice varieties from places like Ubon Ratchathani, Chiang Mai, and Khon Kaen.
The meal includes bites like a fragrant, southern-style moringa curry, stir-fried bailiang with egg, catfish fried with an earthy red chili paste, and rice paired with fresh cucumber and blanched long beans on the side. The one-bite play on nam prik kapi is like no other—shrimp paste relish is mixed with an umami-packed cassia curry that's topped with mackerel flakes and shaved, lightly acidic taling pling (bilimbi fruit). Another clever reinterpretation comes in the clams stir-fried in aromatic chili paste, served with duck and pickled lime and then topped with an airy wintermelon espuma and pla duk fu (crispy, puffed catfish).
For desserts, expect bites like an abstract version of piak poon (layered dessert made with rice flour, palm sugar, and limewater), finished here with dustings of burnt coconut husk, hints of pandan, and wafer-thin meringue.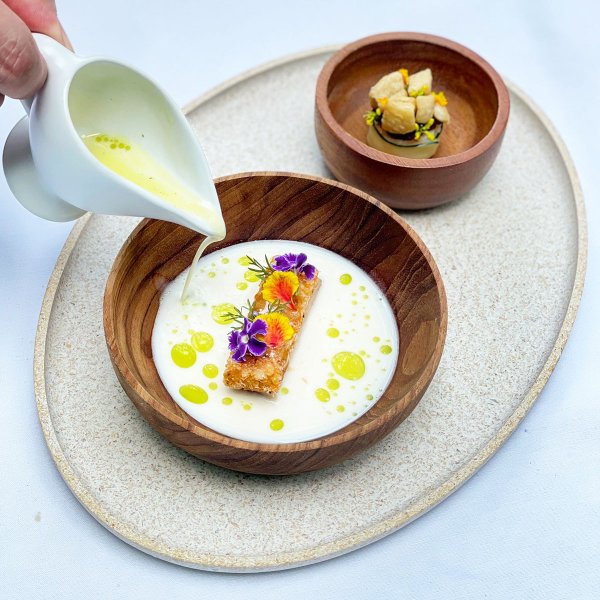 Credit: Wana Yook
Venue Details
Address:
Wana Yook, 5/15 Phaya Thai Rd., Bangkok, Thailand
Phone:
095-496-4562
Area:
Victory Monument
Cuisine:
Thai
Open since:
April, 2021
Opening hours:

Tue-Sun

10am-midnight

Report a correction