BANGKOK RESTAURANT
Tony's
This Italian-American restaurant brings Big Apple red-sauce vibes to Soi 11.
Run by chef Anthony Burd, a graduate of the Culinary Institute of America, Tony's takes New York's red-sauce and white-tableclothed vibes up a notch.
Burd cut his teeth in top kitchens in Italy before serving a stint at New York's Michelin-starred Marea. After that, he joined Jean-Georges Vongerichten's prestigious Mercato in Hong Kong and then took the reins at La Scala at the Sukhothai hotel early last year.
At Tony's, he's setting up shop in the space that used to be Rocket. Air-brushed on the outside with a white-tiled facade and bright red logo, the restaurant embraces classic minimalism with its interiors. Think tables covered in white cloth, wood accents, and a buzzing, blue-tiled open kitchen.
From that kitchen the New Jersey native cooks up straightforward classics with a farm-to-table concept that will leave you feeling nostalgic for those Big Apple vibes.
Start with baked clams (B320) served with scallops, fennel, and a garlic gremolata or the spicy meatballs al forno (B220) with basil and Parmesan. There are plenty of wood-fired pizzas to choose from, too, like the Bangkok Hot (B520) topped with fennel salami, spicy n'duja, meatball, mozzarella, and pickled chilis.
Mains include comforting favorites like spaghetti and meatballs (B380), the made-to-share veal Parmigiana (B1,860), veal cutlets slathered in tomato sugo, buffalo mozzarella, and Parmesan, and roasted half baby chicken (B580) paired with garlic gnocchi, spinach, and lemon.
For the sweet tooth, there are dishes like the unique whiskey banana cake (B340) served with salted caramel and hazelnut gelato.
When the time comes to drink in restaurants again, rest assured there's a well-curated list of wines, signature cocktails, and a selection of digestifs to choose from.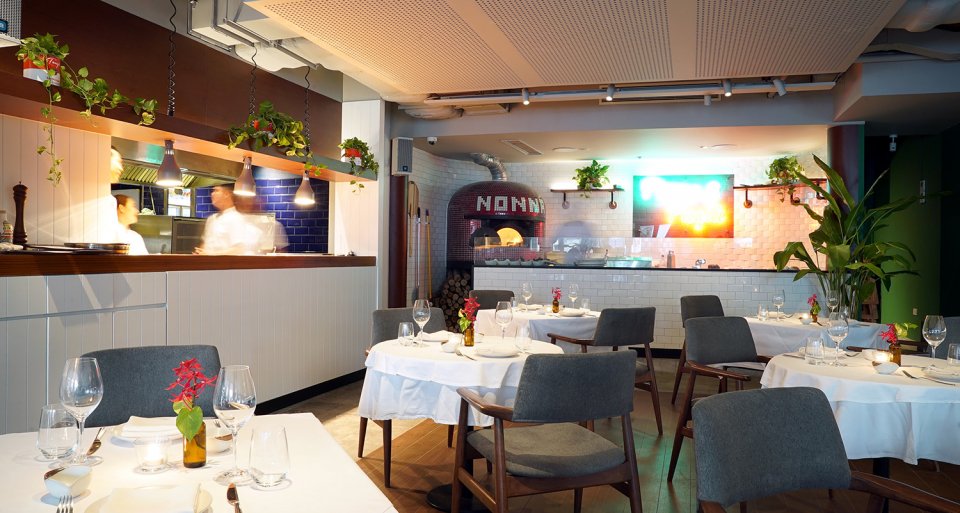 Images courtesy of Tony's