BANGKOK RESTAURANT
Taberna Jamon Jamon
Sukhumvit's long-standing Spanish restaurant delivers home comforts.
Bangkok's undergone an entire Spanish revolution, since this Asoke mainstay opened in 2014. But the taberna has stayed the same; family-run, very affordable, incredibly friendly and wholly-focused on regional classic. There's Valencian paella, Galician octopus, generous platters of cold cuts, huevos estrellados con chorizo—eggs, potatoes and sausage—and ham cut from a leg that sits in the center of the room. Order up a half-liter of sangria to round it all off, and kick back for live flameno on the weekends.
This review took place in March 2019 and is based on a visit to the restaurant without the restaurant's knowledge. For more on BK's review policy, click here.
---
In the years since Taberna Jamon Jamon opened in 2014, Bangkok's food scene has had something of a Spanish revolution. While there are no doubt cooler, more refined Spanish restaurants, this friendly, family-run Asoke mainstay is not without its charms.
The sound of live flamenco music can be heard out on the street when things get going on weekend evenings. Inside is a whirlwind of mosaic tile floors, corny knick-knacks, a TV looping Spanish music videos and a big selection of wine bottles (plenty under B1,000) that runs right around the dining room.
Like the surroundings, the food is far from the sleekest when it comes to presentation, but does deliver on home comforts. You'd be remiss to visit a place called Jamon Jamon and not order some cold cuts—generous sets of Iberian porky goodness start at B550 (served with half-cured sheep cheese and tomato toast), featuring house-made chorizo and ham cut from a leg that sits in the center of the room. Order up a half-liter of sangria (B350; or 1.3 liters for B650) and you're already well on the way to a satisfying meal.
Classic tapas are flavorful if lacking in finesse; take the gambas al ajillo (B220), whose six puny prawns in a pool of oil were almost dwarfed by the chunky shards of garlic on our last visit, or the croquetas de jamon (ham croquettes, B165 for four) with their crisp shells but under-seasoned, gloopy bechamel and ham interiors.
The anchoas y tomate toast (B175) zings with the flavor of good tomato and anchovies, even if it raises one major concern of ours: for a restaurant so heavily invested in bread (seriously, it comes with almost everything), we do think Jamon Jamon's crouton-crisp, white stuff gets a bit tiresome after a while. These flavors deserve better.
Proof they can do carbs right comes in the form of the patatas bravas (B125) with its moreish crunchy-creamy texture—still, a little more garlic mayo and tomato sauce wouldn't go astray.
Such shortfalls can perhaps be explained by the price point, which is lower than most of the Spanish competition. End with the awesomely dense flan de huevo (B125)—no complaints there.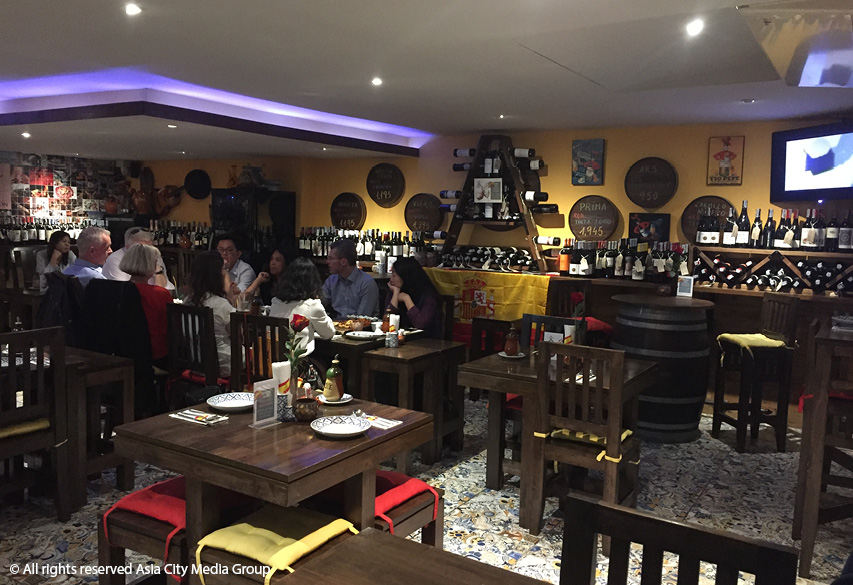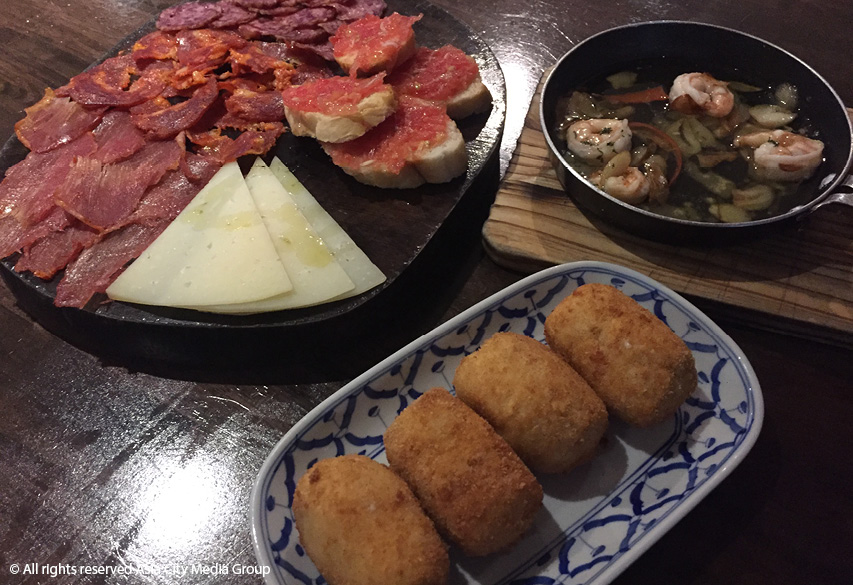 Venue Details
Address:
Taberna Jamon Jamon, 9/1 Sukhumvit Soi 20, Bangkok, Thailand
Phone:
02-663-4466
Website:
www.facebook.com/jamonthai
Area:
Nana Asoke
Cuisine:
Spanish
Price Range:
BB -

BBB

Open since:
November, 2014
Opening hours:

daily

10am-9pm

Report a correction