BANGKOK RESTAURANT
Taahra
This isn't your mom's charcoal grill.
The buzz: Charcoal grilling is the heart and soul of Thai street food—from your regular moo satay and gai yang to sizzling pla phao and juicy kor moo yang. But one restaurant has set an ambitious goal for the Thai smoky grill arts. Nestled in an inconspicuous Charoenkrung Soi, Taahra reimagines Thai classic grilled menus and elevates them with flair, using Thai charcoal to cook.
The vibe: Unlike its quiet, unassuming facade, Taahra's interior is bold and flashy. In fact, you could say that the space is an ode to taan (charcoal). Ebony black walls enclose the whole space, with a dusty texture resembling that of crackling charcoal. Be warned: don't lean on them in a white shirt. A counter gathering 10 seats surrounds a live-fire grill space where chefs work their magic. If sitting nearby the grilling station isn't your cup of coal, options are also available on the second floor.
The food: Though surprisingly looking more Western in both presentation and ingredients for Thai cuisine, dishes served at Taahra are still inherently and essentially Thai. "[Charcoal] has always been a part of our food culture, and countless dishes emerged from a cloud of woodsmoke," head chef Pat-In "Knock" Promsawadi tells BK, saying that he wishes to revisit his roots and explore the possibilities of charcoal cooking." His 13-course dining experience (B3,800) takes most all-time favorite charcoal dishes and enhances them with highly-elevated and bold presentations. During our last visit, we started off with three amuse bouches: taab waan (Thai chicken liver pate infused with Thai herbs and topped with tamarind gel, roasted rice, and pickled mustard seeds); Isaan raw meat koi, which sees dry-aged striploin, neatly sliced and placed atop crispy potato nest; and a yellow cracker that bursts with smoky tomato jaew mousse.
The first course arrived as grilled French oyster accompanied by a compressed cucumber sauce blended with chili pepper and coconut milk to replace the usual Thai seafood sauce. Next was stir-fried octopus served as a warm salad, using a bouncy, tender slow-cooked octopus. The French pigeon served alongside Thai banana blossom curry sauce was certainly a highlight; it was served rare and retained all of its earthy, gamey taste intact. Another fun dish—and possibly the black sheep of this menu—was the gai yang somtum (Thai papaya salad with grilled chicken). Instead of chicken, Knock opted for squab leg charcoal grilled to perfection and clad in black garlic powder for an umami flavor. It's fun, but be forewarned your date might not like picking at a pigeon leg and eating it barehanded.
His main course, kao lao nuea (Thai-Chinese beef soup), was the most mind-boggling dish, in which each essential component of kao lao is deconstructed: Chinese kale stalks are found inside vegetable ravioli, alongside beef tenderloin, celery, and basil; on the top is golden garlic crisps. It's a bold and daring take deserving of praise.
The course ended with toasted bread inspired by Yaowarat Instagram-worthy cream bread. In case you've been traumatized by soggy or rigid breads you get on the street, fear not, as this is subtly sweet, soft, and jiggly—with a creamy strawberry custard and pink milk ice cream.
Why we'd come back: With its undaunted presentation and ambition to make Thai charcoal great again, patrons will find new perspective in a seemingly austere cooking technique we see daily. The chef also tells us the menu will be rotating seasonally, so we might stop by again to see what he brings to his live-fire cooking next. By Porpor Leelasestaporn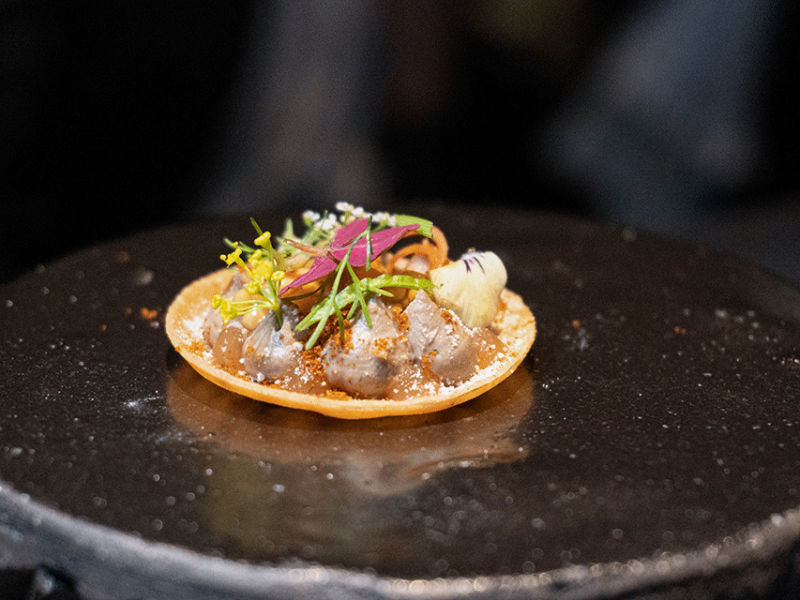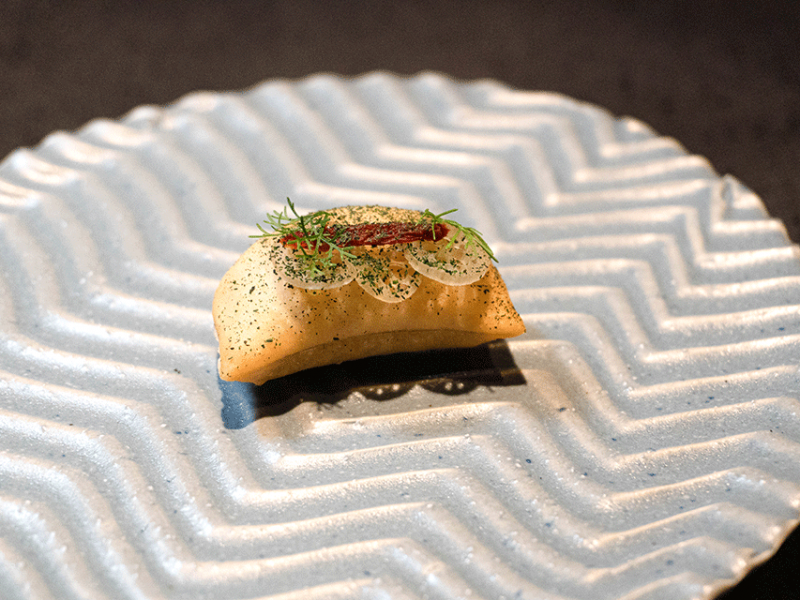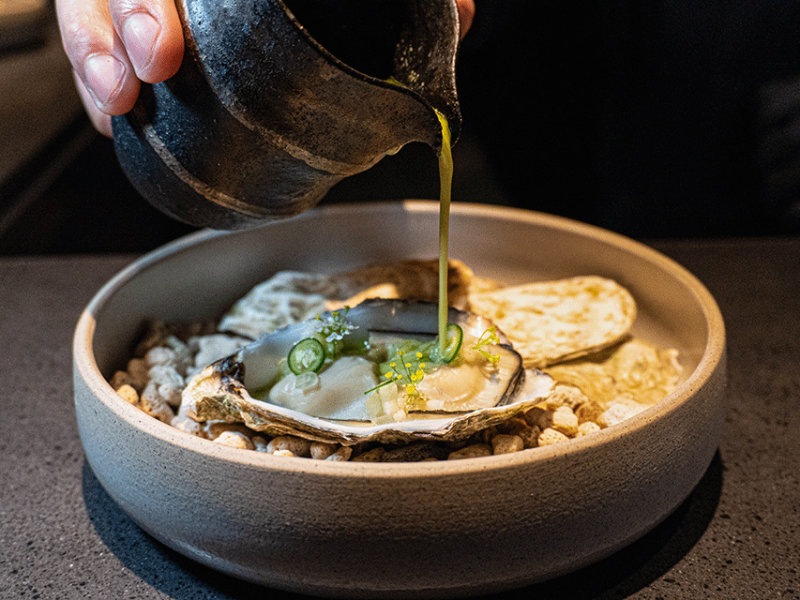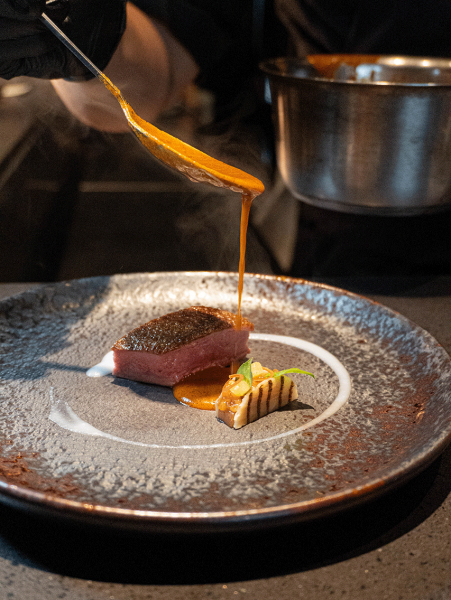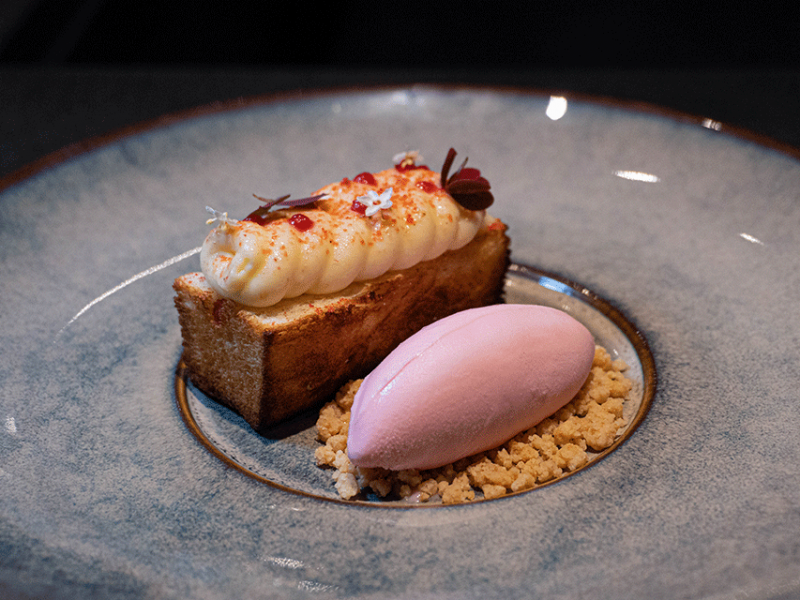 Venue Details
Address:
Taahra, Charoenkrung Rd., Si Phraya. Bangkok, Bangkok, Thailand
Phone:
086-333-7979
Area:
Charoenkrung
Cuisine:
Thai
Opening hours:

Tue-Sun

5:30-10:30pm

Report a correction