BANGKOK RESTAURANT
Rad Meats
Sausages, charcuterie, cheese, and more: all local, all-natural.
Radek Zarebinski, a Gaggan alum who is currently the head chef of
Cholo's
and Miss Fish, started Rad Meats with the hopes of making it easier to find good quality sausages and all-natural, additive-free cured meats. He has since expanded that mission with a line-up of charcuterie platters and sets ideal for dinners and parties at home.
Hard-to-find products like the kielbasa, which hail from the chef's Polish home country, grace the menu in a few different varieties, including spicy (B365) and traditional (B365), but there's a sizable selection of sausages to choose from. Think Greek-style loukaniko (B540), made with local lamb and stuffed with fennel, orange peels, leeks, and coriander, and spicy chorizo (B380; prices for all of the above for 500g).
Adding to this mix is a new line of charcuterie, including house-cured delights such as smoked duck prosciutto (B180/100g) and kabanos (B260/250g), a Polish-style smoked sausage seasoned with black pepper, caraway, nutmeg, and garlic.
Other items include the truffle saucisson (B130/100g), a sure-fire favorite made in the traditional French style with truffle shavings, and the one-month-aged guanciale (B300/300g).
Can't decide? Go for one of the platters, good for one to two people (from B470), and get a selection of charcuterie—speck, coppa, prosciutto, and more—plus a variety of locally produced cheeses from Chiang Mai. For example, the camembert-like La Loubère and smoked ricotta.
For the full range of products, go
here
.
Orders can be made via Line @radmeats or by email at
radmeats@gmail.com
. Same-day delivery from Mon-Sat.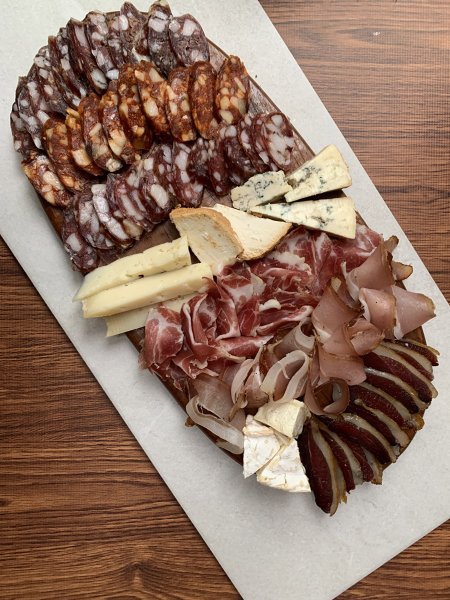 Charcuterie board and coppa images courtesy of Rad Meats