BANGKOK RESTAURANT
Quickie
Can the Thai version of Shake Shack beat the real one? Not remotely close.
This review took place in March 2023 and is based on a visit to the restaurant without the restaurant's knowledge. For more on BK's review policy, click
here
.
1.5 stars
Burger joint Quickie made a huge debut last year for one obvious reason: its shocking resemblance to Shake Shack—which launched its first branch on Mar 30 to fanfare. With its whimsical neon-lit burger sign and pattern schemes right down to Shake Shack's DNA, it doesn't take a degree in graphic design to figure it out. The big difference is that Quickie is the red retro American diner vibe and the green from its American counterpart—and, of course, the food.
During its glory days last year, this place flaunted red classic Americana diner decor, drawing Instagrammers, curious foodies, and regular folks alike and has even expanded the repertoire to two more locations: Eight Thonglor and Sukhumvit Soi 11. But those days are over and the real deal is here now. During our last visit to their two out of three locations, they were all empty (Langsuan's aircon was dripping) and it's not difficult to guess why.
One of the signature dishes, the Quickie Burger (B190), explains it all. The smashed prime beef patty was crispy and lightly charred on the side to our liking, but the buns were a significant letdown: soggy, saturated with oily beef juice, and falling apart. We gave them another chance at their Sukhumvit Soi 11 branch and encountered the same result; at least it's consistent. The truffle burger (B390) was satisfying but mediocre.
Equally disastrous was the vanilla milkshake (B140), lacking the rich, creamy texture that one expects from a modern milkshake. Comparing it to the shakes at Thonglor's Bun Meat and Cheese, Little Market, and Cast Iron Burgerhaus, it's not even close. It was diluted and watery, reminiscent of the cheap frozen drinks found on street corners. The addition of marshmallows on top did little to remedy the situation, serving as a decorative garnish to a disappointing concoction. You will meet with the same watery taste regardless of branch.
Quickie isn't the only spot to be accused of being a Shake Shack cut-and-paste, but places like Prime Burger have their own bright spots and originality. We're not completely writing off Quickie. Despite the undesirable execution of its menu—even the Shroom Burger name is ripped from the real deal—it's still somewhere you can get a quick meal without waiting and a photo with its photogenic backdrop.
The prices are definitely cheaper compared to most of Shake Shack's menu; some are even half the price, such as Shake Shack's pandan jelly shake (B230), but, well, you get what you pay for. It may not be a foodie destination but at least it has something to offer.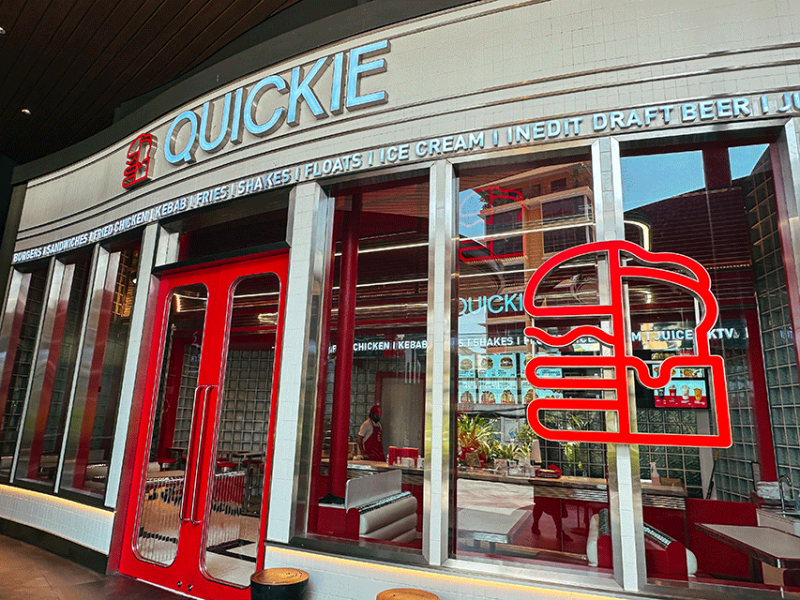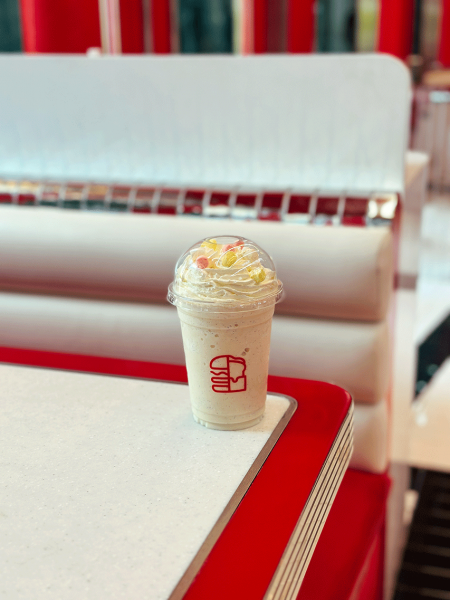 Venue Details
Address:
Quickie, 95 Sarasin Rd, Lumphini, Bangkok, Thailand
Phone:
061-632-6444
Area:
Lumpini
Cuisine:
Burgers
Report a correction