BANGKOK RESTAURANT
Paste (Gaysorn Village)
This Thai restaurant in the luxurious Gaysorn mall gives new life to classic recipes.
The buzz: Rather than spend the last two years basking in Paste's international stardom, chef-owners Bee Satongun and Jason Bailey have been expanding their devoutly authentic approach to southeast Asian cuisine into Laos. Here in Bangkok, their Gaysorn showpiece remains a must-visit ticket for any serious foodie.

The food: Don't expect molecular or fusion flourishes, as Bailey and Satongun stick to the authentic textures and flavors of Thai cuisine. Across increasingly sophisticated tasting menus, the chefs introduce a plethora of rare herbs and ingredients: from edible hummingbird flowers in your smoky southern yellow curry with red spanner crab, all the way down to salt from Nan province that they say is smoother than sea salt. No longer confined to the history books, these vibrant, complex dishes also manage to offer something new and beautiful.

The place: Minimal creams and a sweeping lattice sculpture make the Paste experience feel equal parts restaurant and five-star spa resort. Planted right amid the malls of Ratchaprasong, Paste's vast windows look out upon Bangkok's answer to Ginza.
The second branch of
Paste
is a beautiful restaurant serving refined and delicious Thai dishes. The double-height window panes facing CentralWorld make for an impressive backdrop for the minimal decor and handful of showpieces: giant strips of silkworm cocoons rising up to the ceiling, glass domes housing leafy arrangements and circular nooks formed by sculptural banquettes.
Paste's plating is equally becoming: relaxed and effortless despite a painterly attention to color. The vibrant multitude of ingredients makes for a complex layering of lively flavors, too, like in the duck salad, which comes with (deep breath) banana flower, coriander, chili, lychee, white sesame seeds, cucumber, toasted rice, roasted coconut slices, soy sprouts, fried garlic, flecks of seaweed, shallots and Vietnamese mint. Despite this incredible diversity, flavors and textures remain distinct. Take the watermelon salad: the fragrant fruit's juicy flesh contrasts clearly with the dry ground salmon and crispy slithers of coconut—delicious!
Mains are pared back in contrast with the yam, leaving more space for the quality meats to shine through: Australian beef cheek, wild seabass, kurubota pork belly... Our top pick would be the seabass, served in a curry so light they call it a foam (thankfully, it remains rather creamy), whose white turmeric, lemongrass and fennel notes support the fish's firm, white flesh perfectly. Service also gets high marks for actually knowing what's on the plate. More importantly, you can really feel husband and wife chefs Jason Bailey and Bongkoch Satongun's creativity and personality in their food, which is not always the case at traditionalists like Nahm or Bo.lan. Dishes here remain clearly and authentically Thai, but also refreshingly unique.
Before you book, a few caveats. The place is in a mall (even if it is easy to forget once you're inside) and a walk through Gaysorn's corridors is not a fun way to start a meal—neither is an empty dining room. Does it have to do with the prices? Appetizers are mostly B300-390, mains B500-750. The sets are gargantuan but ring in at B950 for lunch (per person, 2 diners minimum) or B1,600/1,900 for dinner (per person, 4 diners minimum). And do note that water comes in the shape of B190-plus-plus bottles of Vittel—French water with Thai food, really? At those prices, the tables' cheap and chipped laminate deserves mention, as does the absence of the pastry chef on our last visit—not that dessert is included in any of the aforementioned sets. Nitpicking aside, Paste deserves much, much more recognition for its superlative offerings.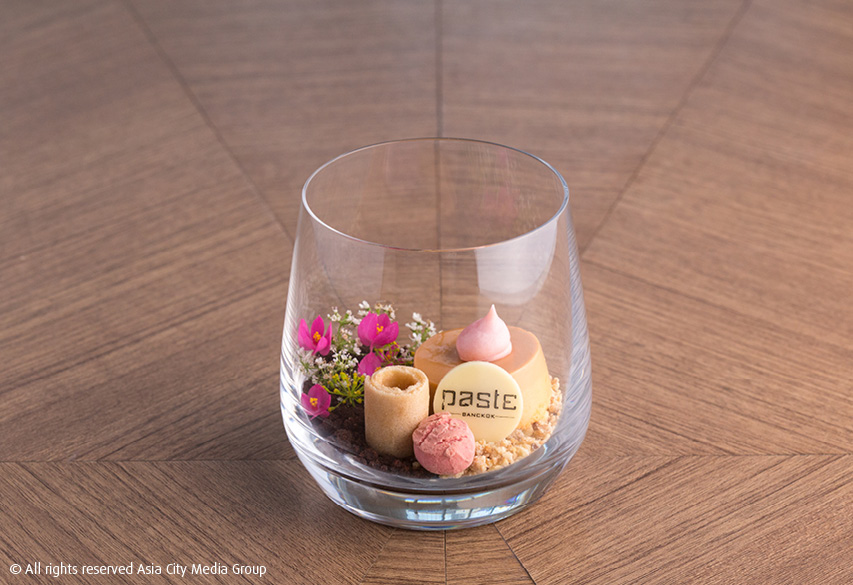 ---
This review took place in May 2015 and is based on a visit to the restaurant without the restaurant's knowledge. For more on BK's review policy, click here.
---
Watch what dinner looks like at Paste:
Venue Details
Address:
Paste (Gaysorn Village), 3/F, Gaysorn Plaza, 999 Phloen Chit Rd., Bangkok, Thailand
Phone:
02-656-1003
Website:
www.pastebangkok.com
Area:
Phloen Chit
Price Range:
BBBBB

Opening hours:

daily

noon-2pm, 6-11pm

Nearest train
BTS Chit Lom
Reservation recommended, Parking available
Report a correction