BANGKOK RESTAURANT
Le Mai Anh
This compact restaurant in the Old Town has served home-style Vietnamese food for two decades.
Situated on Samsen road for over a decade, the owner of Le Mai Anh has now renovated its restaurant in a colonial-style decor and introduces new menus for all ages. Serving the traditional Vietnamese cuisine, they said to select the best ingredients, sourcing veggies from their own farm in Pathumthani and made their own Vietnamese sauces in their dishes such as wartime Vietnamese home cooking dish Le Mai Anh fried rice (B80) with moo pad ka pi (stir fried pork) with shrimp paste, dried shrimps, mooyor (fermented pork sausage) and pickles, khao pad nam-neaung (fried rice with Vietnamese pork meatballs, B110) served in a sizzling hot plate and Pho with choices of pork, chicken or fish (B75-B85). (Closed on the first Saturday).
This compact restaurant in the Old Town has been around for over two decades, serving home-style Vietnamese food that draws on recipes from the owner's Hanoi-hailing grandmother. Revamped in 2015, the shop-house space now looks contemporary—crisp white walls, teal accents, artworks hanging from the wall—yet it remains just as homey as it has always been.
The kitchen uses fresh vegetables sourced from the owner's farm in Pathumthani and makes all its own sauces, resulting in flavors that more often than not hit the spot. We especially like the kanom bueang yuan (savory Vietnamese pancake, B100), in which the yellow rice-flour wrap is crispy on the outside and soft on the inside, and comes packed with well-seasoned minced pork and shrimp. The signature Grandma spring rolls (B150) are another hit: delightfully crunchy, stuffed with flavorful stir-fried glass noodles and pork.
Many of the Vietnamese staples satisfy, whether it's the mild yet flavorful pho (with pork, B75), steamed fried-pork wontons (B95) or nem nuong (Vietnamese pork ball wraps, B160), which really benefits from the fresh veggies and yummy peanut sauce. The menu also offers a playful dish it calls nem nuong fried rice (B110), which features fried rice with pork balls, nem nuong sauce and condiments like chili and cucumber served sizzling in a hot bowl a little like Korea's bibimbap.
There are a few missteps, like the yum pla yuan (Vietnamese spicy fish salad, B100), which tastes like little more than reheated CP dory fish with seafood sauce, and the fresh Hanoi noodle rolls (summer rolls with seasoned minced pork, B80), which are rather more noodles than filling.
In general though, combining comforting flavors with reasonable pricing, Le Mai Anh is a good everyday option for reliable Vietnamese flavors. Closed every first Saturday of the month.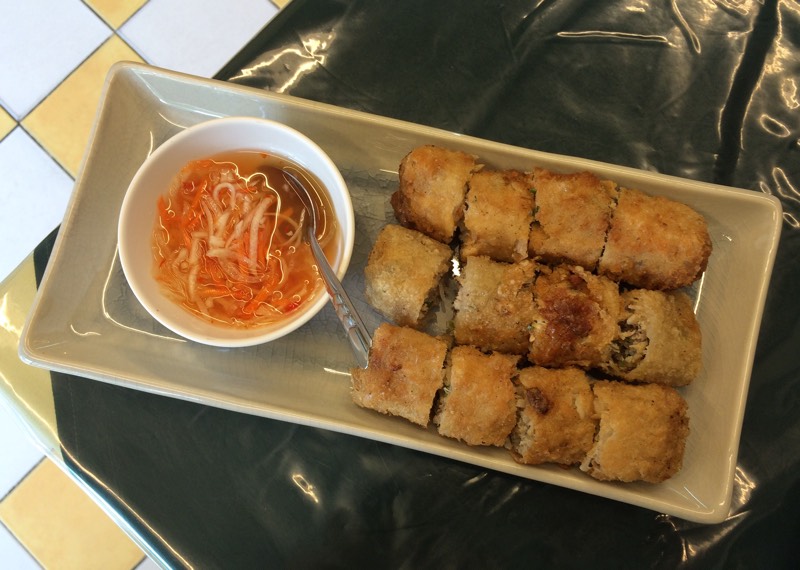 ---
This review took place in August 2016 and is based on a visit to the restaurant without the restaurant's knowledge. For more on BK's review policy, click here.
Venue Details
Address:
Le Mai Anh, 237 Samsen Near Bang Khun Phrom Intersection, Bangkok, Thailand
Phone:
02-281-5628
Website:
www.fb.com/lemaianhvietnamese
Area:
Dusit
Cuisine:
Vietnamese
Price Range:
B -

BB

Opening hours:

daily

9am-8pm

Report a correction