BANGKOK RESTAURANT
Kintsugi by Jeff Ramsey
Let your hair down at this unstuffy kaiseki restaurant
The buzz: American-Japanese chef Jeff Ramsey has taken time away from his creative Japanese tapas restaurant in Kuala Lumpur, Babe, to open a kaiseki restaurant where you can let your hair down.
The vibe: Classic blond wood and minimalist vertical lines are given a contemporary edge with abstract bronze light clusters, black marble and a rustic, flowing wood table, setting the scene for chef Ramsey's laid-back approach to traditional kaiseki (multi-course) dining. Get up close to the action at the 12-seat counter, take one of the tables separated by slatted screens or book one of the two private dining room complete with sunken 10-seat horigotatsu tables.
The food: Combining his American-Japanese heritage with experience spanning becoming a Master Sushi Chef, opening Tokyo's Michelin-starred Molecular Bar and launching his fun-loving Babe, chef Ramsey brings some serious clout to the kitchen. His non-stuffy approach to traditional Japanese kaiseki takes a globe-trotting turn. Part French, part Japanese, the Shirako Brandade sees the traditional salt cod and potato emulsion combined with cod milt and served as a creamy espuma topped with a zesty yuzu kimizu—a vinegar dressing that stems from a little known, 300-year-old technique used in edo-mae sushi. The dish is served with a crisp flatbread disguised as kombu—one of a few subtle theatrics that punctuate the menu. Another sees plumes of vapor rising from the umami-rich Nagano Walnut Soba thanks to the addition of dry ice "walnut oil snow." The Charcoal Grilled Tachiuo takes a less showy approach, featuring seasonal belt fish intensified by miso and kelp marinade partnered with grated daikon radish and house-brewed soy sauce. Finish with an indulgent "Kin Kat"—chilled roasted foie gras and cognac in a dark chocolate shell sandwiched between a crisp monaka wafer. Served in three tiers—nine-course Ito (B2,488); 12-course Kin (B3,788); and 15-course Omakase (B6,388)—the menus will change seasonally, with items also available to order a la carte (from B120-840).
The drinks: Go traditional with sake, ranging from the Hakutsuru nama (B390/bottle) to the Sempuku Miyajimaemaki ginjo-shu (B1,980/bottle), or opt for the refreshing Athenee Hugo (B350), a mix of lemongrass, lime, mint leaves, elderflower syrup, sparkling wine and soda.
Why we'd come back: Chef Ramsey makes an often stiff type of dining approachable, challenging the boundaries of what can be considered Japanese while adapting to the seasons and the local palate.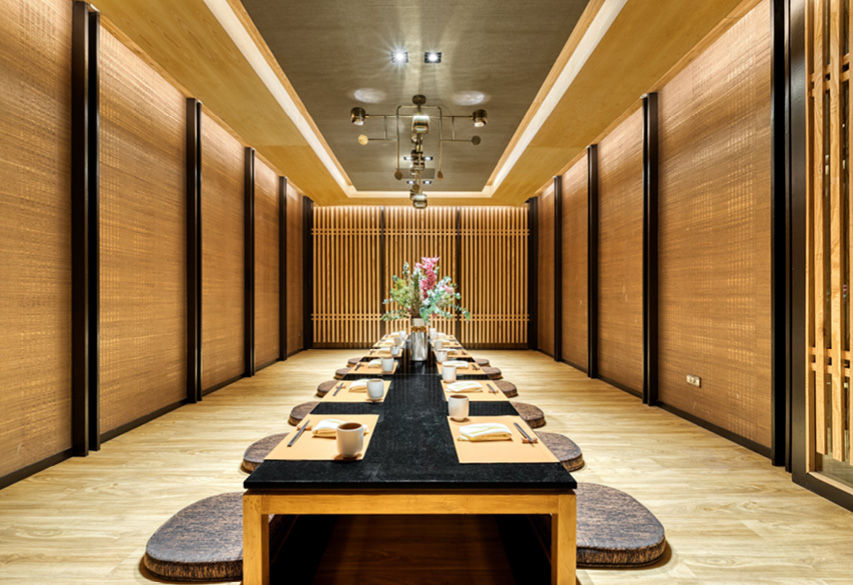 Venue Details
Address:
Kintsugi by Jeff Ramsey, 3/F, The Athenee Hotel, 61 Wireless Rd., Bangkok, Thailand
Phone:
02-650-8800
Website:
www.facebook.com/kintsugibkk/
Area:
Phloen Chit
Cuisine:
Japanese
Open since:
January, 2020
Opening hours:

Tue-Sun

6-10:30pm

Report a correction