BANGKOK RESTAURANT
Kimukatsu
Japan's "mille-feuille" katsu specialist touches down in Bangkok.
This tonkatsu specialist takes your favorite golden cutlets to another level. In the same vein as its other outlets around the world, Kimukatsu serves high-quality pork thinly sliced and stacked into 25 layers before slowly frying them to perfection. Apart from its classics, here you can enjoy six different flavors, namely black pepper, garlic, cheese, green onion, Japanese apricot and yuzu.
This review took place in January 2019 and is based on a visit to the restaurant without the restaurant's knowledge. For more on BK's review policy, click here.
---
If your idea of comfort-food nirvana involves scoffing down golden-crisp cutlets of pork, make the detour to CentralPlaza Rama 3. Here, Tokyo-born "mille-feuille" tonkatsu specialist Kimukatsu has followed up its seven branches in Japan, and almost as many in the U.S., with the first of probably many openings in Bangkok.
This being a typically sanitized mall opening (shiny plastic display food at entrance, faux shoji screen walls inside, tinkling piano soundtrack), you won't find the smoky, tavern vibes of Katsu Shin or the throwback '80s Tokyo charm of Misato.
But the gimmick is a good one: instead of a single cutlet, Kimukatsu rolls together 25 layers of thinly sliced pork, which is then breaded in panko and slowly fried to seal in the juices. For the same price as the original pork (from B280 a la carte or B330 in a set with rice, miso soup, cabbage and pickles), you can have your cutlet spiked in flavors like black pepper, garlic, cheese, green onion or yuzu kosho (Japanese citrus fruit and chili pepper).
Billed as the best-seller back in Japan, the oozing cheddar version looks the part but really doesn't taste of much at all, while the delicate yuzu flavor is all but drowned out with one dip in the tangy, Worcestershire-like tonkatsu sauce. Yet, there's no denying the quality. Once you've bitten through the crisp, non-greasy exterior, you get a delightfully springy texture, and that's where Kimukatsu makes the leap from curiosity to real-deal katsu player.
While we're mildly disappointed not to get a mini-pestle in which to crush our own sesame seeds, as is often the case, or that they don't offer the same variety of dipping sauces as the shops abroad, everything else falls in place: fluffy rice, endless green tea (B40), steaming hot miso soup.
Just don't go expecting much on the menu that hasn't been dipped in a vat of oil. There's the spicy ebi (B120), a Thai-exclusive prawn dish that's merely fried rather than deep-fried, and which comes smeared in an addictive, if not particularly sophisticated, chili mayo. For your daily greens, there's, erm, edamame in truffle salt (B80). For booze, there's Asahi (B130). Dessert is ice cream (creamy stuff from another recent Japanese import, Azubu Sabo, B90) or mochi (B90), lest you fancy some banana katsu (B90).
Leave your diet at the door and enjoy.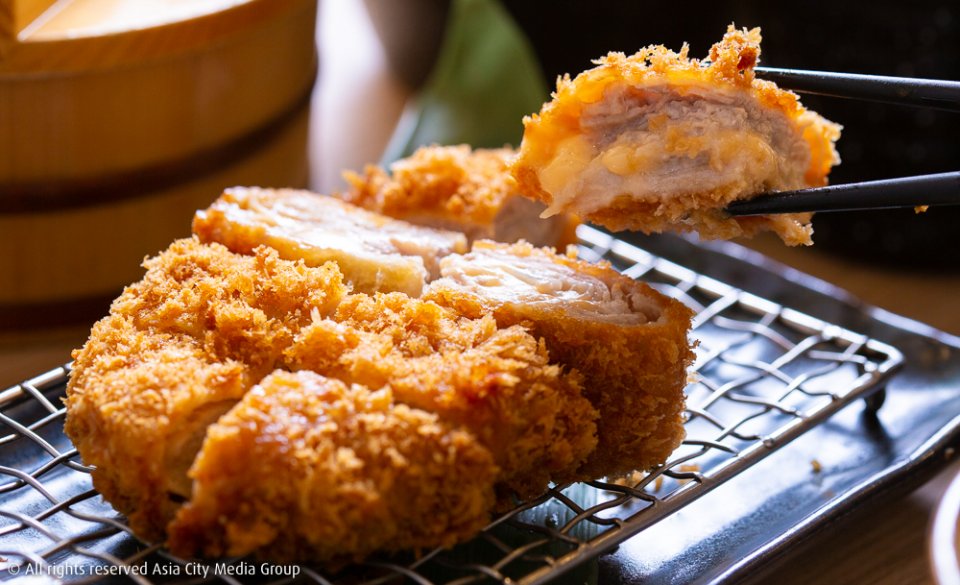 Venue Details
Address:
Kimukatsu, 6/F, CentralPlaza Rama 3, 79/3 Ratchadaphisek Rd., Bangkok, Thailand
Phone:
061-535-8666
Website:
www.facebook.com/Kimukatsu.Th
Area:
Yannawa
Cuisine:
Japanese
Price Range:
BB

Open since:
May, 2018
Opening hours:

daily

9am-9pm

Report a correction