BANGKOK RESTAURANT
Kika Kitchen and Bar
Silom's Spanish restaurant from two local dining players.
For all the talk of its Japanese restaurants, Silom has quietly become a hub of good, honest Spanish food. Joining Taburete, Spanish on 4 and the Moorish-leaning Via Maris in the neighborhood, Kika is a sleek and showy tapas bar that may just outshine them all.
That won't come as a surprise to fans of chef Julien Lavigne (Oskar, Birds) and restaurateur Sanya Souvanna Phouma (Bed Supperclub, Quince), the powers behind the venture, who are banking on the cooking of Argentinian chef de cuisine Joel Banino. They're in familiar territory here with a venue that splits its focus evenly between food and drinks.
At night, Kika's wide open front doors and table-strewn sidewalk mean the shop-house blends surprisingly well with the street-food stalls that color Convent Road. Only the blaring '70s rock soundtrack gives it away. Inside, a lengthy, yellow-lit wooden bar and high-table seating tell you this a place for a decent after-work cocktail (the pineapple and sandalwood white negroni, B270, is as good as anything in the vicinity).
Banino's small plates are seasonally-oriented and the menu namedrops best-of-the-best local produce from trusted names like the Royal Projects and Pla Organic. Subtlety is not Kika's strong point, with the big, bold flavors sometimes proving too much. In the case of the one-dimensional chickpea salad spiked with firm-fleshed strips of barracuda "pastrami" and Sriracha mayo (B360), you might need another round of sangria (red or white, B240/glass or B1,200/carafe) to quench your thirst.
However, the more straightforward ham croquetas (B60), gorgeously crisp yet fluffy and served with a thick mushroom mayo, and the just as nicely textured patatas bravas (B130) make fine drinking companions. For us, though, Kika excels in what it pulls from the charcoal oven, chiefly the organic baby chicken (B380) that's all crisp skin and burnt notes tinged with kaffir and lemongrass. Damn fine bird.
Have it together with the similarly charred, similarly delicious, cauliflower steak that's brimming with Indian spices (B180), and it's clear Kika is onto a good thing when not trying to be too cute. With a little restraint (hold fire on the cold cuts) you can also get away with dinner and drinks for not too far beyond B1,000/head. Corkage B500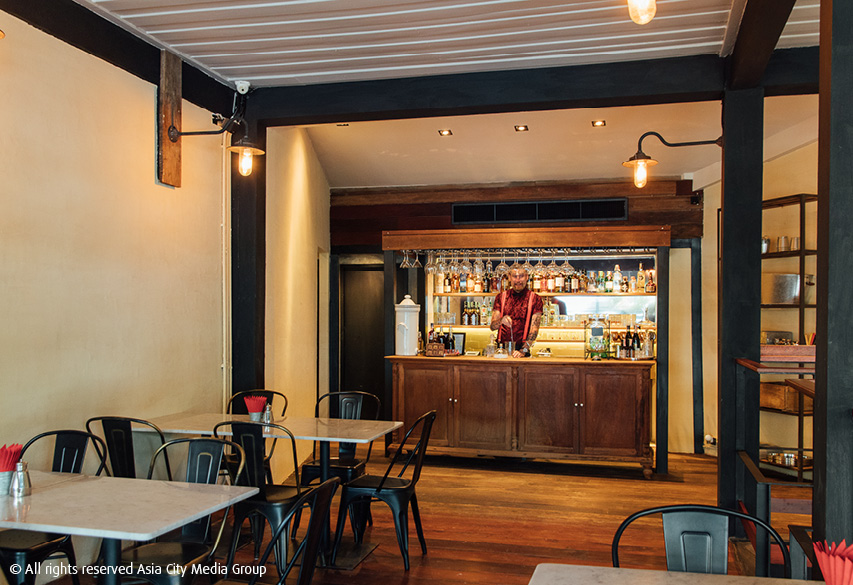 ---
This review took place in May 2018 and is based on a visit to the restaurant without the restaurant's knowledge. For more on BK's review policy, click here.
Venue Details
Address:
Kika Kitchen and Bar, 14/2-3 Convent Rd., Bangkok, Thailand
Phone:
095-592-0510
Website:
www.facebook.com/KikaBangkok
Area:
Silom
Cuisine:
Spanish
Price Range:
BB -

BBB

Open since:
November, 2017
Opening hours:

Tue-Sun

4pm-midnight

Report a correction