BANGKOK RESTAURANT
Kavee
Wild-caught frogs, Thai pigeons, and Isaan winged ants can be cool and delicious.
The buzz: Technically not a new contender on Bangkok's fine dining scene, this swanky restaurant at IDEO Morph Sukhumvit 38 answers prayers for those fed up with predictable haute cuisine. Roughly translated as a "poem," Kavee is the brainchild of chef Worathon "Tae" Udomchalotorn, an alumnus from the Culinary Institute of America and the original crew at chef Thitid "Ton" Tassanakajohn's Le Du. Here, your meal finds chef Tae in full storytelling mode, alluding to new and old styles to reimagine the familiar tastes of Thai staples and underappreciated ingredients.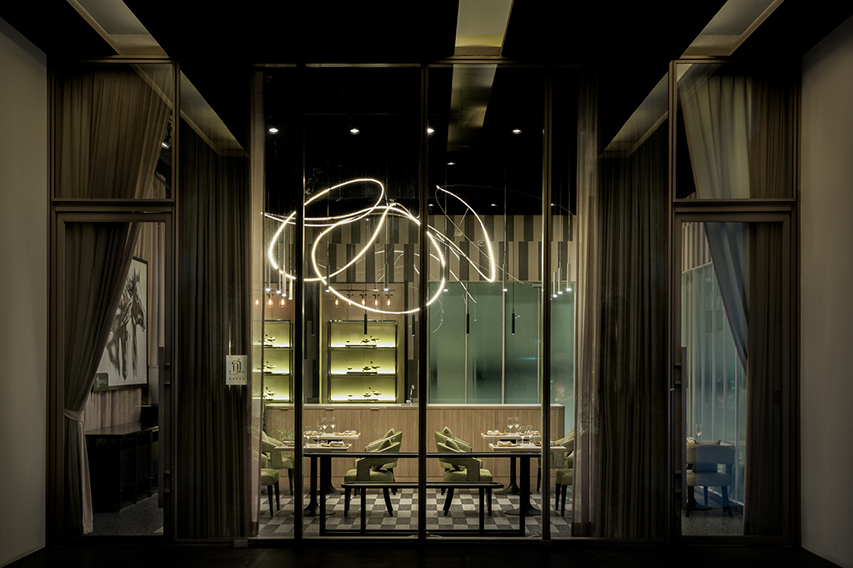 Photo: Kavee / Facebook.
The vibe: Taking over a space from chef Andy Yang's old Table 38, Kavee boasts a compact but simple setting with its mint-hued room, golden curved light chandelier, and massive wall mural of a horse—a nod to Yang's old place. A large white counter takes centerstage and a gleaming open kitchen sits on one side.
The food: As the restaurant's name suggests, the concepts at Kavee are metaphorical and figurative, as Tae uses classic Thai dishes as allusions and inspirations. Dubbed "Elegant Wilderness," his new 10-course dining experience (B2,990) sets a stage for unsung ingredients that many deem unworthy and changes perceptions. Here, wild caught frogs, Thai pigeons and winged-ants (mae paeng) are at the heart of the menu. Our first course arrives with a crispy roll of trout roe. It greets you with a rich taste from coconut milk followed by a zesty tang of pineapple-yuzu gel. The same goes for the marinated tiger prawns in half-opened kaffir lime; the result is a fresh tang that pleases the tongue. Hoy khong (apple snail), meanwhile, is made into a bite-sized canape oozing piping-hot hazelnut mixed with spinach. We also loved the sun-dried scallop, served inside a smoked egg yolk pudding and topped with Thai rice porridge mixed with Northern perilla seeds.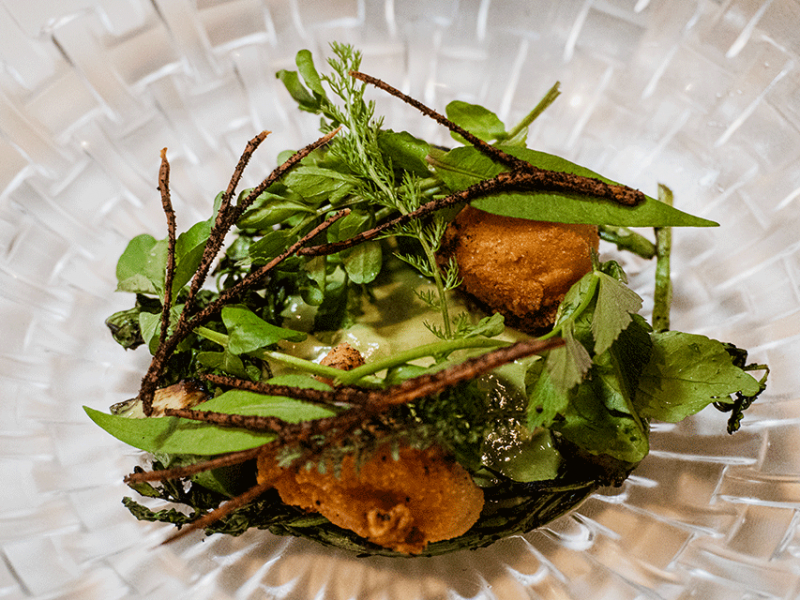 Photo: Wild-caught frog. Porpor Leelasestaporn / BK Magazine.
Tae's main calling card, however, is the wild-caught frog where he draws references from Thai paddy fields. The frog legs are deep-fried but still plump inside with a bit of pink. The grilled avocado—along with the Vietnamese coriander, brussel sprouts, and watercress—all lend a refreshing note. Equally satisfying was his pigeon from Ang Thong province. To be honest, we originally had some doubts when we were told that the pigeons used were local—Sanam Luang's pigeons are to blame. But whatever your notions are, this dish will blow you away. Reimagined from the French classic dish duck a l'orange, none of the pigeon is wasted: the breast is roasted on the crown, the legs deboned and slow-cooked, and the liver pulped to a silky puree—all of which is accompanied by sweet and sour cherry sauce and Srisaket's volcanic black garlic. The full-blood wagyu chateaubriand (though a bit ordinary compared to the others) hints at Tae's commitment to rare ingredients. Accompanying the juicy beef was tang chao, wild mushroom notable for its medicinal properties, providing a bitter crunch and a resemblance to Italian truffle.
Photo: Winged-ant mae paeng. Porpor Leelasestaporn / BK Magazine.
Our course ends with three desserts. No, none of them were made from coconut milk, an all-too often lazy representation of Thai dessert. We'd definitely come back for a taste of his lychee Korean bingsu-like snow. Digging underneath, you'll find seasonal fruits with champagne jelly offering an adult-taste to the kid's menu. We also appreciate Tae's bold take on Thai ants. Here, he takes Isan winged-ants (mae paeng) and powderizes them to lend malty flavors, a perfect combination to peanut butter caramel ice cream and the cocoa nib cracker on top. For those with a bold spirit, the staff is kind enough to let you pour the dried ants on top of the ice cream, an unexpectedly rich combination we never saw coming.
Why we'd come back: While Bangkok's fine dining restaurants have become more accessible over the years—including those merely labeling themselves as such—Kavee offers a fresh, contemporary take without relying too much on imported ingredients and haute-quality produce. Sure, the place still has more room to grow but we are thrilled to see Tae's next culinary verse. By Porpor Leelasestaporn