BANGKOK RESTAURANT
The Deck Bangkok
An outdoor break from the concrete jungle.
The buzz: This new hang-out spot in the center of Bangkok is the result of five food and drink masters—Bye Wongchindawest (Fatboy Sushi, Kim Jeong Grill, Mod Kaew Wine Bar, Madbunsburger), Vikram Arunagiri (Gulp BKK, liquor store), Damian MacKay (formerly Hemingway's) and Michael Fairweather (Inspirador, tequila importer). So, you can expect some serious food and drinks here. It's also family and dog friendly.
The vibe: Basically like a Balinese oasis in the middle of a concrete jungle with two-floors and a deck overlooking Phrom Phong traffic. Something about this place just makes you want to take a seat outdoors in the plants and trees and open a bottle of wine in the afternoon. Maybe it's their massive bar in the indoor dining area.
The food: Led by the Italian-American Executive Chef Leonard Nigro, who comes to us from Hong Kong where he used to work at The American Club. His style is comfort food packed with creativity and fun little twists. Start off with Green Tea Soba Noodle Salad (sesame dressing, mizuna, kale, negi, furikake, B290)—we'd gladly go back to The Deck just to eat all the salad dishes. Next, try the Beef Tartare (B290). This is not the beef tartare you're used to: served on brioche with creamy Korean chili paste. For something heavier, try the Makhani Macaroni (B320), think mac & cheese but with Indian chicken masala—sounds weird, but trust us on this. Pizza fans normally have to choose between New York style or Italian style, but since the chef is New York-native Italian-American, the pizzas here are a hybrid of both (B220-B380).
Why we'd come back: A huge, leafy space that offers an outdoor seating area is not something that comes easily in our Bangkokian life. Also, the menu keeps evolving, always adding new, more creative things to the list.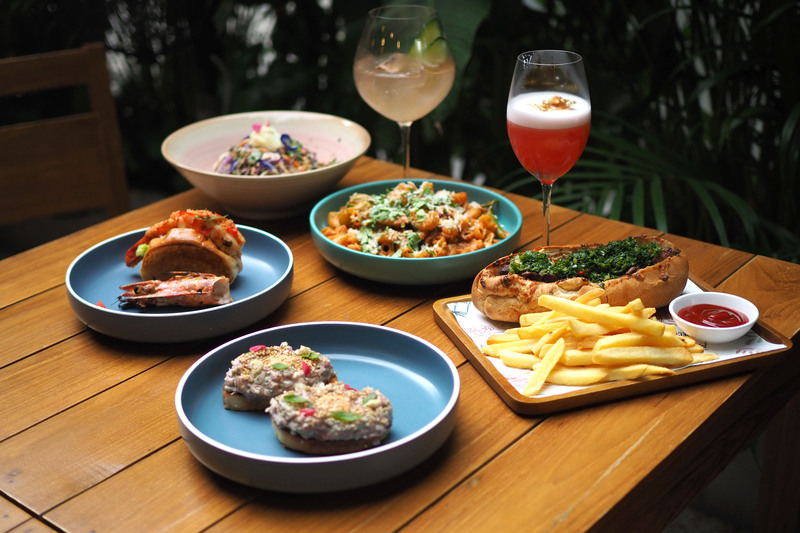 Venue Details
Address:
The Deck Bangkok, 15 Sukhumvit Soi 20, Bangkok, Thailand
Phone:
095-239-0805
Area:
Phrom Phong
Report a correction