BANGKOK RESTAURANT
Al-Qasim
Pakistani specialties stand out on hodge-podge menu.
This review took place in Febuary 2019 and is based on a visit to the restaurant without the restaurant's knowledge. For more on BK's review policy, click here.
---
Pakistani food in Bangkok gets nowhere near the kudos that Indian food does. While the two cuisines share many characteristics, Pakistani is typified by heavier emphasis on meats, milder spices and softer, aromatic dishes that also pull influence from Persian, Afghan and central Asian cooking.
Nestled down busy Soi Nana, Al-Qasim's facade of laminated food photos fits right in with its many Arabic and Lebanese neighbors, but this relative newcomer (formerly a far-flung Rama 2 restaurant, they opened here in late 2017) sets itself apart with an interior of marble-top tables, black leather chairs and whitewashed walls lined with flower bouquets and old-fashioned lamps. It's sleek, if a little soulless.
The menu boasting of "Authentic Pakistani, Indian, Arabic, Japanese & Thai Cuisine" may be initial cause for concern (can you really do that much authentically?), but on closer inspection the focus is very much on Indian classics and less-common Pakistani specialties (phew!).
The latter provides pleasant surprises like the chicken sajji (chicken stuffed with rice, rubbed in spices and roasted for hours, B280) whose flavorful meat tastes thoroughly marinated and comes atop billowy biryani rice. Just as good is the fish biryani (B280) whose well-spiced fillets are fluffy soft but carry just the right bite. The dish is satisfying on its own, but even better when doused in curry like the mutton qeema (green peas with minced mutton curry, B230), which packs a nice spicy kick. Balanced flavors are also on display in the beef daga kebab (spiced minced meat, B200), though the dry and crumbly texture is not a point in its favor.
Al-Qasim's hodge-podge menu also covers a selection of Lebanese staples, as well as club sandwiches, fish and chips, and other out-of-place western offerings. However, on the basis of the watery hummus topped with oil-drenched chicken shawarma, soggy falafel or dry naan bread, we'd stick to the solid Pakistani fare. Best also to skip the dessert—a fusion take on a flaky paratha drizzled in chocolate sauce (overpriced at B120) is no way to finish a meal that all in all charts some interesting, uncommon flavors.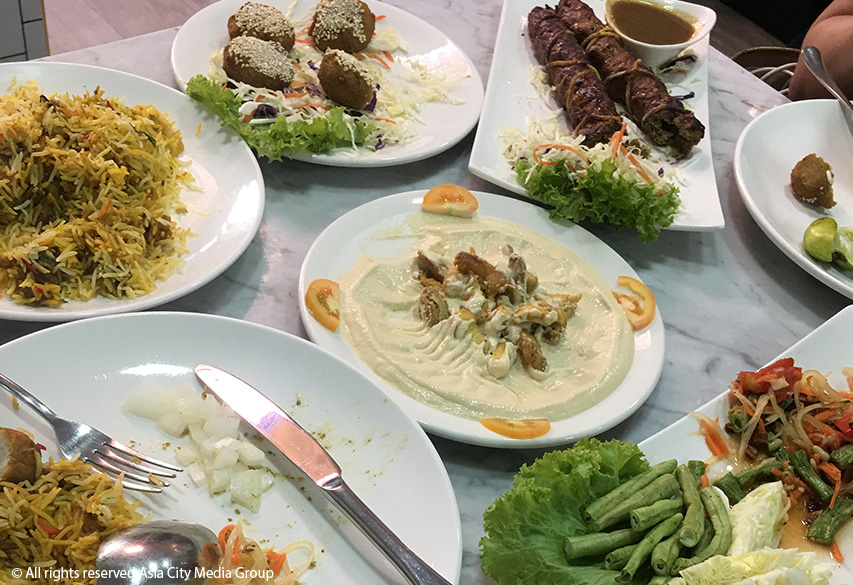 Venue Details
Address:
Al-Qasim, 8/17-18 Sukhumvit Soi 3/1, Bangkok, Thailand
Phone:
02-057-9100
Website:
www.facebook.com/Alqasimcuisine
Area:
Nana Asoke
Cuisine:
Indian
Price Range:
B -

BB

Open since:
December, 2017
Opening hours:

daily

11-11pm

Report a correction