BAR
Falcon Secret Bar
Controversial Constantine Phaulkon is at the center of this new bar, shedding new light on his history, love life, and, perhaps, his favorite drinks.
The buzz: Following the opening of Marie Guimar—a Thai restaurant dedicated to the progenitor of Thai-Portuguese dessert thongyip-thongyod—Wyndham Bangkok has unveiled its new secret bar dedicated to Marie's husband Constantine Phaulkon. Named after Phaulkon, arguably one of the most controversial Thai historical figures, Falcon Secret Bar touches on the unfamiliar parts of his life that have been rarely discussed in history—all reinterpreted into cocktails.
The vibe: Take an elevator to the 34 floor and climb the wooden staircase before arriving at the bar. Just like many other bars with a view in Bangkok, Falcon Secret Bar boasts a panorama of the city. Designed to be Phaulkon's secret meeting place, the bar features East-meet-West motifs to capture the namesake's ever-expanding circle of confidantes. Go early while the sun's still out. Every Saturday, a live soul band will accompany your drinks.
The drinks: The cocktails take inspiration from Phaulkhon's three phases of life: his arrival at Ayutthaya, his first love Marie Guimar, and his demise. The Royal (B890), a nod to the prosperous times during King Narai's reign, sees a mix of French and Iranian influences with cognac, saffron, and green chartreuse. Marie Guyomar De Pinha (B420), his wife's full name, captures his first love with gin, fruity midori, lychee, lemon, and elderflower all topped with eggwhite. Between the Love (B350), meanwhile, offers a fun combination of booze and Thai desserts, featuring brandy, earl gray tea rum, peach, and crispy foi thong as a garnish.
Why we'd come back: With the added benefit of untold stories from Phaulkon and cocktails with Thai traditional desserts, Falcon Secret Bar offers a great escape, especially during the rainy season. Who doesn't like cocktails behind glass in a monsoon?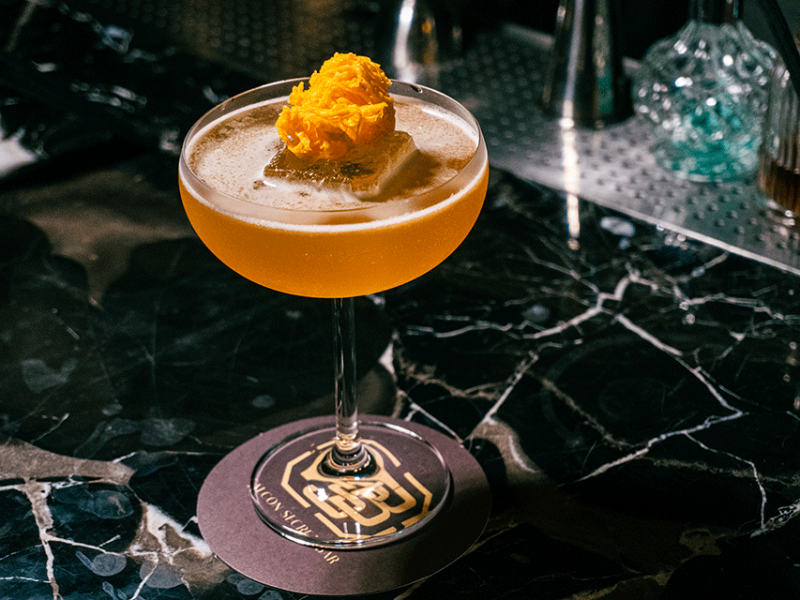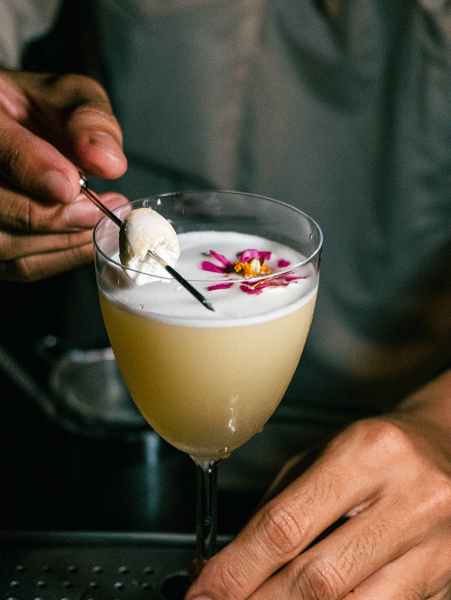 Venue Details
Address:
Falcon Secret Bar, Wyndham Bangkok Queen Sirikit Convention Centre, , Thailand
Phone:
065-119-0540.
Opening hours:

daily

6pm-midnight

Report a correction