BAR
Cinema Club
The cocktails and vibes here are enough to draw central Bangkok people out to Ari.
The buzz: If you're a regular drinker in central Bangkok like Thonglor, Sathorn, or even Charoenkrung, the Ari scene feels completely different. However, Cinema Club's drinks and vibes are worth the change of scenery.
The vibe:
The space feels, and is, massive. There is plenty of room for you to walk around without bumping into the next table's chairs. When we were there, a singer was walking around the bar while performing—something you don't get often in Bangkok's bars (unless it's a rooftop). Think vintage theater, a long bar, a snacks bar selling the typical cinema's goodies, a stage for live bands, projector screens, and a lot of movie posters. The bar hosts live music every night from 8:30pm to midnight, and you can check their rotating line-up on their
Instagram
.
The drinks: The drinks here were created by one of Bangkok's favorite bartenders, Suchada "Fahbeer" Sopajaree, who used to be head bartender at Find The Locker Room. She has been in the industry for 10 years, so your inebriation is in safe hands. The drinks are movie themed and designed for cocktail newbies. Each drink prepares new cocktail drinkers for something more complicated. In the movie Meet Joe Black, Brad Pitt plays a character that loves peanut butter, and the eponymous spirit-forward drink is a simple combination of just three ingredients: Jamaican dark rum sous-vide with peanut butter and fat-washed with butter (a technique rendering fat and freezing it to leave the alcohol with a chosen smell), apple juice and simple syrup (B450). This will prepare new drinkers for something like an old fashioned or Manhattan. If you're not a fan of strong drinks, the "Mean Girls' Burn Book" (B380) is a cosmopolitan twist, served with a lipstick mark on top just like the front of Regina George's burn book in the movie. Our favorite has to be the savory "Royal Burger" (B450) from the movie Pulp Fiction. In the movie Jules Winnfield, played by Sammuel Jackson, famously talks about burgers, so this is cognac sous-vide with a grilled burger bun to bring out the smokiness, pickle juice syrup, mustard, tabasco, and lime juice, all topped with gherkins.
The crowd: This is mostly the young Thai Ari crowd (early 20s to early 30s) learning to become more experienced cocktail drinkers.
Why we'd come back: Bangkok's cocktail scene has been getting really complex in taste. Sometimes it feels like going to a fine-dining restaurant where your mouth tastes something and your brain is trying to process it. We miss drinks that are fun but still have some technique. We've been jonesing for Fahbeer's drinks ever since she left Find The Locker Room. Even though you can find her at her other project, Wasteland, a craft soda brand that uses sustainably sourced and environmentally-friendly ingredients, it's good to be drinking her style again. Plus, the vibes are super fun and friendly.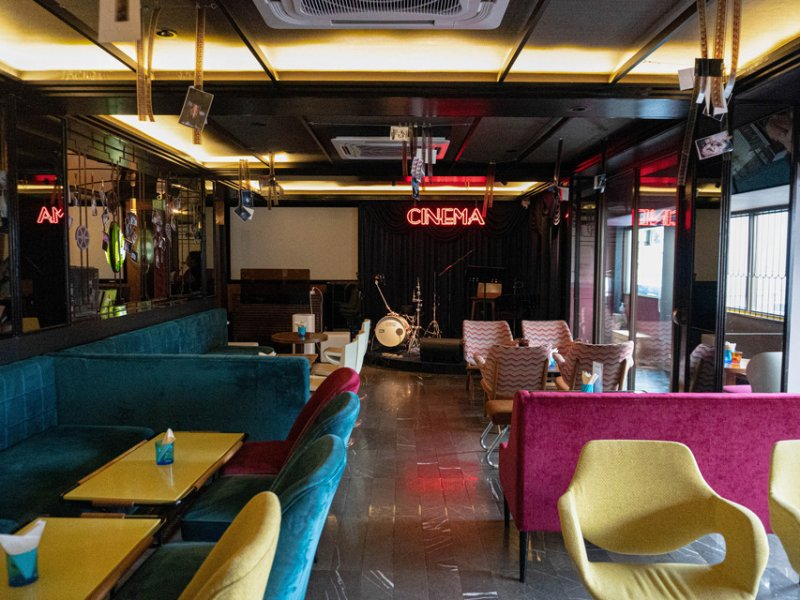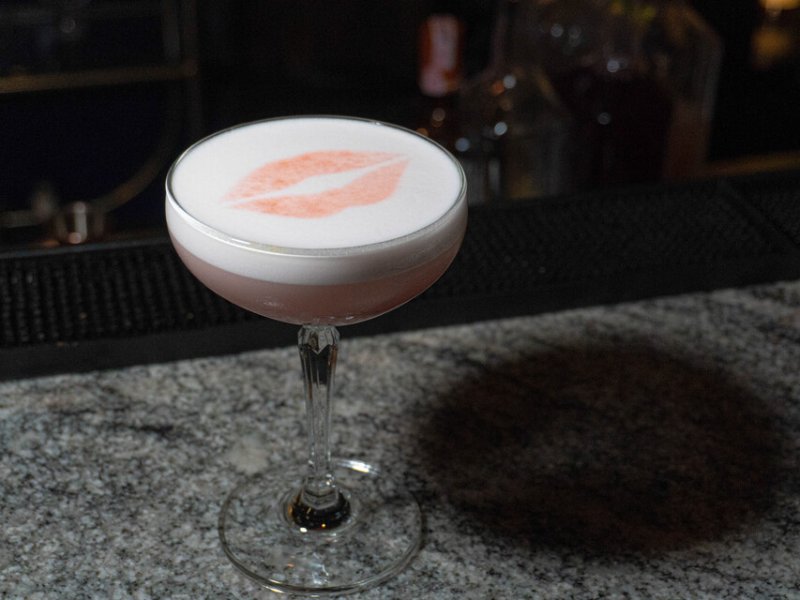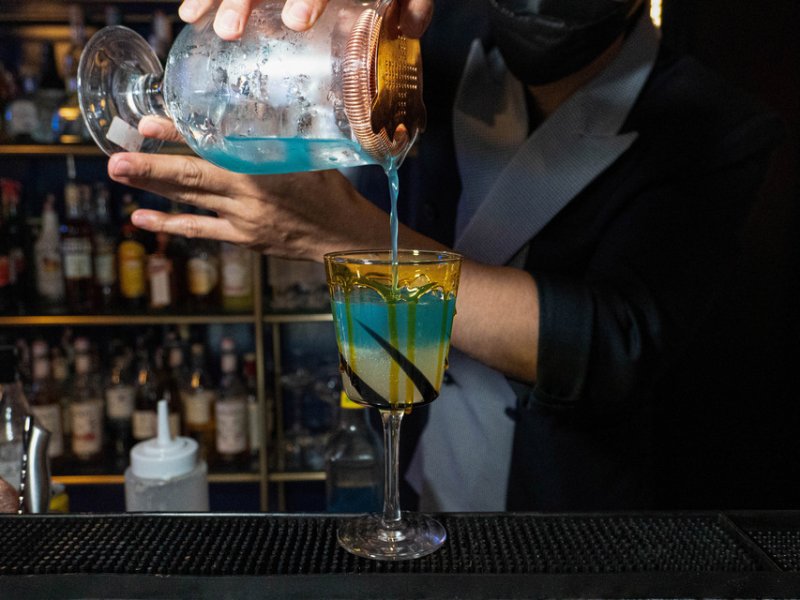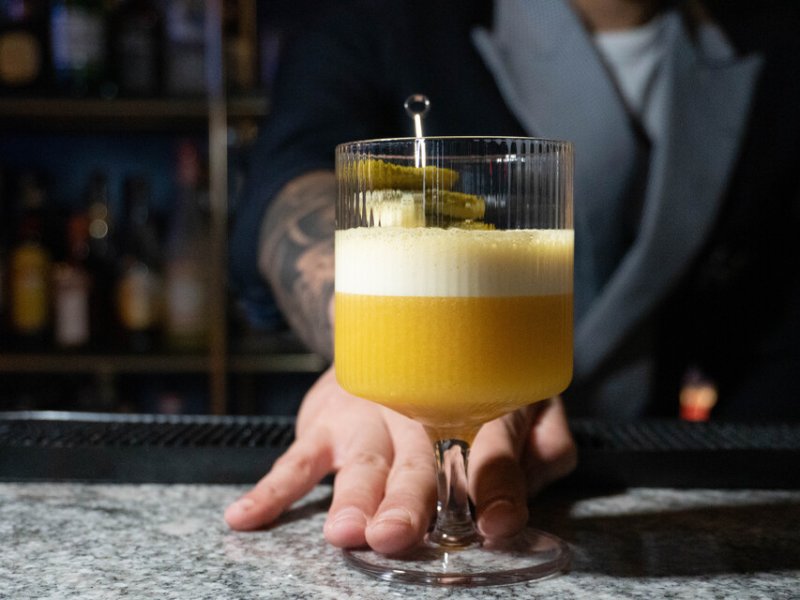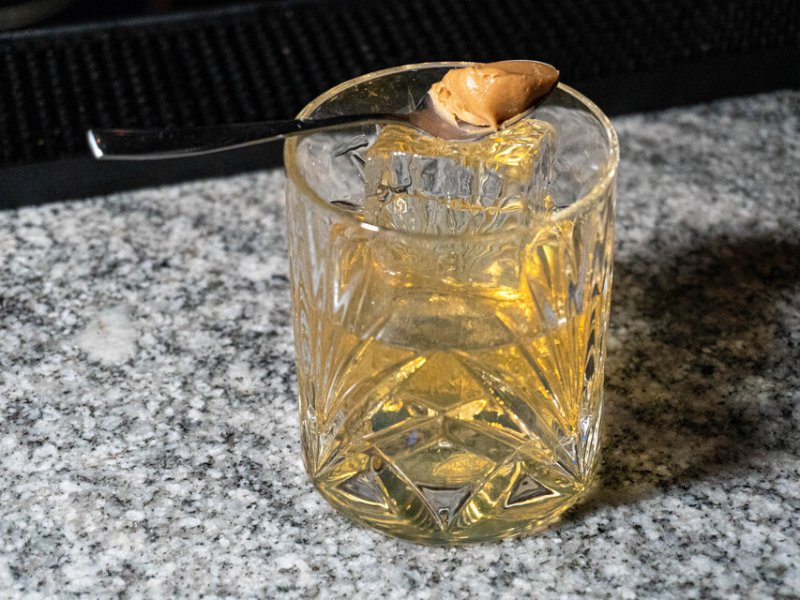 Venue Details
Address:
Cinema Club, 2/F, 19/2 Josh Hotel, Ari Soi 4, , Thailand
Phone:
02-102-4999
Area:
Ari
Report a correction