BANGKOK VENUE
Chatuchak Friday Night Market
A nighttime alternative to Chatuchak Weekend Market.
With over 15,000 stalls, the sprawling 70-rai daytime Chatuchak Weekend Market is one of the world's largest. Shopaholics may go gaga for it, but they're soon met with the realities of scorching sunlight and an asphyxiating weekend crowd. What many don't know is that a smaller section of Chatuchak also opens every Friday night to strollers who want to avoid being packed like sweaty sardines in the daytime heat.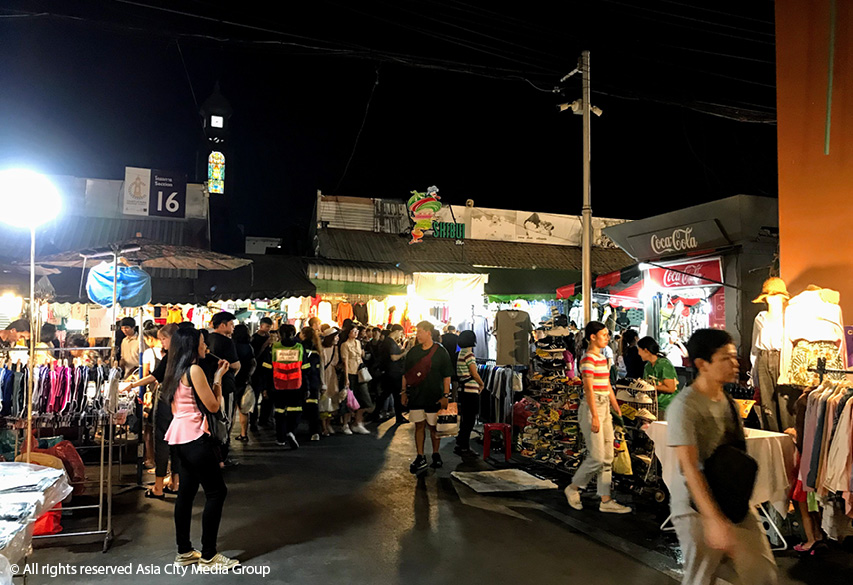 What we like: Chatuchak on a Friday evening still buzzes with energy, and the absence of the sun is the cherry on top. Most of the shops here offer wholesale prices, so you can expect to snag bargains if you purchase in larger quantities. With cute blouses and chic handbags for under B200, this is the place for some serious retail therapy—we won't blame you for going home with more than a few extra goodies than you intended.
What to buy: The majority of the shops are dedicated to all things fashion, from T-shirts, blouses, dresses, jackets, jeans, sunnies, and hats, to bags, socks, jewelry and cosmetics—you name it, this market has it. Some of the sub-sois are also open, where you'll find more clothes, souvenirs and other knick- knacks. Note that only sections 8 to 26 (clothing, accessories and food) are operational at night––no gardening, art, pet or book zones.
What annoys us: Cars, bikes and minivans are constantly brushing up alongside you, seriously interrupting your flow. Also, this night market is not for foodies. At all. On our visit, there were just a few vendors selling pork skewers and Isaan sausages near the gates.
Who goes there: Ninety-percent Thai teens, but what did you expect, with all the super-cheap fashion?
Pro tips: Drop by after 10pm if you want to experience the market at its peak. Parking is shockingly limited; if you insist on driving, park inside DD Mall—the big red building opposite Chatuchak Gate 1—or try BTS Mo Chit's car park (free from 5pm-1am).
Public transport: BTS Mo Chit/MRT Chatuchak Park/MRT Kamphaeng Phet.
Venue Details
Address:
Chatuchak Friday Night Market, 2 Kamphaeng Phet 2 Rd., Bangkok, Thailand
Area:
Chatuchak
Opening hours:

Fri

9pm-6am

Report a correction