BANGKOK VENUE
72 Courtyard
This slick, open-plan mall in Thonglor is half Sathorn Soi 12 relocated and half fresh nightlife experiences.

WHAT IS IT?
From new f&b player the Membership Group, this slick, open-plan mall is half Sathorn Soi 12 relocated and half fresh nightlife experiences. Like The Commons, you'll find acres of concrete, plants and steel, with as much space devoted to communal courtyards as to the venues themselves.
WHERE TO EAT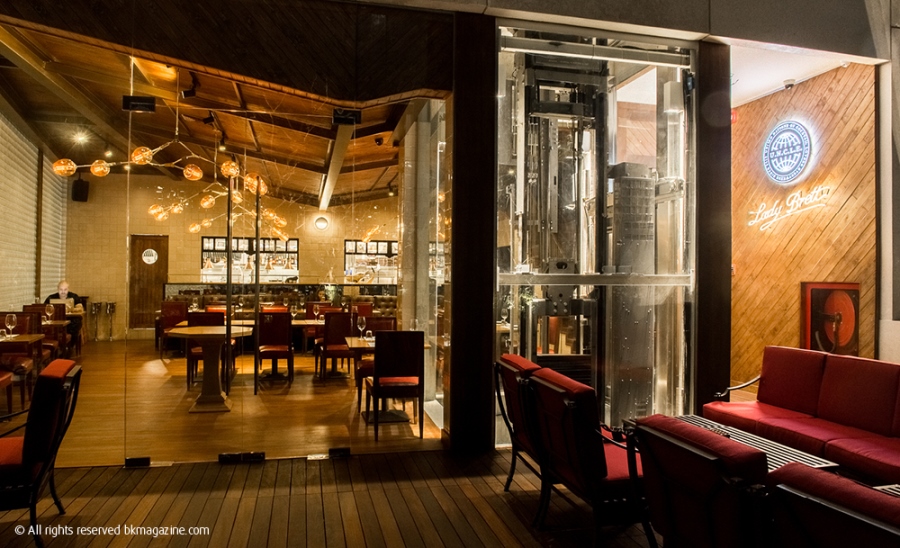 This casual, European tavern-referencing barbecue specialist is not just a replica of
what's being done over on Sathorn
. Amid tiled walls, rich leather dining chairs and geometric lighting sculptures, the kitchen dishes out things such as tomahawk steak and salt-baked fish alongside delicious and creative veggie dishes like smoked burrata with charred kale, air-dried mullet roe and sourdough toast. The cocktails are also excellent. Pre-dinner, try the Bitter Frenchman (Hennessy V.S, umeshu, Aperol and bitters).
02-635-0405, www.ladybrett.com
This Australian-hailing spot is a trendy blend of Mexican booze, street art and hip hop tunes. Aside from the serious cocktails (try Tommy's Margarita, which costs only B275), the place also serves reliable, substantial food that adds twists to traditional fare like guacamole, tacos, Mexican-style salads and meat dishes. They highlight a range of imported chilies as well as house-made essentials like tortillas and chips. Don't miss the signature elotes callejeros, grilled corn on the cob with chipotle mayo, cotija cheese and lime, or their delicious tacos. The bar does a dangerously good line of tequila and mezcal, too.
061-713-0083, www.fb.com/Touche-Hombre-Bangkok

The brainchild of chefs Ken Oringer and Jamie Bissonnette, Toro made its name in the US cities of Boston and New York for Barcelona-inspired traditional and modern tapas dishes served in a chic and fun setting. Headed by chef Zach Watkins, the Bangkok outpost takes reference from the New York branch and adapts the food to suit local ingredients and palates. That means seared foie gras served with roselle sauce, shimeji mushroom and mangosteen, while the hanger steak (filete a la plancha) comes with caramelized red onion and green curry butter. Also don't miss their churros—perfectly crisp yet moist inside. Pair your dinner with the refreshing watermelon sangria or a glass of Spanish wine poured straight from porron. 02-392-7790, www.fb.com/torobangkok

The fourth branch of the
chic brunch and coffee spot
comes in the form of a quick "grab and go" pit-stop, focusing on quality takeaway coffee. The food menu has also been condensed to suit the express style, including bagels, croissants and other breakfast pastries. Some open-air seating is also available for those who aren't as keen to eat on the go.
02-635-0404, www.rocketcoffeebar.com

The 20-seater Little Bao in Hong Kong is always packed out. But now it's branched out for the first time with a considerably bigger American-style diner in Bangkok. Drawing on her American upbringing, chef May Chow offers a playful, fast food-inspired take on traditional Chinese fare. The bao burgers are the real star here, coming stuffed with fillings like pork belly, crispy Sichuan chicken, fish tempura, shiitake tempeh and even ice cream. 02-392-6922, www.fb.com/littlebaobkk
WHERE TO DRINK

The
moody speakeasy lounge
has also made its way over from the upstairs of Sathorn's Lady Brett, serving up sophisticated craft cocktails alongside refined bar food. As ever, expect it all to be served in a sexy lounge setting, in keeping with the tone of its original branch. Did we mention the drinks are only B195?
02-635-0406, www.avunculus.com
Craggy-bearded barmen labor over serious, booze-heavy cocktails amid a photogenic mix of wood, marble, brass and neon at this sexy little cocktail lounge—possibly the hottest place on a strip of hot new bars. Funk, old-school hip-hop and r'n'b provide the soundtrack as you knock back glass after glass of potent stuff like the Jet Lagged, which sees bourbon, coffee liqueur, sweet vermouth, black walnut bitters and Grand Marnier poured into one very powerful wake-me-up.
02-392-7740, www.fb.com/EvilManBlues
Joining late-night neighbors Badmotel (across the street) and Mellow (next door), the club offers a more minimal, warehouse-style experience that keeps things raw, casual and loud. You'll also find Asia's first "body kinetic" dance floor that shakes vibrations into dancers' feet—meaning you'll literally be able to feel the rhythm inside you as you dance.
02-392-7750, www.fb.com/beamclubbkk

This large open-air beer garden serves up craft beers (Hitachino, La Chouffe, Verdett and many more) and Western and Thai-style pub grub (from barbecue ribs to
laab
fries). Bonus points for the live music, free jenga and, our favorite, the real-deal table tennis table. Daily happy hour deals from 5-7pm.
02-392-7770, www.fb.com/beerbellybkk