ART_GALLERY
Aurum Gallery
British drum 'n' bass pioneer Goldie is behind this contemporary art gallery in Warehouse 30.
British drum 'n' bass pioneer Goldie is gearing up to open a contemporary gallery in Charoenkrung's edgy art hub, Warehouse 30. In a recent Facebook video, he describes Aurum Gallery as a "labor of love" and has gathered some of the world's biggest urban and contemporary artists for its opening, which is slated for July, 2020.
Names include prolific Portuguese artist Alexandre Farto, a.k.a. Vhils, whose work you may have already noticed etched into the outer wall of the nearby Portugese embassy; Spanish artist Saturno, who paints fantastical graffiti monsters; fellow Spaniard Belin, who is known for his photorealistic, cubist-inspired murals; London-born graffiti letterform pioneer Ben Eine; German artist Caludia Walde, better known as MadC, whose vivid fast line paintings can be spotted everywhere from Finland to Miami; New York's legendary graffiti artists, BG183 and Bio; and many more.
Local names include Parinya Sirisinsuk, or Benzilla, whose three-eyed character, LOOOK, can be seen all across town; P7, who merges contemporary fine art and street style; Wal Chirachaisakul, known for his oil paintings and mezzotint printing techniques; and others.
Born Clifford Joseph Price, Goldie became known on the UK's jungle and drum 'n' bass scene in the '90s, though he initally gained exposure for his work as a pioneering graffiti artist and continues to paint at his home in Phuket. He has lived between the UK and Thailand with his family since 2014 and has played gigs at Glow and Beam in Bangkok and Pattaya's Wonderfruit festival, to name just a few.
Vhils, "Camada Series #12"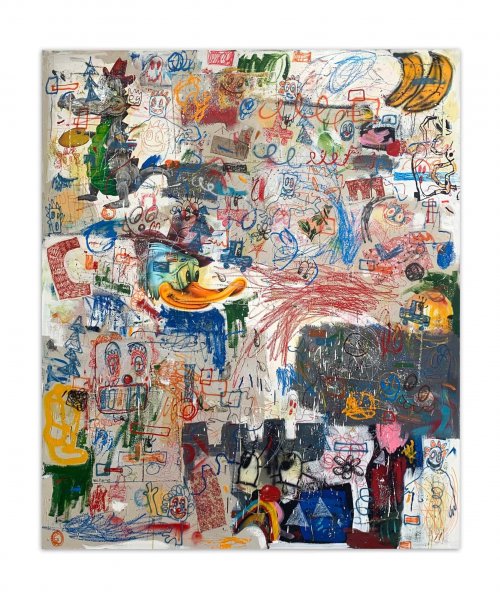 Barry Reigate, "Dragon Duck"