Bangkok can be a daunting city for a dog owner. But there are places where your pooch is welcome. We've put in the calls, chatted with the owners and had words with the vet to bring you Bangkok's very best pet-friendly businesses. And we don't mean cat cafes.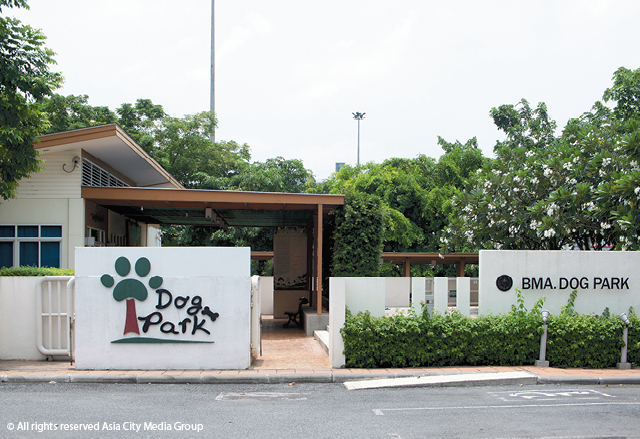 BMA Dog Park
Walkies

Finding dog-friendly parks can be a nightmare in this town. Beneath the Ram Intra Highway, BMA Dog Park (Khwaeng Tha Raeng, 02-222-2222. Open daily 5pm-9pm) might not be the most beautiful place to let your pet run around, but it's safe and secure. Before getting in, your dog must go through vaccinations, a health check-up and get microchipped. Once inside, dogs can run around off-leash and even have slides and a sandpit to play with. But Sukhumvit's well-heeled dog-owners have another tip: Dog Park 49 (8/3 Sukhumvit Soi 49, 064-586-6780). Here, for a cost of B150-250 per day, help is at hand to walk, run, socialize and bathe your dog. There's even a doggie swimming pool priced by the weight of your pooch.
The Counting Sheep Corner
Morning Rituals

We have great news! There are plenty of stunning brunch spots and cafes in Bangkok that are happy to welcome your beloved pooch in the morning. Take Luka. Both Pan Road (64/3 Pan Rd., 02-637-8558) and Thonglor (The Taste, Thonglor Soi 11, 02-050-0469) branches say yes to dogs, so that means at 8am, you can be eating your French toast (B250) while sipping on a green tea latte (B130) while doggy gets to do his business in a designated outdoor area. D'Ark at EmQuartier (651 Sukhumvit Rd., 02-003-6013) is another hot-spot for dog-lovers, meaning for once you can visit the mall without leaving your dog out in the heat. Enjoy their breakfast burrito (with scrambled eggs, spicy chicken, tomato, avocado, bell pepper, lettuce and sour cream, B320) and hot chocolate—just remember to never feed your hairy companions any chocolate! The Counting Sheep Corner (26/1 Sukhumvit Soi 61, 02-714-4477) provides a boozy place to play thanks to a) the owners' craft beer, Dirty Forty (B180) and b) a second floor terrace welcoming of dogs. Heading back over to Thonglor, Audrey Cafe & Bistro will make you feel like Audrey Hepburn with her Yorkshire Terrier (even if you came with a pitbull) thanks to its black and white wallpaper and cute chandeliers. While your dog sleeps under the AC, you can enjoy their Peking duck spring rolls (B190).
Tropic City
Boozy Retreats

Hipster hounds will approve if you take them along for a session at Thonglor craft-brew specialist, Bottles of Beer (Sukhumvit Soi 34, 02-040-0473). Co-owner Ruan Lim has a "smol pup" of his own, Khao Niew the chihuahua, whose chilled-out persona endears itself to everyone. Over in Phrom Phong, Changwon Express Flow House (A-Square 26, 120/1 Sukhumvit Soi 26, 095-445-1465) doesn't just have a surf simulator; it also has a second-floor outdoor space where dogs can run wild. Order up a glass of the owner's Asoke Pale Ale (B200) and enjoy watching people fall on their faces on the wave machine. When cocktail hour arrives, we can think of no better spot to unwind than on the terrace of Charoenkrung's Tropic City (672/65 Charoenkrung Soi 28, 091-870-9825), where they'll happily let any well-behaved pooches laze around while you sip on the finest rum cocktails in town. Our last tip is for sports fans. With a big projector positioned in its semi-open beer garden, The Drunken Leprechaun (4 Sukhumvit Soi 15, 02-309-3255) marks the perfect spot to catch all the World Cup's big fixtures. Just as important as the dog-friendly policy are the jugs of Singha—just B300.
Freebird
Feeding Time

Forget fake-smiling your way through dinner whilst worrying about your dog back home by hitting up one of these restaurants with dog-friendly yards. Between Ekkamai and Thonglor, Mother May I (26/2 Sukhumvit Soi 59, 097-990-5990) offers a big green yard for dogs to romp about. You can even sit in air-conditioned comfort and keep an eye on them through the floor-to-ceiling window. Swish Italian restaurant La Casa Nostra (22 Sathorn Soi 1 Yaek 2, 02-287-2402) also has a quiet, dog-friendly yard where head chef Nino Scognamillo's dog can often be seen running around and greeting customers. Head there for the second Sunday of each month, when free-flow alcohol is just B600. Dogs are also more than welcome at Sukhumvit's Freebird (28 Sukhumvit Soi 47, 02-662-4936)—just be careful because they also have a couple of bunnies running around. Be sure to try their delicious duck breast served with carrot puree cooked in caramelized butter, mulberries and charred onions (B680). Nearby, Viva Thonglor (387 Sukhumvit Soi 55, 02-000-9698) is another dog-friendly foodie joint that serves a menu devised by former Opposite Mess Hall chef Jess Barnes (including a beastly buttermilk fried chicken sandwich, B350).The ever-reliable people at Quince (Sukhumvit Soi 45, 02-662-4478) also provide a mini garden that's perfect for pooches. Pop over for lunch on a good-weather day to try chef Charlie Jones's tasty dishes like lamb chops (B690) and vanilla panna cotta topped with mulberries (B200).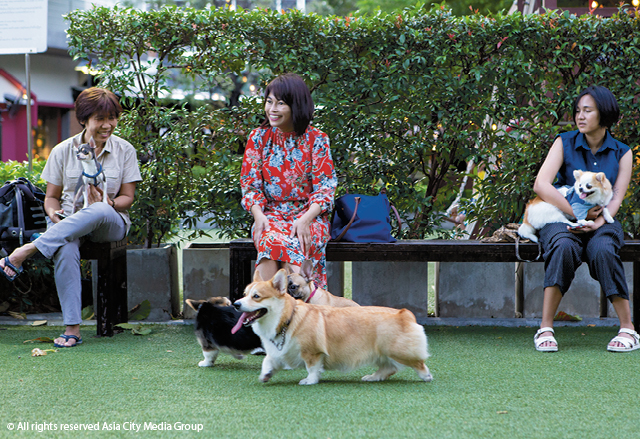 K Village
The Commons
Social Creatures

The common areas of Bangkok's community malls can be a dog-friendly paradise. K Village (Sukhumvit Soi 26, 02-258-9919) stands out for having a tiny (and we mean tiny) dog park next to its children's play park. The space might only fit 10 labradors, but it's free, central and friendly enough to leave well-behaved dogs as you shop. With its indoor-outdoor, open-plan design, The Commons (335 Thonglor Soi 17, 089-152-2677) also celebrates its dog-friendly credentials, and it's a similar story at Phra Khanong's W District (1599 Sukhumvit Rd., 02-381-2277)­—a chilled, open-air space with cuisines from Indian to Mexican on offer.
---
BK Asks
What's One Thing Every Dog Owner Should Keep In Mind?
Natta "Nat" Vongurai, 30, housewife and corgi owner
"We have a car, and honestly, I wouldn't know how to travel around with my dog in Bangkok without one."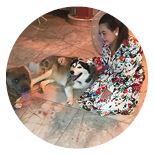 Mow Chalernwong, 37, business woman and owner of a bulldog, golden retriever, Siberian husky and Thai CrossBreed
"When you have big dogs, you need space, and generally, there's no space for dogs to run around in Bangkok."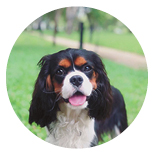 Kirana "Fah" Dhonavanik, 22, university student and Cavalier King Charles spaniel owner
"I raise my dog in a condo so always need to find time to let him run around. I feel that Thai dog owners in Bangkok don't see the importance of socializing with other dogs. I want my dog to be friendly with all breeds."
Savita "Ize" Jitowat, 33, TV commercial director and owner of three pomeranians
"Bangkok is not a dog-friendly city. I'd love a big dog like a golden retriever but they would be so hard to move around. That's why I picked a small breed."
---
Consider This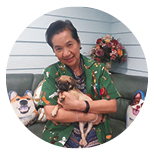 Dr. Nareewan Yimsomruay is the founder of Sukhumvit Veterinarians on Sukhumvit Soi 51. A vet with 43 years' experience, she's also the owner of 10 adopted dogs—and has some words of advice for prospective Bangkok dog owners.
Look around you. Where do you live? Do you have the space? Are there small children around? Only then can you decide what breed you want.
Adopt. There are so many dogs that need to be rescued. If you're not limited by space, I would recommend adoption.
All breeds have their flaws so speak to a vet. They will be able to prepare you for potential health issues or help you decide on which breed to get.
Think small breeds for a Bangkok condo: chihuahua, French bulldog, poodle, shih tzu, pomeranian and Yorkshire terrier.
---
Check-Ups
Bangna Pet Hospital
232/2 Moo 11, Bangna-Trad Rd., 02-744-1410. Open daily 8:30am-8pm

On Nut Pet Hospital
1909/1-2 Sukhumvit Rd., 02-041-9566. Open daily 9am-9pm

Small Animal Hospital Chulalongkorn University
39 Henri Dunant Rd., 02-218-9751. Open daily 7am-8pm with 24-hour ER

Sukhumvit Veterinarians
10, 12, 14 Soi Chonglom, Sukhumvit Soi 51, 092-710-1551, 02-662-7891. Open Mon-Fri 8am-9pm; Sat-Sun 8am-7pm

Thonglor International Pet Hospital Rama 9
80 Phetprararm Rd., 02-709-9999. Open 24 hours
---
Where to adopt
Bangkok's stray cats and dogs need you
goo.gl/5nhCMc

Adopt Me Please, Rescued from the Dog Meat Trade
adopt_me_please@hotmail.com. fb.me/ZmIMbT

Dogilike.com: Just Share for a Home
contact@dogilike.com, 02-235-2451 ext. 211. www.dogilike.com

Home for Handicapped Animals Foundation
02-584-4896, 02-961-5625. www.home4animals.org
Thai Animal Guardians Association
thaiaga@gmail.com, 02-373-2886, 02-728-1658. www.thaiaga.org

Soi Dog Foundation
info@soidog.org, 093-709-9622. www.soidog.org

SOS Animals Thailand
sos.animals.th@gmail.com, 081-303-2006. www.fb.com/SOS.Animals.Thailand

We Are Finding Home for Dogs
081-702-2708, 081-868-9521. www.fb.com/WeAreFindingHomeForDogs