Nakara Jardin
Tucked deep down a soi behind Ping Nakara Hotel, Nakara Jardin is a sweet secret hideaway. From the parking lot, take the pathway through a French-style garden to the white house with its terrace overlooking the Ping River. The man behind this cute café, Chef Pom, an engineer-turned-chef, lived in Bangkok for four years where he worked at 4 Garcons and studied at Le Cordon Bleu Dusit Culinary School, before returning to set up his dream venue. His home-style European dishes aren't the biggest servings but are pretty satisfying: braised lamb shanks with cumin & tomato (B550) or spaghetti with tiger prawns and Provençal tomato sauce (B180). Dessert here is a must, too, particularly the raspberry and lemon curd (B120) and hot chocolate fondant (B160). As for tea, they stock Singapore brand Gryphon (from B85 per pot).
Open Thu-Tue 11am-7pm. 11 Soi 9, Charoenprathet Rd., Chang Klan, 053-818-977
Tichaa Tearoom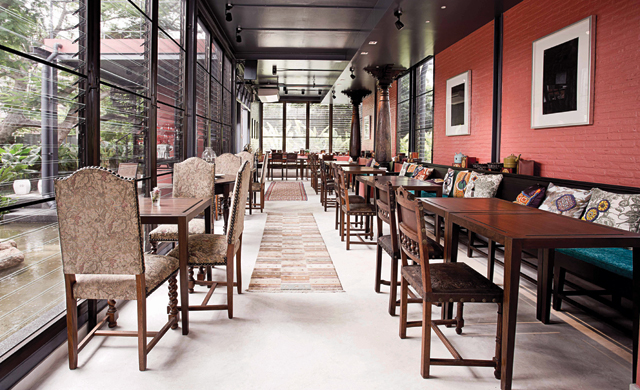 After selling tea for a while, leading Thai spa brand HARNN finally decided to open Tichaa Tearoom in its hometown. Located on Nimmanheamin Soi 17, Tichaa boasts a pleasant tearoom where guests can sip herbal tea amid richly colored art pieces. The architecture and interior take their cues from the great cultural journey along the silk roads that pass through Japan, China, Northern India and Eastern Europe to Northern Persia. There is also an outdoor dining area and second floor that's set to be guesthouse, as well as small rooms for special functions. Their most popular teas are Jasmine Candle Scented White Mulberry Tisane, Ylang Ylang Candle Scented White Mulberry Tisane and Kaffir Lime Candle Scented White Mulberry Tisane. All tea starts at B110 per cup. As for treats, try their sai aua croissant (B120) or kanomjeen pu (rice noodles with crab, B320) paired with your tea selection.
Open daily 11am-midnight. 16/1 Nimmanhaemin 17, Soi Jumpee, Nimmanhaemin Rd., Suthep, 092-2692776
Kalapela
Established by a Thai designer and a Japanese partner, Kalapela is a shophouse-turned-tearoomcum-hotel-cum-wine bar finished in a Lannameets-Zen style. The place is a peaceful retreat where you can choose to recline in the wooden high back chairs or log stools in the beautiful garden. Come inside to experience the owners' attempt to create a "living" museum in a contemporary style. Kalapela is full of antiques and art pieces that have been collected from travels all over the world, mostly from the East. You can also sample some 80 teas from everywhere from Japan, China, Singapore, Hong Kong to France. When night falls, Kalapela transforms into a wine and sake bar where you can drink till late. They are also planning to operate as a very small hotel with only two rooms from November. Rates start from B3,750.
Open daily 9:30am-10pm. 145/6 Ratchdamnoen Rd., 081-634-2245. www.facebook.com/kalapelatea
Akha Ama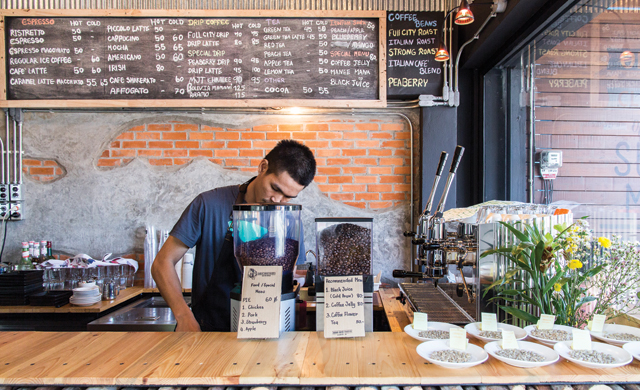 After the success of their first branch, Akha Ama recently unveiled its second opening on Ratchadamnoen Road, close to Wat Phra Singh, the most famous temple in town. In expanding from the first small venue, Lee Ayu Chuepa, the Akha owner, decided to turn this into a serious coffee venue complete with an in-vogue industrial interior. "I want to bring people closer to the process of making coffee. Once they understand just how hard people work to come up with great coffee in my home town, Mae Chan Tai in Chiang Rai, they will understand how it is important that we all do what we can to improve their livelihoods," Lee explained. "I want the tribal people who grow coffee, like my family, to enjoy better lives." Every morning, when the scent of freshly roasted coffee fills the venue, it's hard to argue with this noble aim.
Open Mon-Sat 8am-8pm, Sun 8am-10pm. 175/1 Ratchadamnoenroad, 086-915-8600. www.akhaama.com
Gelabar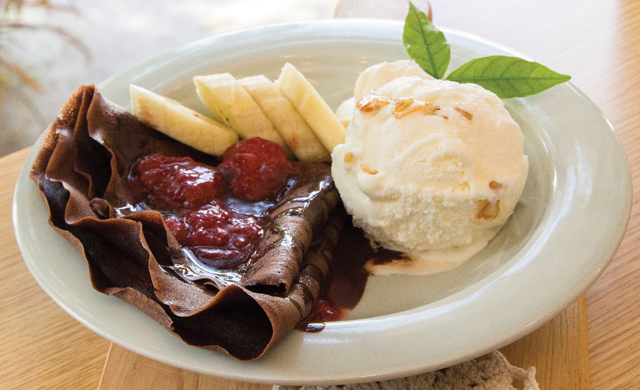 Gelabar stands out from other places in this densely-packed café neighborhood by offering up delicious Italian-style gelato. Many of the icy selections are made from fresh fruit, but more indulgent fare comes in the form of full desserts like the hot cake with Ferrero ice-cream (B75), strawberry cheese pie with ice-cream and yogurt (B85) and crepe chocolate lava crème brulee (B60). The place is pretty small with only 10 seats, so be prepared for a long wait on weekends.
Open daily 11am-8pm. Nimmanhaemin Soi 3, Suthep, 081-881-9144
Into the Woods
This cute café will appeal to lovers of fairytales, from the name to the walls adorned with scenes from a mysterious woods along with famous characters like Little Red Riding Hood, Cinderella and Sleeping Beauty. In one corner is a big bookshelf which serves as a free library for visitors. Apart from the classics, the literature includes popular Japanese manga Detective Conan and all four series of famous Thai novel Suparburoot Jutathep. Feed your stomach as well as your mind with recommended desserts like the colorful roll cake served in blue, pink, brown or green (B50). They also plate up proper dishes, too.
Open daily 9am-8pm. 191-193 Sriphum Road, 081-531-7793
Saenkham Coffee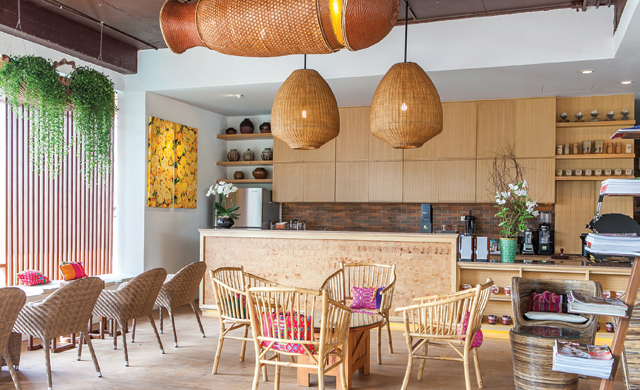 After the success of their Saengkham Terrace restaurant, the management decided to convert the first floor into a new coffee joint under the same name. The place really is stunning, too, as they installed wickerwork details from floor to ceiling. There are also handicrafts and pottery from hill tribes and the occasional art exhibitions on show, too. Situated some 20 minutes' drive from the city center, the views here are of scenic rice fields with the mountains as the backdrop. The only con is there's no air-con.
Open daily 11am-10pm. 199/163, Clubhouse Ban Naifan 2, Maehia, 053-838-990
Chan Nueng Cafe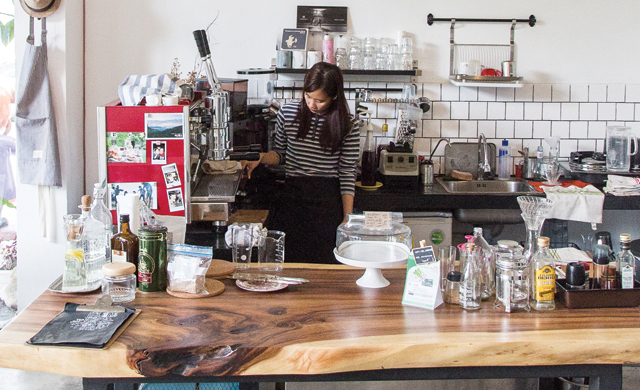 This popular coffee venue has moved to a new place after their old lease ran out. The new all-white cafe is much smaller than their old cafe-and-bed and they don't run a small guesthouse anymore. Basically, Chan Nueng Cafe is now a meeting spot for old fellas to catch up over a familiar cup of coffee.
Open daily 9am-9pm. Nimmanhaemin Soi 3, Suthep, 088-493-4379

Kab Khao Ban Hao by Laab Ban Ha
Though it may look a bit too cute to be a proper restaurant, when it comes to taste, Kab Khao Ban Hao serves up the true flavors of Northern cuisine. Despite being born from the notion that the best Northern food is found on the street. Kab Khao Ban Hao looks different to other traditional restaurants, as it blends chic white brick walls with wicker lamps. The menu contains a long list of lesser-heralded Northern dishes like hum jiin (braised beef in curry, B68) and saa sadung (Northern beef salad, B68). But you can't go past the Ruam Khon Mueang (B128), a delightful selection of Northern treats such as sai oa (Northern sausage), nam prik num (green chili paste), nam prik ong (pork and tomato paste), cap moo (crispy pork skin) and boiled vegetables.
Open daily 11am-8pm (closed on the second and the fourth Monday every month). 51 Sirimangkhlachan Rd., 086-6567599, 088-2613057. http://on.fb.me/1ac8QN6
Little Lanna
This new joint might just serve the most chic Northern food in Chiang Mai, as they shake off the wooden house look to put a modern spin on Lanna decor through details like wooden umbrellas and khit (triangle pillows). There are three distinct areas boasting different style seating, from long benches to proper dining tables, all accompanied by a just-about-passable popsanova playlist. The menu here takes in both fusion fare such as Lanna Gyoza (B95), tempura nam (B80) and laab omlet (120) and classics like khao soi with tofu and boiled egg (B80). They have tea and also cocktails if you're in the mood to celebrate. Speaking of which, the dessert is a must: try the fried banana with homemade ice-cream in flavors like mango, coconut and banana.
Open daily 11am-10pm. Nimmanhaemin Soi 7, Suthep. 082-388-3993
Kanomjeen Khunnai Mae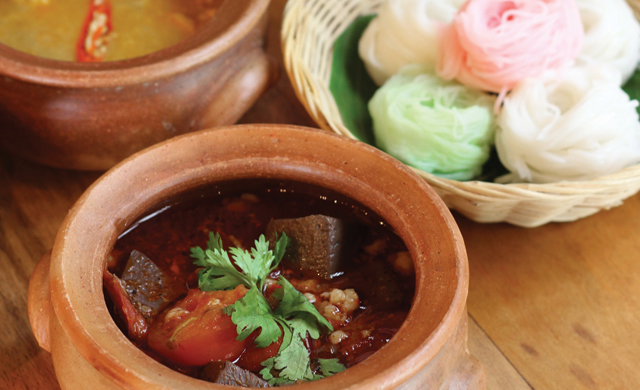 This kanomjeen (rice noodle) place sheds the old Lanna-style décor for a more modern, colorful vibe. Though situated a bit out of the city center, it's still well worth a visit as it's a true house of kanomjeen. Here, they serve various types of nam ya (rice noodle curry) that range from traditional Northern recipes like the nam ngiew to nam ya pu (crab curry), nam ya pa (spicy soup), kati khai pla salid (coconut curry with leaf fish eggs) or nam ya pa Korat (Nakhon Ratchasima recipe) and nam prik goong meung petch (Petchaburi recipe). Each nam ya set comes in at B40. Their sides like khao soi, som tam and pork satay are tempting, too.
Open daily 8:30am-9:30pm. Mahidol Road (next to Varee Chiang Mai School), 085-677-0558.
Beer Republic
Beer Republic has quickly become one of the most popular night spots in Chiang Mai town thanks to its cozy Tuscan-style atmosphere and wide selection of beer. Their draught beer options span as much as 15 choices—enough to put most pubs in Bangkok to shame. Apart from all the household names, Beer Republic offers up a bunch of more esoteric drops, such as Kostritzer Black Lager, Morland Old Speckled Hen Ale, Weihenstephaner Vitus Weizen-Bock and Schneider Aventinus Duppel Bock, Tap 6. Prices start from B120, but those looking to experiment can opt for the Beer Experience set with five (B250) or 10 selections (B500) of draught beer. The place also has a surprisingly well-balanced food menu, taking in both Western and local treats. Apart from grandiose options such as oysters from France and Brewer's pork knuckle, they serve up tasty "time-forgotten food" for beer lovers like tod mun pla hed (fish cake, B120) or gaeng phed ped yang (grilled duck in lychee red curry, B150). Not to your taste? Neighboring El Patio, a new Italian restaurant, is also forging a name for its grill-heavy menu which includes hot-stone steak. They are planning to open a Cuban cigar room this November.
Open Tue-Sun 5pm-midnight. 28 Nimmanhaemin 11, Suthep, 053-216-568, 081-531-4765, www.beerrepublicchiangmai.com
The Arch
This small bar draws in foot traffic through the brick arch gate at its entrance. A venue for serious drinkers, you won't find a long list of cocktails or beers here as the focus is on whisky, particularly single malt. Expect all the famous names like Balvenie, Macallan, Glenlivet, Laphroaig and Glenfiddich, including plenty of special editions. The lineup includes Glenfiddich 19 (B350 per shot), Macallan Select Oak (B290 per shot) and Glenlivet 21 (B450 per shot). Don't expect a bustling atmosphere here as the clientele are mostly working guys and gals, as well as noise-hating expats looking for an intimate place to sip and hold court.
Open daily 6pm-midnight. 18, Soi Nimmanhaemin 11, Suthep, 081-783-5240
Mixology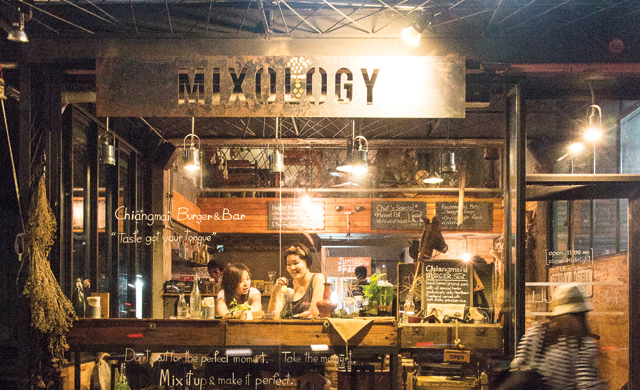 This new joint stands out from others in town by offering a charmingly rustic ambience, with its bare-brick walls, wooden tables and beautiful bric-a-brac collected by one of its partners, Bee, who used to work as a restaurant consultant in London. "We noticed that Chiang Mai didn't have a bar where people could come to sit and chat with friends as early as they like and for as long as they want. So we decided to open up this day-to-night bar," she says. The drinks here are mixed by one of the partners who is a self-trained mixologist from their time spent in London. A lot of fancy ideas go into the drinks' names, too—Love Me Love My Dog, Chiang Mai Chanee Berry and Lost in the Fruit Garden—all of which start from B180 a glass. The mixology idea extends to the food, with offerings like the Chiang Mai Burger (B130), which comes with a Northern-style laab patty made with rice, and potato skin with nam prik ong (B120). Thinking about renting a bike to get around? You get 10% off if you park your ride here.
Open Tue-Sun 11am-midnight. 61/6, Arak Road, Phrasingha, 088-261-3057, 083-070-6190
Sala Lanna Chiang Mai
Set on the bank of the Ping River, Sala Lanna offers a peaceful location with a narrow entrance cutting you off from the bustling road. This neighbor of the famous Vieng Joon On teahouse has 15 rooms and one villa with a fairly basic modern décor enlivened by Lanna touches in the form of textiles and wood furniture. The most impressive part would have to be the two bedroom pool villa suite which sits right by the river giving you a glimpse into the slow life on the water. Their two restaurants, Sala Lanna Eatery and Bar and Italia, also offer scenic views of the river, while the roof bar goes one step further providing an al fresco panoramic view that incorporates Chiang Mai town. We fell in love with their afternoon tea set (B580), which isn't only served with a boring scone but comes with mango and sticky rice as well as roti stuffed with banana. If you plan to be in town around Loy Krathong (Nov 17), Sala Lanna offers deals like B700 for drinks and khomloy (lantern) and B1,500 (Eatery & Bar) or B1,900 (Italia) for dinner and a DIY krathong course. Room rates start from B4,563 for a standard to B32,588 for a pool villa suite. Early bird bookings 30 days in advance get a 10% discount.
49 Chareoenrat Rd., Muang, 053-242-590. www.salaresorts.com/lanna
X2 Villa Chiang Mai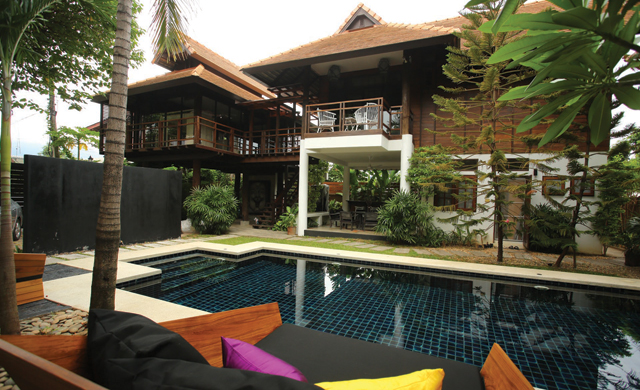 This newly opened addition to the X2 family sets itself apart in that it's actually a rental five-bedroom pool villa. Set in the heart of Chiang Mai town, this half-wood-half-cement building is a big modern-Lanna house with two separate buildings hugging an eight-meter-long swimming pool flanked by colorful daybeds. All rooms are decked out in a minimal style, with some artsy Lanna touches such as the earth-tone pallette. On top of the swimming pool, the facilities include a living room and fully-equipped kitchen. There is a backdoor that opens onto Wat Loke Molee, one of the most beautiful ancient temples in town. The price for the whole facility is B17,500 for a maximum of 12 people. You'll have to be super-quick, though, if you want to book it for your Loy Krathong party.
Maneenopparat Rd., Muang, 02-168-7533 ext. 305, book.cm@X2villas.com, www.x2lobby.com
Artel Nimman
It's hard not to spot Artel Nimman with its white slide flowing down from the second floor into the front yard. Having opened its doors back in June, the hotel has a whimsical playground-like charm with art pieces at every turn. This starts from the right wing of the building, where the reception is hidden behind a hexagonal beehive-like steel door decorated with geometric-shaped broken floor tiles, and continues onto the curved steel bedheads and circular windows for each room, as well as the colorful capsule-like bathrooms. There are 13 rooms under four categories: The Balcony, The Terrace, Garden Studio and Mini Studio. High-season prices are B1,700, B2,000 and B2,300 for standard, deluxe and suites, respectively. Be warned, they don't serve breakfast anymore—fortunately, the Nimmanhemin area has plenty of food choices.
40 Nimmanhaemin 13, Suthep, 081-594-6233, www.facebook.com/TheArtelNimman
Makka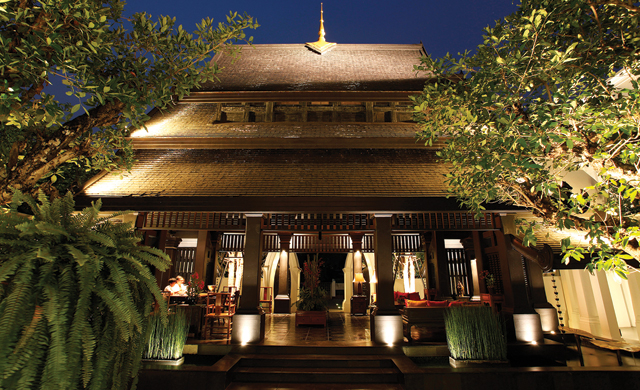 Designed by Urban Architect, the boutique Makka Hotel gets its name from the term in Buddhist teachings for the eight ways to be liberated from suffering. True to its name, booking into this hotel is like getting lost in a peaceful sanctuary in the center of Chiang Mai. There are two pavilions—one in black which serves as the lobby representing the human world and one in white representing the tranquility of heaven. Surrounded by trees, the 22 rooms (superior and deluxe) and four suites of the two-story building are decked out in a contemporary Lanna style, with walls adorned with paintings of lotus, the symbol of enlightenment in Buddhism. Be warned, there's no full-course restaurant at this stage (they only serve a la carte breakfast and some lunch dishes). Still, the superb location means you can walk to Wat Phra Singh Wat Chedi Luang in 10 minutes, as well as the walking street at Tha Pae Gate, where impressive sights and delicious food await.
Makka Chiang Mai. 18 Soi 8 Phrapokklao Rd., Phra Singh, Muang, Chiang Mai. 053-281-636, www.makka.co.th
Essentials
There are daily flights from Bangkok to Chiang Mai. At the time we checked online, Nok Air (www.nokair.com) offered the best rate at B4,398 for a round trip. AirAsia (www.airasia.com) is B4,466 and Bangkok Airways (www.bangkokair.com) is B4,740.