Asia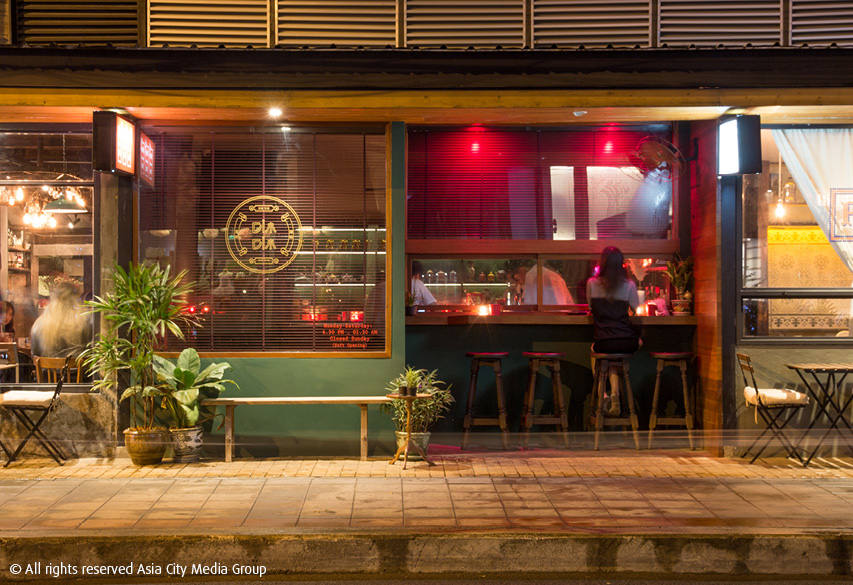 Where: Beijing
The decor: The candle-lit space exudes oriental cool through vintage Chinese tea boxes, rows of waving lucky cats and splashes of red. A slender outside counter seats just four, while inside is a mix of bar stools and cozier red leather corner-fitted couches.
The drinks: Expect plenty of infused spirits and Chinese twists in the likes of the Oolong Tea & Orange Sour (B280), a take on the whiskey sour made with oolong tea and orange peel-infused Wild Turkey 81 bourbon.
27/1 Sukhumvit Soi 33, 02-085-2788. Open Mon-Sat 6:30pm-1:30am
Where: Hong Kong
The decor: Step inside this old shop-house and you're transported to a retro Hong Kong diner like something out of In the Mood for Love—think warm lighting, carefully positioned mirrors and vintage mosaic tiles. Downstairs you'll find a hip bistro serving cold cuts and crepes alongside wine.
The drinks: Downstairs is all about pocket-friendly French table wine (starting from B140 per glass), while upstairs sits a hush-toned cocktail bar, where French spirits are spotlighted in classic cocktails based on The Savoy Cocktail Book (first published back in 1930). Try Le Bijous (B360), a mix of gin, Chartreuse and sweet vermouth.
831 Charoenkrung Soi 31, 085-527-3511. Open Wed-Sat 7pm-midnight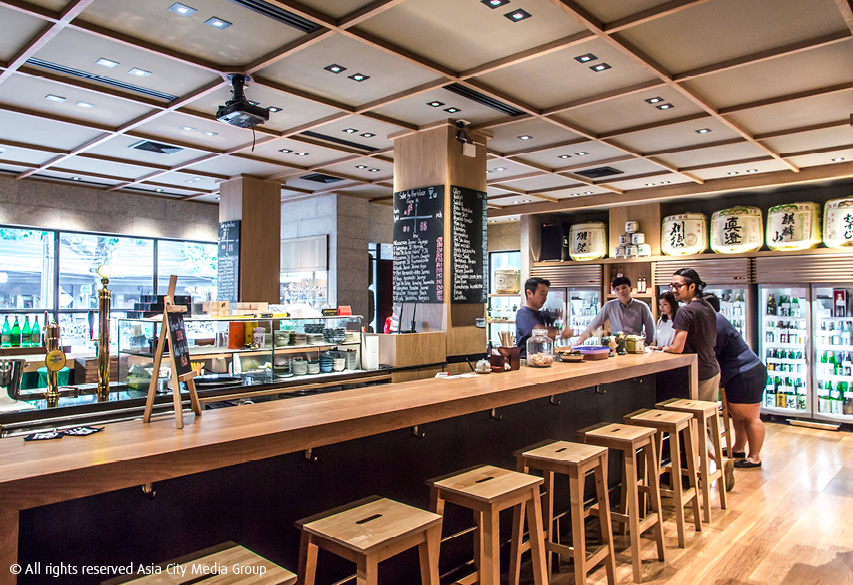 Where: Tokyo
The decor: With its wall-to-wall sake selection, cozy blond wood decor and decorative barrels, Orihara Shoten looks like something straight out of Japan. Shattering this illusion somewhat are the glass windows that look out across the road to Ekkamai Beer House.
The drinks: The bar is a collaboration between Japanese sake exporters Orihara and local booze distributors BB&B, so you can rest assured this is the good stuff with over 100 bottle selections of both chilled and hot sake to choose from. Prices start from as little as B180 per glass. One solid entry point is the Yuki no Bosha Yamahai Junmai (B240/90ml), known for its smoky taste similar to whiskey.
Park Lane, Sukhumvit Soi 63 (Ekkamai), 02-382-0131. Open Tue-Thu 5pm-midnight; Sun 5pm-midnight; Fri-Sat 5pm-2am
---
Europe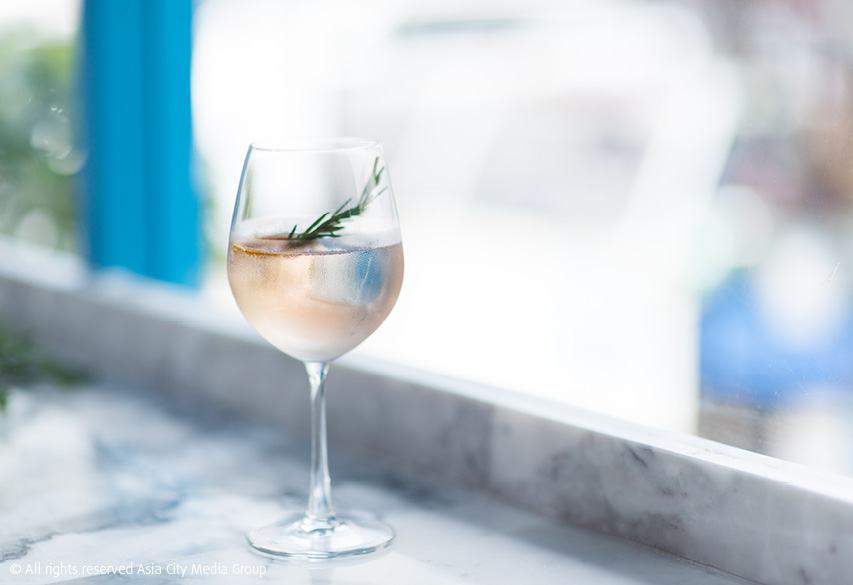 Where: Italy
The decor: Like an airy '50s diner with La Dolce Vita edge and an added splash of aquamarine intensity. Head up the eye-popping cast iron staircase to the mezzanine, where you'll find a retro bar lit by smoky orbs on cast iron poles and neon signs.
The drinks: Don't expect the spirit-forward creations of sister Italian restaurants Vesper and Il Fumo. Here it's about fresh and light drinks. Try the Passione Negroni (B340): coffee-infused gin, classic vermouth and Campari, topped with lemon foam and served with fresh passion fruit juice to even things out.
161/6 Thonglor Soi 9, 02-392-8688. Open Tue-Sun 11am-2:30pm, 5:30-11pm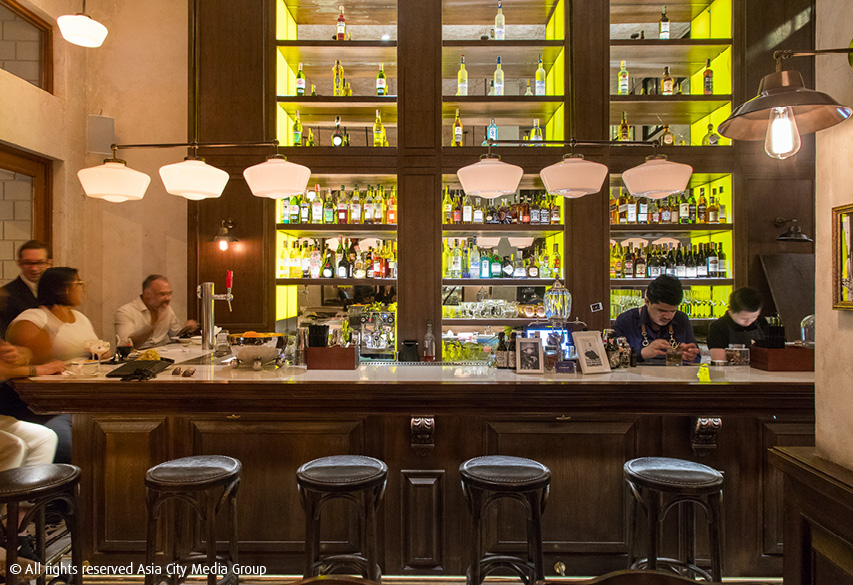 Where: France
The decor: What looks strictly conventional from the outside—royal blue roll-out awning, wicker chairs and privet hedges—feels friendly and welcoming inside thanks to warm, dim lighting and comfy seating nooks. The name, Cordonnier, means cobbler in French, hence the shoemaking equipment scattered about the place.
The drinks: Cocktails take inspiration from French art, fashion and music. Love From Monet (B350) elevates the classic Boulevardier (rye whiskey, sweet vermouth, Campari) with a twist of Cynar (artichoke liquor), paying homage to the Impressionist painter by letting you paint the rim of your glass with a lemon-thyme paste.
33/30 Sukhumvit Soi 11, 094-970-8599. Open daily 6pm-midnight
---
The Americas
Where: Cuba
The decor: This secret bar (that everyone now knows of) offers a portal to pre-revolution Cuba. The finely-concocted story goes that Havana Social was once a hip hangout back in the Cuban capital's 1940s heyday, before falling into ruin after Fidel Castro seized power. Find the telephone booth labeled "Telefono," then punch in a password which should be given to you by one of the bouncers.
The drinks: Rum, and lots of it. The cocktail list is split into two sections: classic and experimental, dubbed Pre- and Post-Revolution, courtesy of Joseph Boroski. Our favorite, Between Two Sheets (B300), features Bacardi Black, Hennessy VS, Grand Marnier, lime and pomegranate grenadine.
Sukhumvit Soi 11, 02-061-5344. Open daily 6pm-2am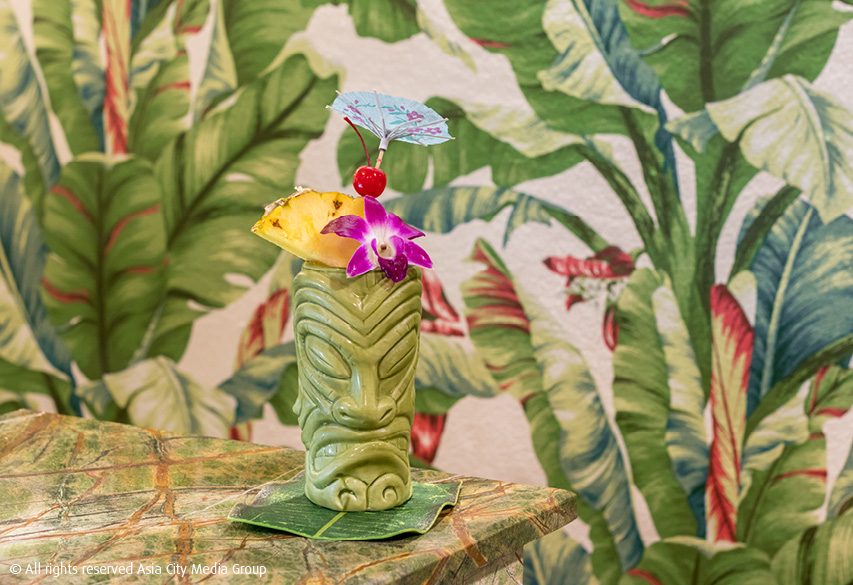 Where: Hawaii
The decor: Pakalolo takes its Hawaiian theme, adds a dose of the Florida Keys and turns it into something fun and fresh. There's a geometric bamboo ceiling courtesy of the guy who did Wonderfruit's stage, as well as some artfully flamboyant banana-leaf wallpaper. It all says "cocktail hour at the coconut lodge" in a kitsch, wink-wink kind of way.
The drinks: Tiki and tropical. Order the Lilia (B280) for a hit of elderflower and thyme that goes right up your nose, along with pear vodka, gin and pink guava juice to make the whole thing go down easily.
Ari Soi 4, 02-075-0939. Open daily 5pm-midnight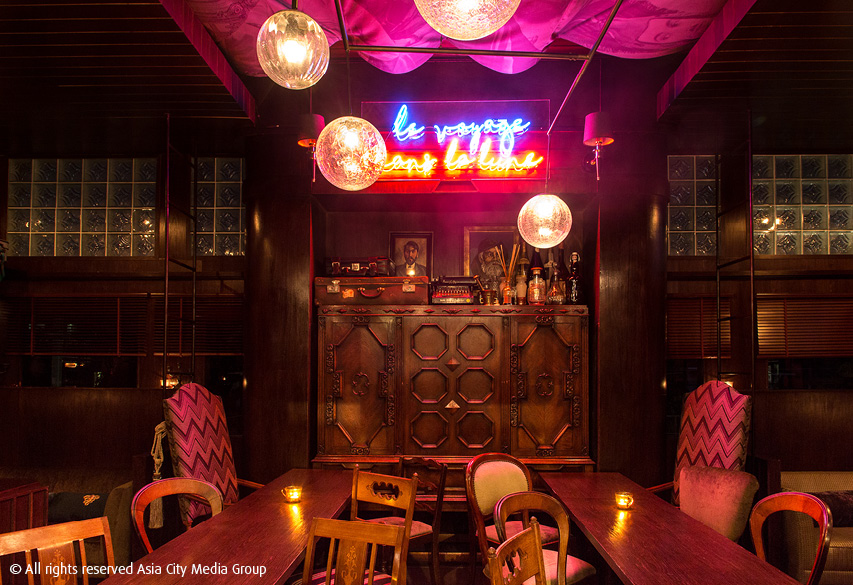 Where: Chicago
The decor: A bar decked out in a vintage wood-paneled railway carriage theme, the space plays up its 1920s Orient-Express vibe with a narrow corridor. An amazing mixing bar sits at the back, surrounded by trunks, frames, globes and maps to set the mood.
The drinks: Each cocktail menu is derived from a different destination. The one right now takes on the spirit of Chicago (last time it was Mumbai) with four cocktails priced at B370 each. The Green Street Smoke takes inspiration from a well-known barbecue place for its smoky blend of bacon-infused Buffalo Trace bourbon, Averna Amaro liqueur, dark corn syrup and smoked spiced bitters.
1/F, The Commons, 355 Thonglor Soi 17, 02-101-4525. Open Tue-Sun 5pm-1am