BANGKOK BAR
Sul
A whole new dimension to Korean culture obsession

The buzz: Despite Bangkok's obsession with all things Korean—music, food, plastic surgery—there is surprisingly very little in the way of Korean nightlife. So within just weeks of opening, Sul cemented itself as one of Thonglor's premier Korean hotspots. But it turned out to be maybe a little too Korean.
"We were doing what the Koreans are—which is experimenting with classic flavors. Korean food is a very big field and we weren't doing traditional things," co-owner Cabin Yim laughed. "Thailand wasn't quite ready for that."
"Experimenting for them was just trying foreign dishes," he said. "People come in and ask for dishes their friends liked, or things they heard about on a drama. Not everybody here understands the classic dishes; so how could they recognize what we were doing?"
"Even something like fermented soybean paste—it has a funny smell, but it tastes great. People here don't want to try it," he said. "We had a Liquid Gold Tteok—it was a great dish, but people actually told us they were afraid to order it."
Clearly, some locals were lost. So co-owners Cabin and "Phet" Thanisorn Boonsoong brought in a chef with Michelin experience, Chef "Jao" Pakapat Sakyaso, and then turned to the world's most famous Korea Towns—in London, New York, Los Angeles, Seattle and Vancouver— for inspiration.

The vibe: "We actually had the same problem with music," Phet said. "We had strictly underground Korean music and it was too much; too far ahead. Nobody knew any of the artists; nobody recognized the names. They didn't know the songs. We had to go a little more mainstream—like Korean lounge, house and hiphop. We bring in DJs Friday and Saturday night, too."
Expect tunes by internationally known Korean artists, though with heavier beats than the typical cooey girl groups. Yaeji, Giriboy, Dean, Zion, Primary and Crush are all on the playlist.

"In Korean drinking culture, there is a lot of hopping. And you never drink without food," he added. "So you may hit three, four, five places—with different food and drinks at each. We tried to emulate that here. Make the vibe all-in-one; blending food and drinks and music, so you can stay longer."
And stay you should. Framed by raw concrete with stylish red brick patches, Sul exudes a smooth, industrial vibe. The bar is split into three zones, the bar area and two seating sections on either side. It's a cool place to be.
"Bangkok's Korea Town is still more like a restaurant corner," Cabin said. "It's not quite a proper neighborhood, or town. And honestly, most of it is barbecue joints and bulgogi. And if you go to the barbecue joints, then you don't want go out clubbing, because you smell like smoke."
All of which helps stake Sul's claim as Bangkok's best. All the standards which made it famous remain: Korean flavors, Korean kitchen staples, endless Korean tunes, Korean videos on the wall, a deep stock of Soju, and the city's best kimchi on free flow.
The food: "Once again, what we're doing is kind of un-Korean," Cabin said. "They really specialize (there). A shop will just have noodles. Just have stew. Just have dumplings, whatever. We've got all the best in one place."
The two greatest staples, undoubtedly, are tteok tteok rice cakes and kimchi.
"We do tteok tteok a lot of ways, just like in Korea," Cabin said. "It's practically the national dish. It can be street food—in Seoul it's super spicy. It can be sweet or savory, dusted in sesame and done in different colors for Korean New Years. It can be made like pasta; dried and frozen."
"We do two unique things with it. One: we cut it smaller. In Korea they get pretty large. But when they're smaller, they have more surface area, carry more flavor and are more fun to eat. We also make tiramisu with it" (B220).
And then there is the kimchi. "One thing a lot of people don't know—Korea went from extreme poverty (to where it is today) very very rapidly," Cabin said. "It developed so quickly. So that means most of the classic dishes were developed without meat—because there wasn't any. (They were economic vegetarians). Meals were just rice with kimchi and vegetables."
But that's also what makes kimchi so important in Korean cuisine. It was Korean cuisine.
"We've got it free flow, my grandmother makes it, and we think it's Bangkok's best," he said. "The freshest kimchi is almost sweet. When you keep it for a week, that's when it sours. And some kimchi is stored for a year. So that's best for soups and stews (Jiggae; B350)."
And as noted, Sul does not shy from experimentation.
Chef Jao is especially fearless. She worked in both Shanghai and Singapore, and travels for inspiration—studying baking in Paris, for instance. Thus the menu features international spins—like tteokbokki done Italian carbonara style (B250) and with Japanese curry (and chocolate; B220). She took the American s'mores recipe and redeveloped it with a banana and a chute of rice wine that chufs through cream like a steam engine stack (B250).
One of the most artistic dishes is Essence of the Sea—Italian pasta served with roe, octopus and seaweed, in a truffle broth. It's served cool, in dry ice (B280). "I think it's like diving in the sea," chef Jao said. "You're underwater. There's seaweed. You swim by the fish and the octopus."
The menu also boasts American style 12-hour-smoked ribs (B490), Spam fries (B250) and again, plenty of Korean classics—Jjajangmyeon black bean noodles (B220), bibimbap (B360), stir-fried squid (B220), seafood pancakes (B250), Sticky Spicy Chicken (B280) and hotpots (B290-320).

The drinks: Seven different types of Soju start the list—including grapefruit, strawberry and peach—and all are dangerously smooth (B250-280).
"Typically, Koreans don't use Soju for mixing cocktails," Cabin said. "They mix it more with things like Gatorade, or beer—which they call a SoMec."
"We did mix it a little, but we also crafted more classic cocktails using Korean ingredients—like five spice berries, pickled radish, seaweed, sesame foam and ginseng wine," Phet said.
The head mixologist is "Auk" Channarong Ratanakanoed—a veteran of Vogue Lounge and Just A Drink Maybe, Crying Thaiger and Mallard.
First, he developed a handful of mostly sweet Soju blends. These include the Jen Nyx—Soju with sparkling wine foam and lavender (B360); the Sugar Daddy—peach and grape Soju, plus cranberry and orange (B340); Blowing Bubbles—strawberry Soju, Aperol and Lecitin (B360); the Royal Lemon Drop —Jinro 24 Soju, Yuzu and marshmellow (B340); and Sul U Tion—Jinro 24, ginseng wine and celery salt (B360).
Drinks featuring Korean ingredients include the Yakgwa Sour—bourbon, sesame foam and ginger extract (B360); Kimbap—white rum, seaweed and daikon radish syrup (B340); Gi Sul—gin, rhubarb vodka and pickled ginger water (B360); and the Bulgogi Old Fashioned—bourbon, wood smoke and bulgogi sauce (B360).
Finally, in addition to drinks menu standards—like Kamikazes (B320), martinis (B320), Irish whiskies (B350) French wines (B260) and German beers (B180-340)—Sul imported some of the most popular Korean spirits, such as Busan's Golden Blue whiskey (450 ml; B1,600), black raspberry Bokbunja wine (B500), semi-sweet and soothing Sansachun hawthorn wine (B400) and Makgeoli rice wine, flavored with chestnuts and bananas (B250-280).

Why we'd come back: For the new dimension it brings to Bangkok nightlife, the fresh flavor it adds to Thonglor, and the Korean culture and style so abundantly available. Also: for a deep and thoughtful drinks menu which deserves several turns, and for world-class cuisine prepared by chef Jao.
"We're happy to educate," Phet said. "Like Korean drinking culture—it's very innovative and creative. The younger generation especially, they like to play when they drink. We teach those games. The easiest ones like 'Titanic' are super simple, and it's all in fun."
And then there is chef Jao
"I love Korean food," she said. "The Japanese are so traditional, they're kind of boxed in. Koreans will take anything. I've been to Japan and studied the food there. You come in and you're all excited to eat. But then by the third or fourth day, it's just all the same."
"Korean food is simple, straightforward, earthy and sometimes pickled," she said. "It just has so much character, it keeps on growing and growing."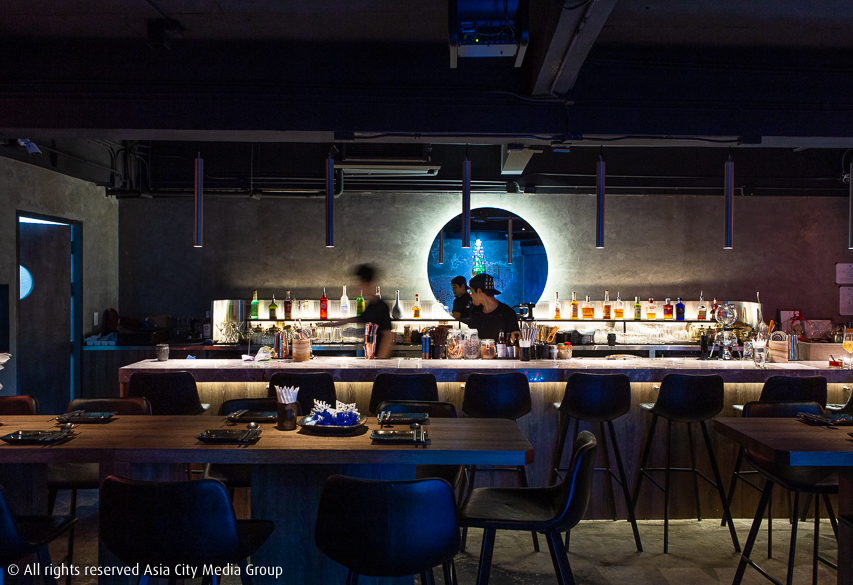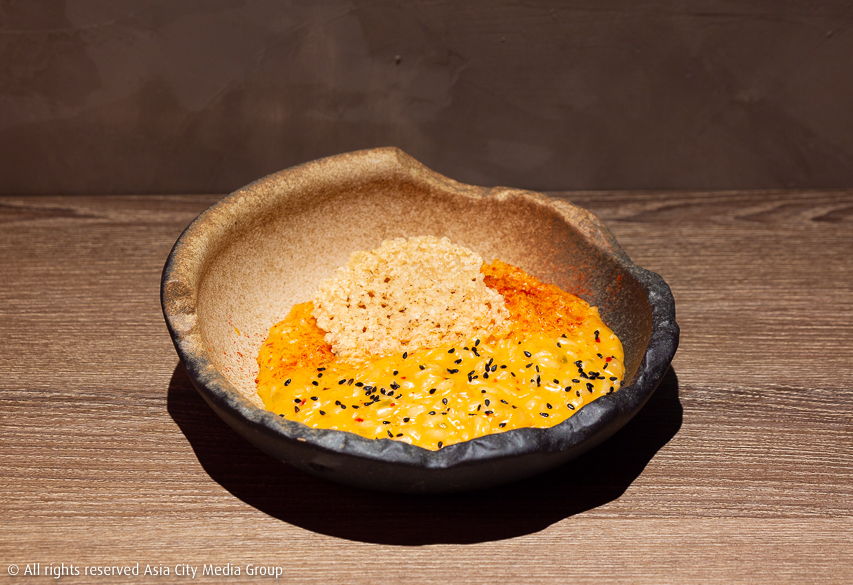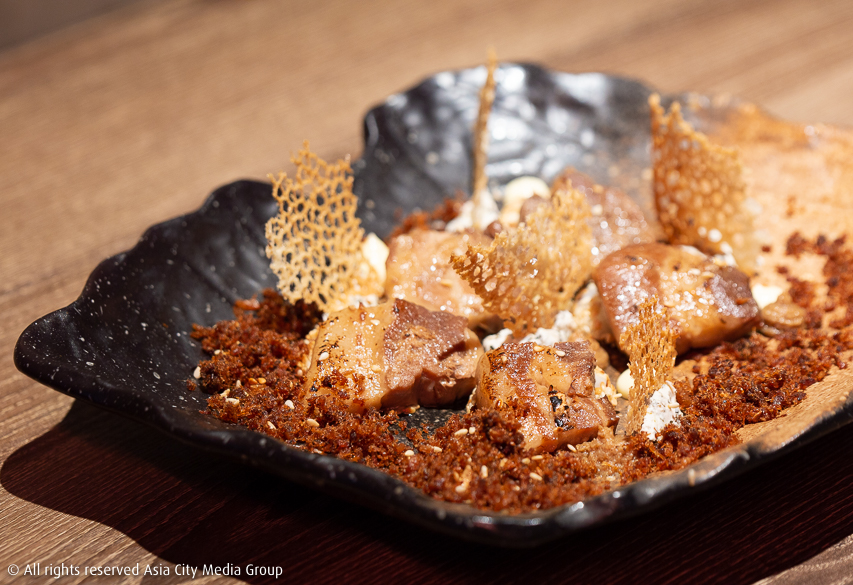 Venue Details
Address:
Sul, 2/F/F, The Third Place, Thonglor Soi 10, Bangkok, Thailand
Phone:
095-795-5396
Website:
fb.com/SulBkk & sulbkk.com
Area:
Thonglor
Open since:
December, 2018
Opening hours:

Wed-Sun

6pm-1am

;

Mon

6pm-1am

Report a correction